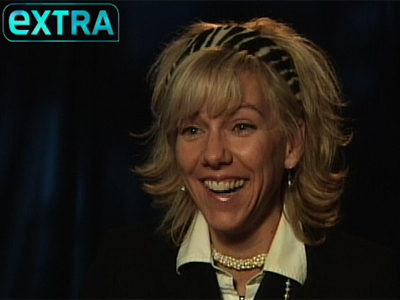 As most people probably remember, when the story broke about John Edwards' affair with Rielle Hunter, the news was broken by The National Enquirer. The Enquirer has stayed on every detail of this story, and in turn, has broken several more John Edwards-related news. The Enquirer broke the story that Edwards was being investigated for fraud and misuse of campaign finances, all related to the affair.
Now the Enquirer is claiming that Rielle Hunter is really pissed about the way Elizabeth Edwards has come after her. Elizabeth is out promoting her new book, Resilience, and Elizabeth has been bashing Rielle as "pathetic". The worst of it (for Rielle) was most likely Elizabeth and John's appearance on Oprah, where they seemed to be presenting an image of familial dysfunction yet familial loyalty. Elizabeth told Oprah (regarding the affair): "There is no excuse for women to do this… Women need to have respect for other women."
So Rielle is pissed. And she's fighting back – the Enquirer claims that Rielle is threatening to come clean about her baby's paternity. Rielle will demand that John Edwards take a DNA test to confirm that he is the father of her 14-month-old daughter Frances. The Enquirer has long claimed the baby Frances is John's, but John and Elizabeth have stopped short of confirming it. When Oprah asked Elizabeth, Elizabeth said "I've seen a picture of the baby… I have no idea. It doesn't look like my children, but I don't have any idea."
John Edwards' furious mistress is demanding he submit to a DNA test, The ENQUIRER has learned exclusively!

Rielle Hunter – the longtime secret lover of the disgraced 2-time presidential candidate – wants definitive proof that Edwards is the father of her 14-month-old love child Frances and is working with a lawyer to take legal action, say sources.

The blonde divorcee – who gave birth in February 2008 – was slammed in the explosive new book Resilience written by the ex-senator's cancer-stricken wife Elizabeth.

The ENQUIRER was the first to expose the extramarital affair in 2007, and Rielle's sudden move to determine paternity is a clear signal that she is no longer willing to protect the philandering politician, who still has not admitted that he's the father of her baby. Edwards recently confirmed he's also the subject of a federal probe into possible campaign funds misuse in paying off hush money to Hunter.

"Rielle – probably naively – now realizes she had held onto a false promise that if she continued to take part in the cover-up John had engineered, they'd be together in the future," a close source told The ENQUIRER.

"She was willing to protect John for the sake of the child. She agreed to allow a crony of his to claim he was the baby's father, and she even kept the name of the father blank on the birth certificate.

"But now she can see there's never going to be a future with John – and she feels he's lied about his promise to keep Elizabeth from trashing her in the book," the insider divulged.

"Rielle is so infuriated by his and Elizabeth's actions that she's throwing her loyalty to him out of the window!"

The source added: "Rielle wants the paternity of her daughter Frances finally established. It could ruin John for good because even after admitting the affair, he vehemently denied being the father!"
[From The National Enquirer]
I've always believed the father of the baby was, in fact, John Edwards. Much as he and Elizabeth want to deny it and bash Rielle Hunter, they can't ignore the questions surrounding this baby's paternity. However, I don't think John made promises to Rielle about how they would be together, or anything about their future together. I believe that when Rielle became pregnant and decided to keep the baby, John and his closest circle of friends orchestrated a half-assed financial and paternity cover-up, which included pairing Rielle off with one of John's friends. What Rielle was most likely promised was money, not love or affection. Perhaps Rielle thinks that if the Edwards family is going to continue to come after her, she's going to need a bigger slice of the pie.