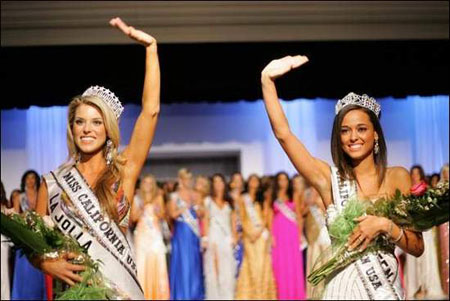 Today will be the day when Carrie Prejean finds out if she's allowed to keep her Miss USA runner-up status. Guess who's deciding? None other than Donald Trump. The news conference will be this afternoon, and no doubt The Donald will be all over it. As we reported last week, the crux of the pageant problems wasn't so much that Miss California was anti-gay marriage, it was the contractual violations. Carrie's Miss California contract demands that the beauty queen can only do interviews with the consent of the pageant committee, which Carrie violated. The contract also shuns endorsement deals, which Carrie also violated with her endorsement of the National Organization for Marriage. Also at issue: the topless photos that came out, which Carrie had sort-of lied about to the pageant committee:
The final decision over whether Miss California Carrie Prejean can keep her crown will be reached by Tuesday, Miss USA contest owner Donald Trump told FOX News.

Trump said there are "things to look at," but, "hopefully it will be a positive decision."

A news conference will be held Tuesday to announce Prejean's fate, Trump told FOX and Friends.

Prejean was named first runner-up in the April 19 Miss USA pageant during which she responded to a judge's question by saying she favored limiting marriage to a man and a woman.

Since then, the state pageant has been investigating whether the 21-year-old violated her contestant contract by making public appearances with groups opposed to same-sex marriage and by failing to reveal that she had posed in her underwear as a teenager.

Trump skirted around questions as to whether Prejan's photos violated any pageant rules.

"Most of these girls are models," Trump said. "They do things that are not necessarily a bad thing. And look, Carrie is a seriously good looking girl. Because of her looks, [they] are making such a big deal with this."

Co-directors of the Miss California USA pageant Keith Lewis and Shanna Moakler and Prejean's representatives are close to a resolution on the issue, Lewis said Friday.

But unless Prejean relinquishes the job on her own, "Trump ultimately makes the decision" to disqualify her or not, Lewis said.
[From Fox News]
I doubt The Donald will force Carrie to step down. The Donald has an affection for women like Carrie, so he'll probably just make her apologize publicly. It's not like she's even the Miss USA – she's just the runner-up, for God's sake.
This comes out as TMZ is reporting that the Miss California pageant sponsors are confirming that Carrie fibbed about when those topless photos were taken. When the photos were first released, Carrie released a sanctimonious statement saying that she was underage when the photos were taken, and that we shouldn't judge her. She wasn't telling the truth, apparently. According to TMZ (who is quoting a Miss California sponsor), the photos were taken well after Carrie turned 18 years old:
Those topless photos of Miss USA California Carrie Prejean were taken after she turned 18, according to one of her former pageant sponsors. This contradicts Carrie's position that she posed for the pics when she was only 17.

We obtained an e-mail sent by the sponsor (we were asked not to use his name) and he says Carrie sent him one of the topless photos after January 6, 2009, asking "if she was in good enough shape for the Miss USA Pageant." The date is significant, because that's the day Carrie got a boob job. The former sponsor says the pic was post boob job and she was well over 18.

TMZ obtained 4 topless photos a week ago. Her rep contacted us and said Carrie's position was that she was naive at the time she posed. Then we got a second email stating she was only 17. As a result we did not publish the photos. But the sponsor says he's positive they were taken when Carrie was a full-grown adult.
[From TMZ]
Meh, I'd bet the photos are probably from more than a year ago, just judging from her hair color. It's a shame Carrie wouldn't get her crown removed for all of this. It would be nice to see her taken down a few pegs. Anyway, I'm sure we'll see some contrition at the news conference this afternoon!