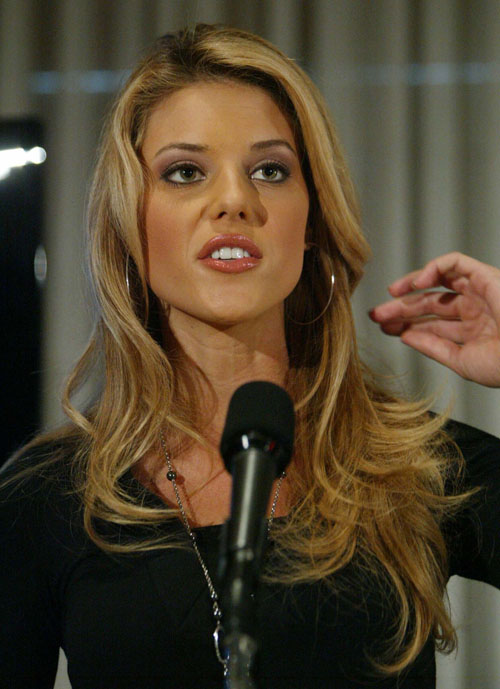 Miss California Carrie Prejean is the center of a new scandal that doesn't involve her controversial opinions for once. Prejean shot to infamy due to statements during the Miss USA pageant in which she spoke out against gay marriage. In interviews following the pageant, runner up Prejean defended her right to an opinion and said she wouldn't change her answer despite the fact that it may have cost her the crown. Prejean's media blitz paid off and she was recently named the spokesperson for anti-gay marriage group the National Organization for Marriage.
The beauty queen's new gig as a Christian advocate for "traditional marriage" could be jeopardized by nude photos circulating online. Last week we heard that the Miss California pageant had paid for Prejean to undergo breast augmentation surgery ahead of the Miss USA pageant. It looks like Carrie was so happy with her new boobs that she had to show them off for the camera:
The Internet is crackling about topless and semi-nude photos of controversial Miss California Carrie Prejean that are apparently about to be leaked. The first photo, which appeared minutes ago on TheDirty.com, shows a woman who appears to be Prejean standing, looking at the camera, wearing only a pair of pink panties and using a strategically placed arm.

Alicia Jacobs, the Entertainment Reporter at KVBC in Las Vegas, has seen all six of the photos and says some are much more revealing. She thinks they may have been taken after Prejean's pageant-financed breast implant surgery about six weeks ago. The pictures are potentially explosive, particularly with the audience Prejean is now trying to cultivate….

We have attempted to reach Prejean's publicist with no success. We did speak with a spokesperson for the National Organization for Marriage and, while they were aware of the photos, they do not yet have a comment.
[From OMG.Yahoo.com]
There is one photo of Prejean topless that is SFW and it's the only one I've seen. It's not that racy and is on par with the kind of "nude" photos you would see in a men's lifestyle magazine. She's posing in underwear and covering her chest with her arms. It looks Photoshopped to me as her hair is covering her neck and the head doesn't quite match up with the body. I'm not buying that there's a whole set of nude photos until I actually see them. This entertainment writer quoted by Yahoo! says they exist, but are they real or did someone just stick Prejean's head on to different bodies? It's controversial enough that this woman had her breast implants paid for by the Miss California Pageant, though.
Last week we reported on a story from the National Enquirer that Barbara Walters was considering asking Prejean to fill in for the token conservative on The View, Elisabeth Hasselbeck. Walters is said to be considering replacing Hasselbeck permanently and Prejean could fit the bill. She's personable, attractive and friendly, and is the kind of non-threatening ditsy conservative that Walters seems to favor. We'll have to see if these nude photos are real. As long as they're not that racy I can't see how they would affect Prejean's career. They may even help drum up interest in her now that we're no longer paying attention.
Carrie Prejean is shown at a press conference for the National Organization for Marriage on 4/30/09. Credit: WENN.com