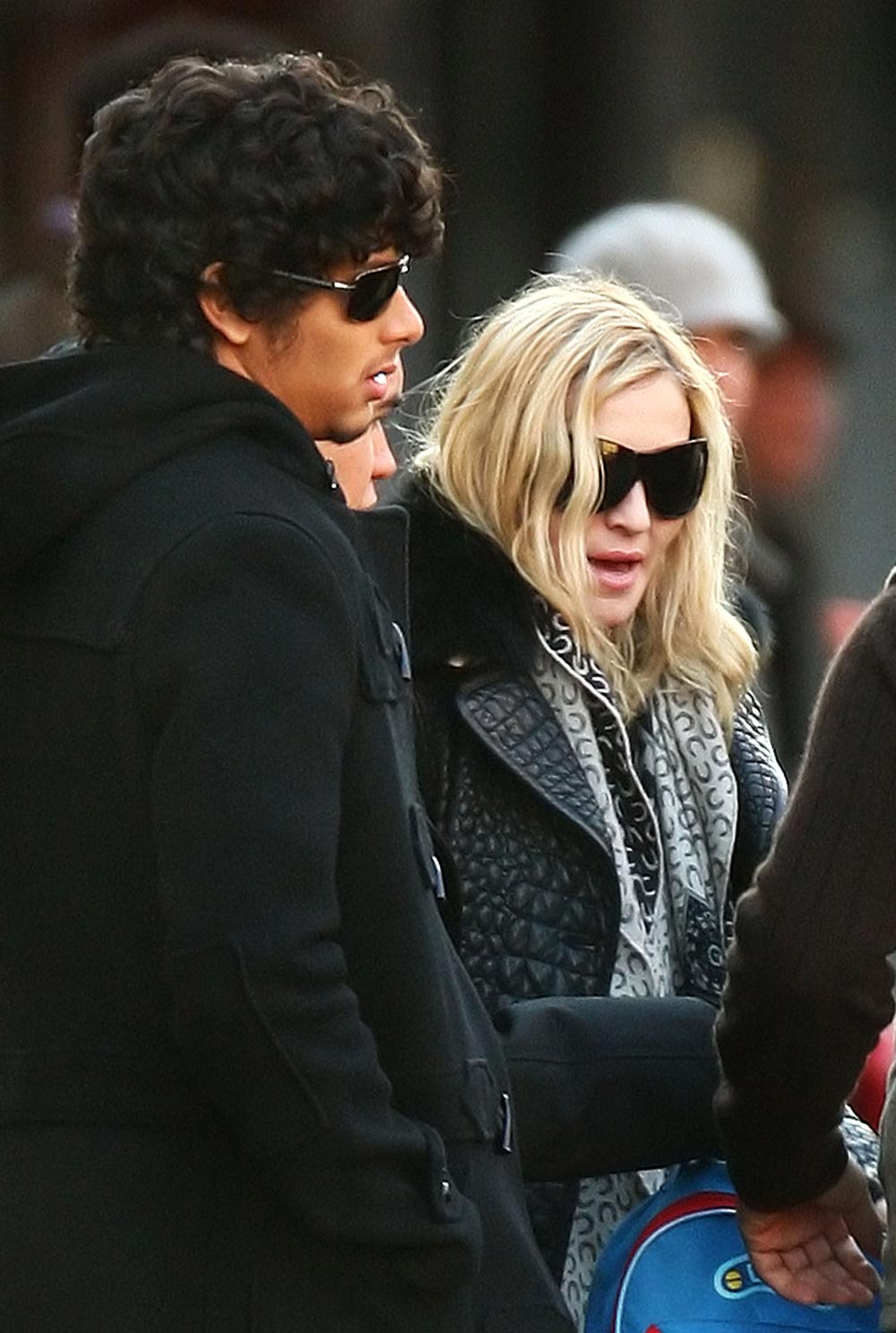 It's true love between Madonna and Jesus Luz. The two are planning a Kabbalah commitment ceremony in New York, according to the British newspaper The Mirror. The claim is that Jesus adores Madonna and her kids, and Jesus has fully committed himself to the teachings of Kabbalah, eschewing his Catholic faith.
It's the truest sign that Madonna is serious about a relationship when she starts taking her man to the Kabbalah center. Jesus immediately took to the center, joining Madge and her kids almost as soon as he and Madonna became an item. The Mirror also claims that when Madonna and Jesus seemed to split just before she flew off to Malawi (where she was rejected by the court in her attempt to adopt Mercy James), Madonna and Jesus were actually playing us. They were still together, Madonna just wanted to seem more motherly and less like a fame-hungry 50-year-old with a contractually-obligated boy-toy:
Madonna and her toyboy lover Jesus are planning a "commitment ceremony" in New York. The queen of pop and Brazilian model Jesus Luz will take part in a service in front of a rabbi at the Kabbalah Centre in Manhattan.

Friends said Madonna, 50, and the 22- year-old model decided they wanted to take a new step in their relationship after her bid to adopt a Malawi orphan failed. Jesus has already converted from Catholicism to the Kabbalah religion as a mark of his commitment to the singer.

Earlier this year he was spotted joining Madonna at the Kabbalah centre with her daughter Lourdes and David Banda, her adopted son from Malawi.

The Brazilian model has been to a series of classes since the beginning of the year to teach him about the faith, which is based on Judaism There had been rumours the couple had split before Madonna flew out to Malawi in a bid to adopt three-year old Mercy James.

But friends said Madonna, who adopted David Banda from the same country three years ago, returned to New York last month and has been seen at restaurants across the city with Jesus.

He was also Madonna's escort at a major fashion show in New York last week. A source said: "They are totally besotted with each other and he's really helped Madonna through this tough time. It wasn't that the relationship went off the boil, it was more a matter of Madonna wanting to concentrate on her adoption bid of Mercy and they wanted to keep a low profile while that became the main focus."

"Madonna was devastated when the adoption was rejected the first time but now she wants to lavish some attention on Jesus and she's keen to make sure they have a solid relationship for all the children's sakes."

Madonna first met Jesus on the set of an X-rated photo shoot for W magazine. Jesus was semi-naked and the pair were snapped kissing on a bed in a hotel room.

Though they kept their relationship on a lower profile during the adoption bid, the pair have been regularly photographed out together in New York since.

Jesus has already been accepted by the star's children Lourdes, 12, eight year-old Rocco and David, three. The source said: "Lourdes teases him by calling him The Babysitter, because he is so young. She likes him, but loves to wind him up."
[From The Mirror]
So is actually true love? Doubt it. And I doubt Madge would want any part of any sort of religious or legal binding of her and Jesus. She just paid out a hefty sum to Guy Ritchie – she doesn't want to part with any more money. Madonna and Jesus are probably quite happy with the way things are. With Jesus as "The Babysitter". Is it just me, or does it sound like Jesus is spending more time with Lola than Madonna? Lola is obviously close enough to Jesus to tease him – not surprising. And Jesus and Lola are closer in age than he and Madge, by a long shot. Hmm… interesting. Could it be the boy-toy is nothing more than a glorified babysitter?
Here's Madonna and Jesus out together in New York on February 1st. Images thanks to Splash.