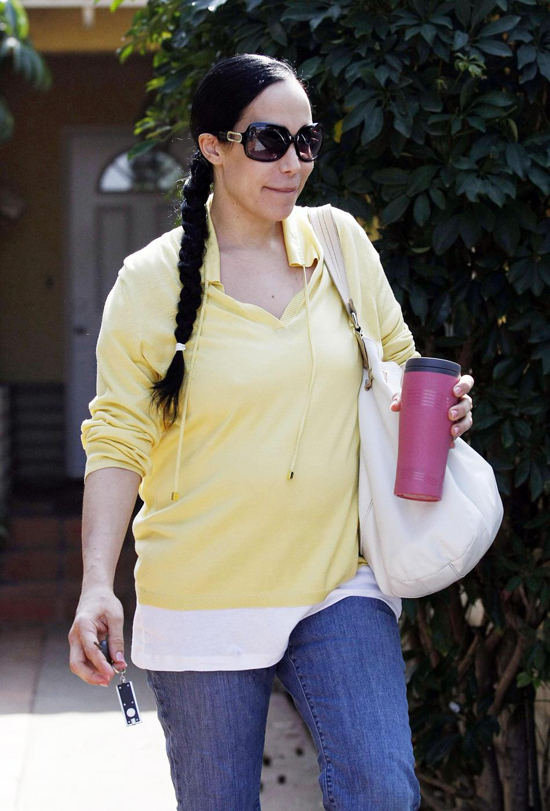 Ugh, Nadya Suleman was lying when she claimed she was having half of her uterus removed. OctoMom is having a myomectomy procedure done, which is where the fibroids are removed from the uterus. Just typing that made me a little nauseous. Anyway, OctoMom is now saying she "exaggerated" the procedure, and this myomectomy will actually improve her fertility. Jaybird was right when she did the original reporting on the story, OctoMom totally exaggerated/lied about the procedure and is now trying to walk it back. But no fears, because Nadya is still giving us her word that she doesn't want any more kids. Right. Because fourteen is when you should stop and reflect.
Octo-Mom Nadya Suleman says she wants to clear up some confusion about her upcoming surgery.

In an exclusive new interview with RadarOnline.com, Suleman says she "exaggerated" when she recently said she was having half of her uterus removed and that she wouldn't be able to have any more children. She says she's actually having a "myomectomy", a procedure in which doctors remove fibriods from the uterus.

She says the operation will actually "enhance" her fertility, but that she does not intend to have any more children.

Suleman spoke with RadarOnline.com as she took three of her older children to Griffith Observatory In Los Angeles, overlooking the beautiful Hollywood Hills.
[From Radar Online]
Fibroids are no joke, and I've heard of this procedure and procedures like it for women who have fertility issues. Myomectomy is in no way like a hysterectomy, partial or full. From my own research, it seems Nadya is correct when she says this procedure could actually improve her fertility. More little Sulemans are definitely possible. And this woman is crazy enough to do it, too.
Here's Octomom out and about on April 28th. Images thanks to BauerGriffinOnline and Pacific Coast News.