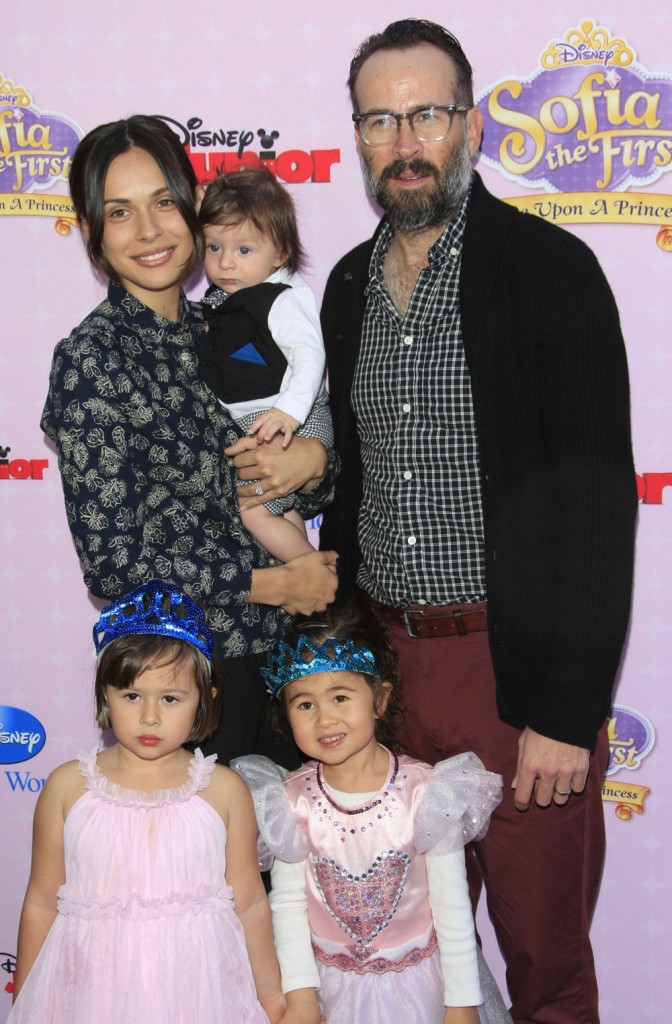 Last summer, Jason Lee's ex wife penned an essay for Gawker called "Why I left Scientology." Carmen Llywelyn, who was was married to Jason from 1995-2001, had been out of the cult for 13 years at that point but the experience still understandably haunts her. After she read a book by an ex Scientologist and expressed doubt in the cult around 2001 she was dumped by Jason, disconnected from all her friends and dropped by her agency and manager, losing her career. (Incidentally her manager was Gay Ribisi, Giovanni Ribisi's mother.) Carmen described a harrowing experience in which she was spied on and maligned, cut off from everyone she knew except for family and left with nothing, all for questioning Scientology.
Things have changed quite a bit since Carmen left the cult, thanks to other brave defectors like Leah Remini and Paul Haggis, books like Blown for Good and documentaries including Going Clear. Now Jason Lee, 46, has left Scientology too. He remarried after Carmen and has two children with his second wife, Ceren Alkaç, whom he married in 2008. (Jason also has a son, the poorly named Pilot Inspektor, from a prior relationship.) There were stories last year that Jason and Ceren had split up over Scientology but they're still together and live in Denton, Texas, where Jason told a local newspaper that he's no longer in the cult. Apparently there were rumors that he was bringing Scientology to Denton, which he wanted to clear up. He's a keen photographer, using traditional film and development methods, and rents a studio where he works. It sounds like there's an active art and music community in Denton, which he and his wife are involved in.
Tell me your experience as 1/5th owner of Barley & Board? For the record, what other businesses do you own – even partial stake in – around Denton?

JL: I was asked by Pulido and Sparky if I wanted to help co-design Barley & Board and of course I said yes. It's such a cool space, and one that has certainly helped bring life back to the square, along with a lot of other cool things that are happening around downtown. Lots of good people here trying to contribute to bringing some energy back to downtown, and I think what guys like Sparky are doing to invest in his hometown is amazing. Revitalizing old spaces and giving them new life is definitely a positive thing. 'Progressing while preserving Denton' seems to be a theme here.

You see a lot of that here; locals investing in the heart of this place. It's a beautiful thing, especially considering how much Denton's perimeter is being overdeveloped. Bearded Monk is cool, and the food truck scene behind Eastside, Oak Street Draft House, Harvest House, Paschall Bar, 940's, LSA, Denton Skate Supply being at the old Gulf Station, Denton Camera Exchange, the film photography scene, Denton Music Workshop, the record stores, the music festivals. All the murals around downtown. All good stuff to experience. There's an energy here now. When I first started coming to Denton in 2004 the square was all but dead. It's nice to see people out and about and in what feels like a very new way. I think Denton is benefiting from it.

Aside from my small slice of B&B, I have no ownership in any other businesses. While I'd be happy to take credit for these amazing places, I don't in fact own West Oak Coffee Bar, or Earl's, or 940's, etc. And I have nothing to do with Rubber Gloves or any other venues or businesses closing down. If Ceren and I had an idea for a business, it certainly wouldn't happen at the cost of someone else's. And being that we don't practice Scientology, and that we aren't particularly interested in opening religious centers in general, we have no plans to open a Scientology center. Quite a few rumors about me/us floating around but none of it's true. We're not here to buy up or change or take over Denton, put some kind of personal stamp on it. We're just here like anyone else who wants to be a part of Denton's very cool creative community, and to be involved and perhaps help where we can.
[From The Dentonite via Daily Mail]
Oh and he's a former professional skateboarder and is still working on skateboarding brands. (I know this because my kid plays the video game Skate 3 and his avatar is a narrator.) It sounds like Jason has a great community around him and is trying to clear the air and make a public statement that he's out of the cult. I wonder if he's already been disconnected from people like Giovanno Ribisi and Danny Masterson or if this discontent has spread throughout their group, and if more Scientologists are out than we know. It's got to take some nerve to admit to it, considering how they harass and torment former members. You get the sense that Scientology doesn't have teeth anymore and that they're just struggling to stay afloat. I think that's why Tom Cruise is selling off his estates and moving to Florida. They're circling their wagons.
These photos are from Ceren's Instagram. Cute!
Header photo from 2012. Photos credit: WENN, FameFlynet and Ceren Alkaç/Instagram