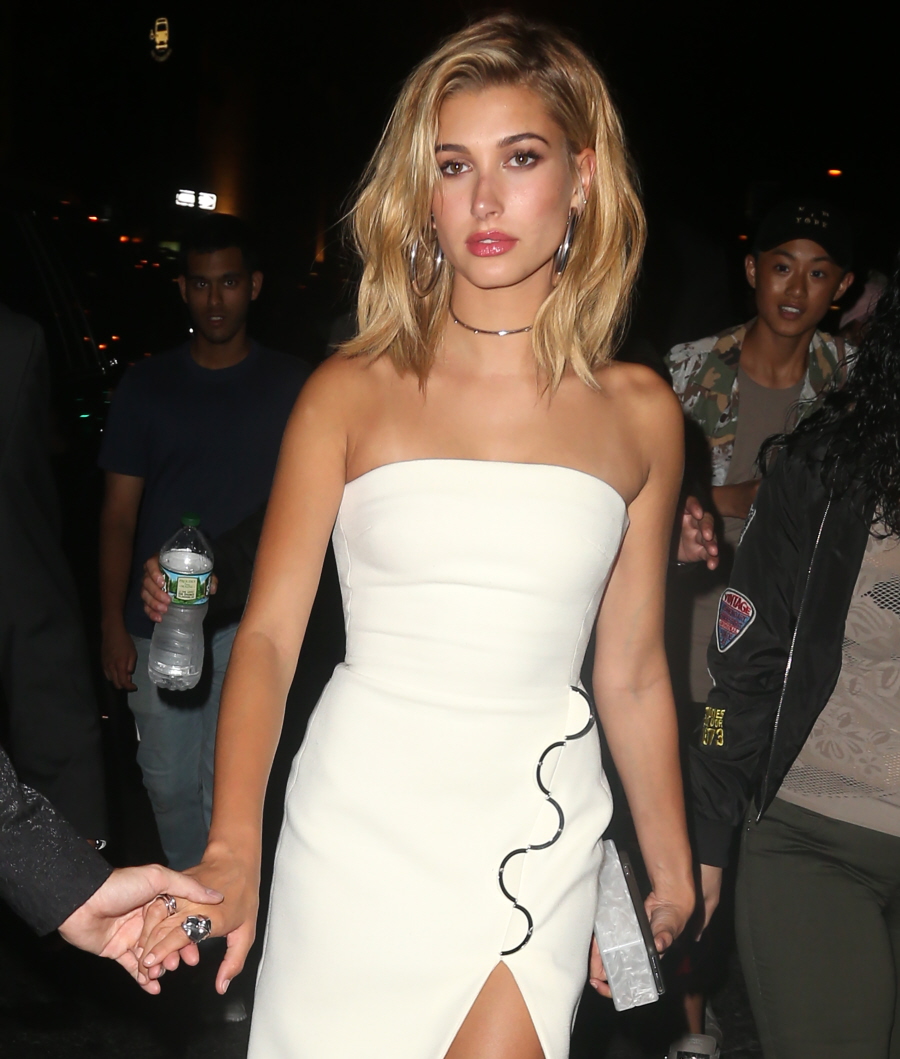 One of the constant refrains about the crop of nepotism-models and Insta-models is "why are they a thing?" I feel that deep in my soul. I do not understand why Cara Delevigne is a thing. I do not understand why Kendall Jenner is a thing. And I really don't understand why Hailey Baldwin is a thing. Much like the other Instamodels, Hailey is the daughter of someone "famous" (her father is Stephen Baldwin), and Hailey does manage to get some work as a model, although she's probably never going to be as big as the other Instamodels. Anyway, Hailey is in trouble. Last month, in the midst of some petty Instagram drama involving some friends (Selena Gomez and Justin Bieber), Hailey posted this Instagram: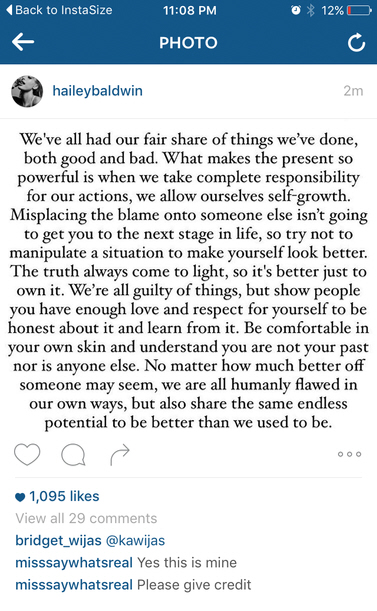 She has since deleted it. Now, I don't think anyone really believed that Hailey wrote that, but she used the quote without attribution, and now she's in trouble. The author of the quote is a writer by the name of Melissa Molomo. Molomo is now pissed off at Hailey.
Hailey Baldwin has been plagiarizing her soulful wisdom, claims an author who is threatening the model with legal action. Long Island author Melissa Molomo, who actually wrote the uncredited quote, has fired off a cease and desist letter — exclusively obtained by Page Six — demanding that Baldwin apologize and stop lifting her work. In the letter, Molomo's attorney, Z Zoltan Stein, writes, "In copying and using Ms. Molomo's work without permission, you have taken credit and caused confusion as to whom the original author of this work is," adding that the IMG model — who is the daughter of actor Stephen Baldwin — could be liable for damages up to $150,000.

The letter also demands that Baldwin "make a social media post apologizing for stealing Ms. Molomo's content and fraudulently passing it off as your own." The text is from Molomo's book, "Say What's Real," but was excerpted on Molomo's social-media accounts and signed #MelissaMolomo and @MissSayWhatsReal. But Baldwin — who is currently walking the runways at London fashion week — seems to have removed the mention of the book or its author before posting the missive to her own 7.5 million Instagram followers. Reps for Baldwin didn't get back to us.
From what little I understand about plagiarism and social media, I think Hailey would have been just fine if she posted the quote… with attribution. If she had posted it and tagged Melissa Molomo or just said "quote by Melissa Molomo," none of this would have happened. But because Hailey just left the quote up on Instagram without attribution and "let" people think that she wrote it (???), that's the problem. My problem is that I still doubt that most people believed Hailey wrote it. I've read interviews with these Instamodels. They are some of the dumbest kids in the world. For now, Molomo is just sending a cease-and-desist letter, but a lawsuit could be coming. I sort of hope Molomo does sue! But as I said, Hailey took the IG down.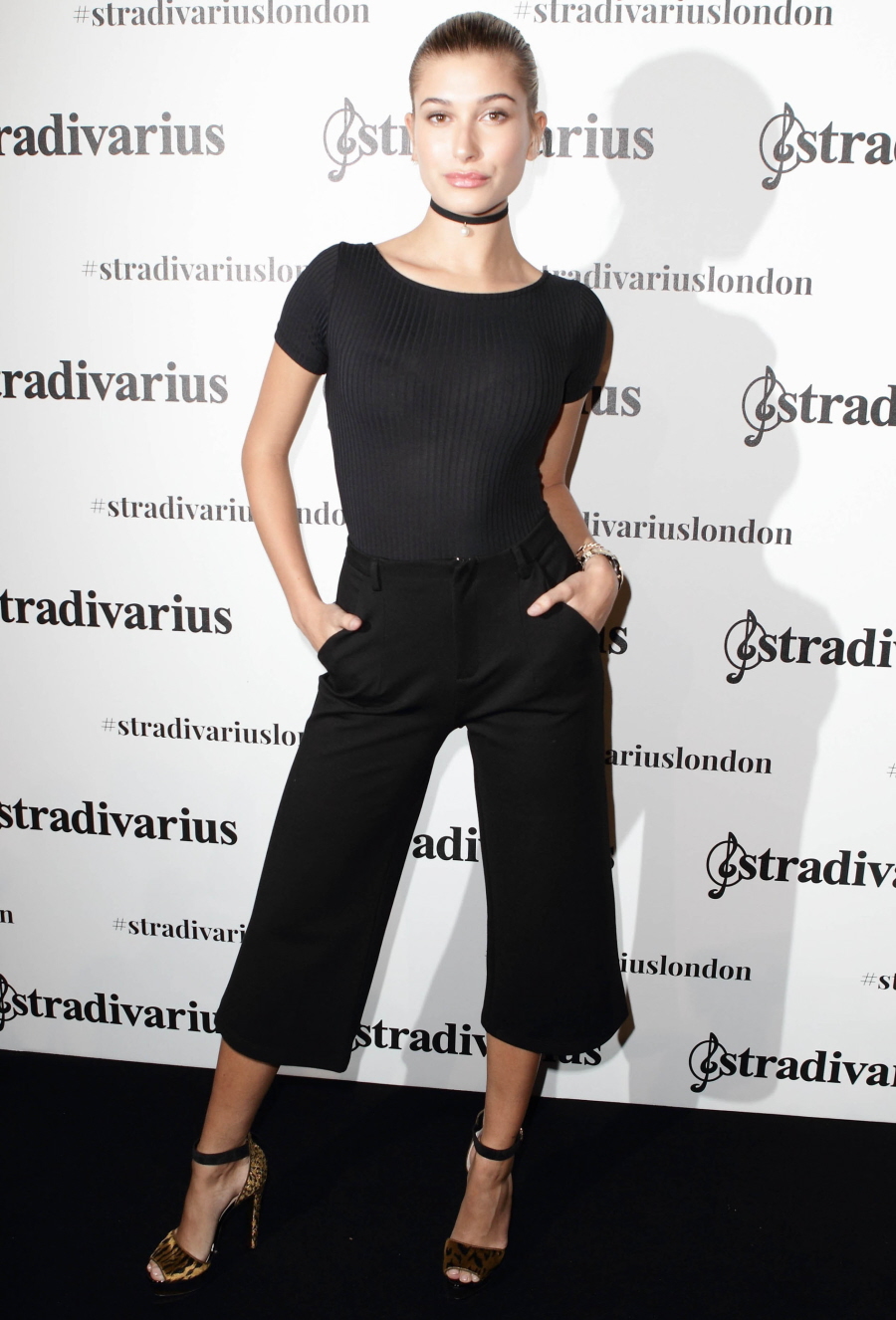 Photos courtesy of Fame/Flynet.