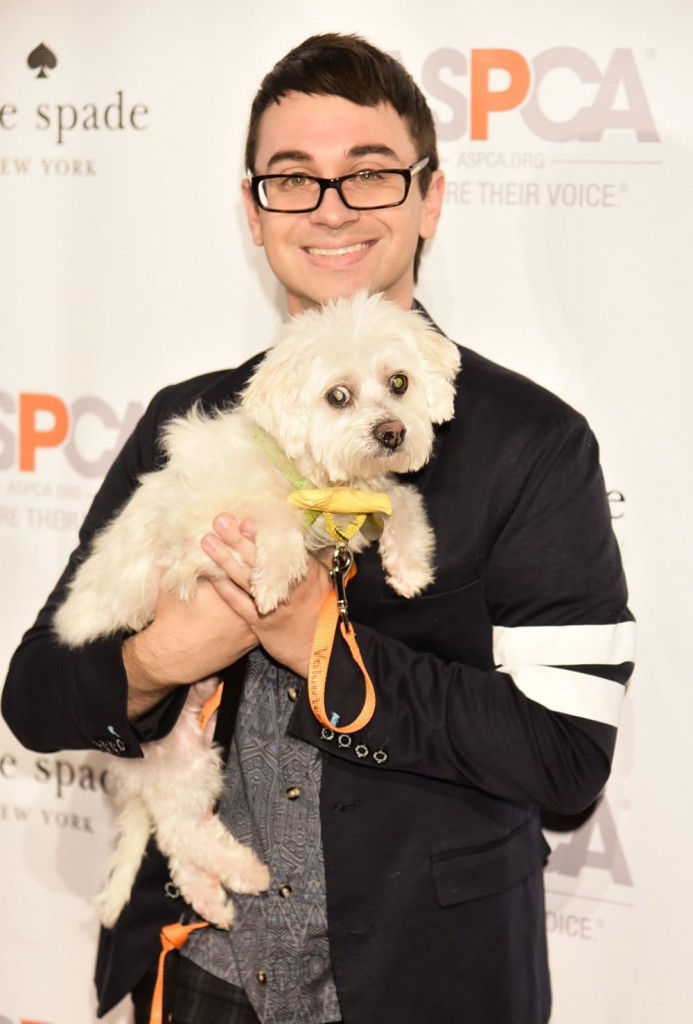 Project runway finalist turned designer-to-the-stars, Christian Siriano, dressed no less than nine women at this year's Emmys, which is incredible. Christian is known for his figure-friendly designs, and for making celebrities of all sizes glamorous. In fact he stepped up to dress Leslie Jones when she revealed that she couldn't find a designer to work with her for the Ghostbusters premiere. Kaiser loves Siriano and reminded me that he was also one of the first designers to make gowns for Christina Hendricks. At the Emmys, Siriano's designs were hit and miss. He made some really striking incredible pieces for Niecy Nash and Angela Bassett, but some of his other gowns were a snooze and a couple were really awful. Michael K at Dlisted called the dress Christian made for Anna Chlumsky a "bed in a bag" and that pretty much captures it. Christian hears the criticism and his response is that people just don't "get it," which I understand, you have to keep creating, but maybe he could take it as constructive criticism. He churned out so many custom dresses for that night, and that one was definitely an outlier. In a new interview with People, Christian explained the thought process behind each dress and he also described his philosophy of inclusion and creating dresses for everyone.
Angela Bassett's bright yellow silk gown
"I love that Angela was covered up but looked so sexy, beautiful and elegant. And the color looked amazing on her!"

Kathy Bates's white gathered top and black skirt
"She wanted to have a bit of a moment. Not every designer is sending her clothes, so it was exciting to give her that. We got to take a little risk and give her kind of a cool moment. It was my favorite thing."

Niecy Nash's white gown
"[She wanted] something sexy. She really wanted to look unbelievable and I think she did"

Maura Tierney's black strapless gown with floral appliques was from his resort collection
"The easiest fitting we had. All it needed was a hem."

Anna Chlumsky's pink textured sack dress
"We all knew [Anna's dress] was going to be something fun and different and not everybody would get it and that's okay. I think definitely it was a risk. But it was cool. People get very scared of what they haven't seen before. I think it's sometimes fun to take a little risk every now and then."

Leslie Jones's royal blue silk crepe jumpsuit (which had a cape)
"Leslie wanted to be casual and comfortable. After everything that's happened to her, she just wants to feel beautiful. Some fittings are super stressful. With Leslie, they're fun. She comes in and she just makes jokes and it's a blast."

On his brand and philosophy
"I think that women wearing dresses is a happy, fun thing. It should never be serious and horrible. There's enough of that elsewhere," adding, "it just makes everybody feel good…. Being a young designer in this business, we're going up against these massive brands with billions of dollars. It's really hard to get people to support and want to wear the clothes and buy the clothes. We need to focus on what works for us, and what works for us is that we have so many different types of customers from around the world. I like to show people that's what we're about — representing everyone."
His outlook is admirable and I wish more designers understood that all women want clothes and that fashion should be accessible and fun. That makes sense that Maura Tierney's dress was straight off the rack and it helps explain what a snooze it was. He deserves so much credit credit for working through fashion week and for committing to designing for everyone. I get the sense that he may take too much input from clients though and that it only works well when they have good taste. At least it's collaborative and you can tell that his client's wishes are what matters, not his vision. Also, I would have loved to have seen Leslie Jones's cape! I rewatched that part of the ceremony where she came out and joked with the accountants and she wasn't wearing it. Now I have a life goal to be dressed by Christian Siriano for something. Adding that to my bucket list.
Ooh here's Leslie's cape!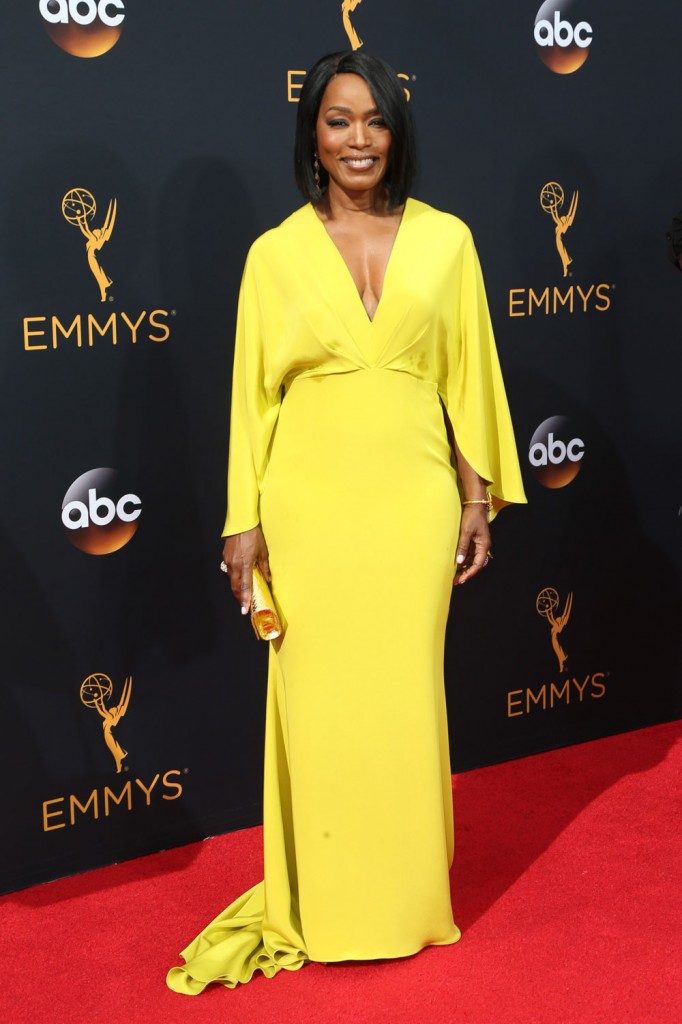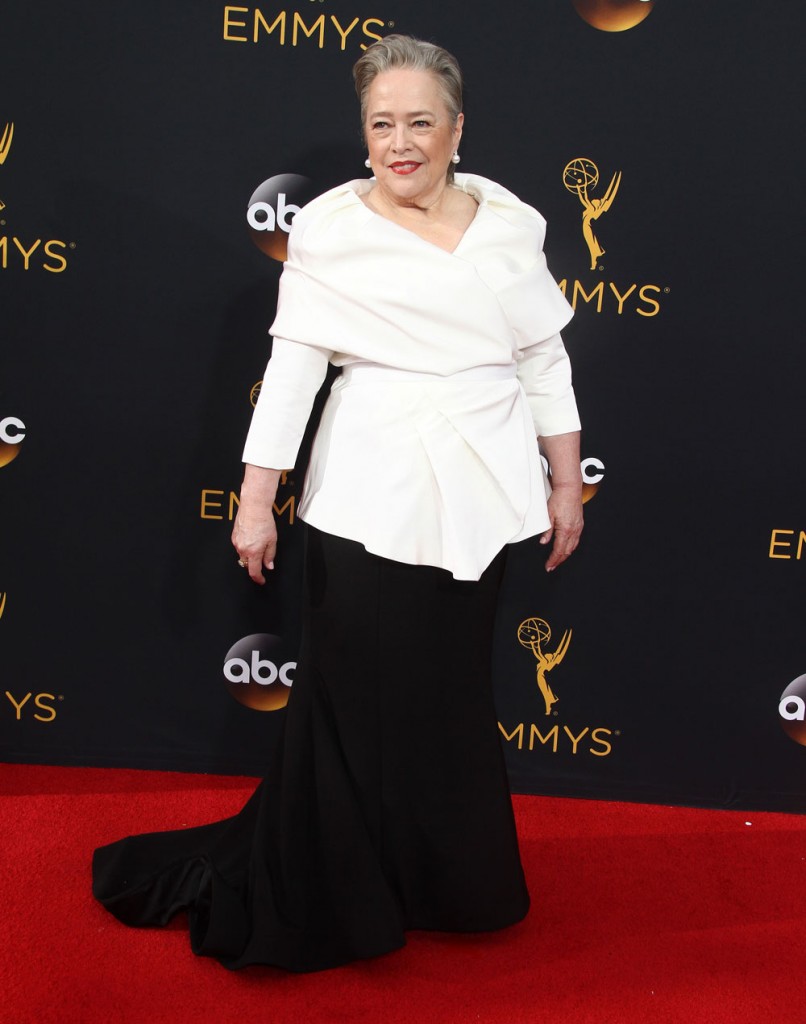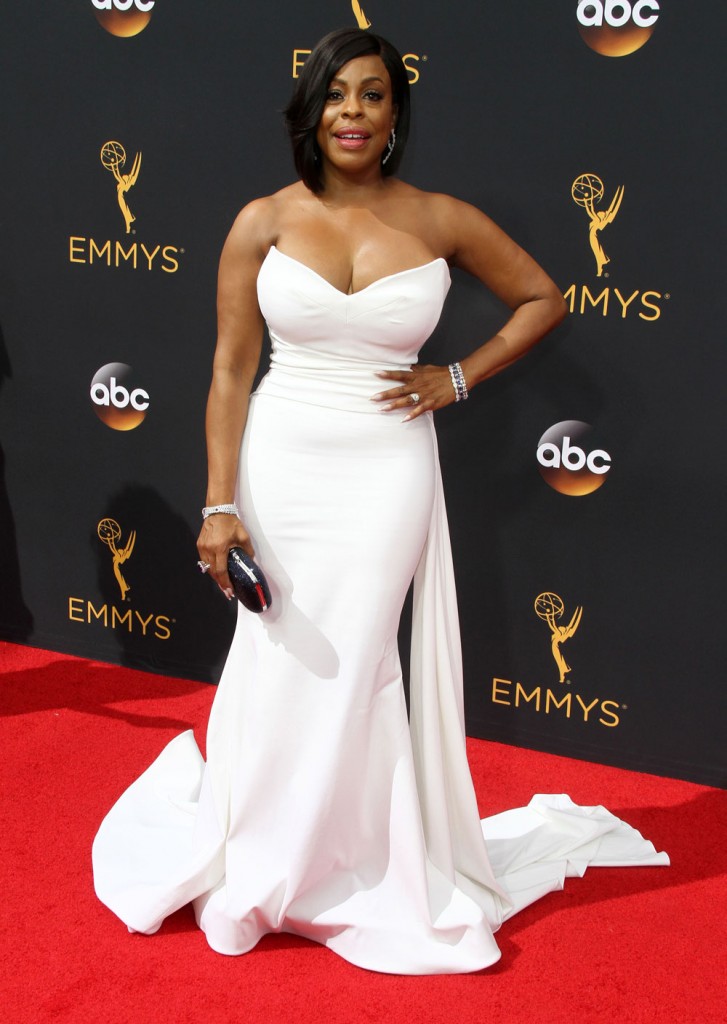 photos credit: WENN, Getty and FameFlynet