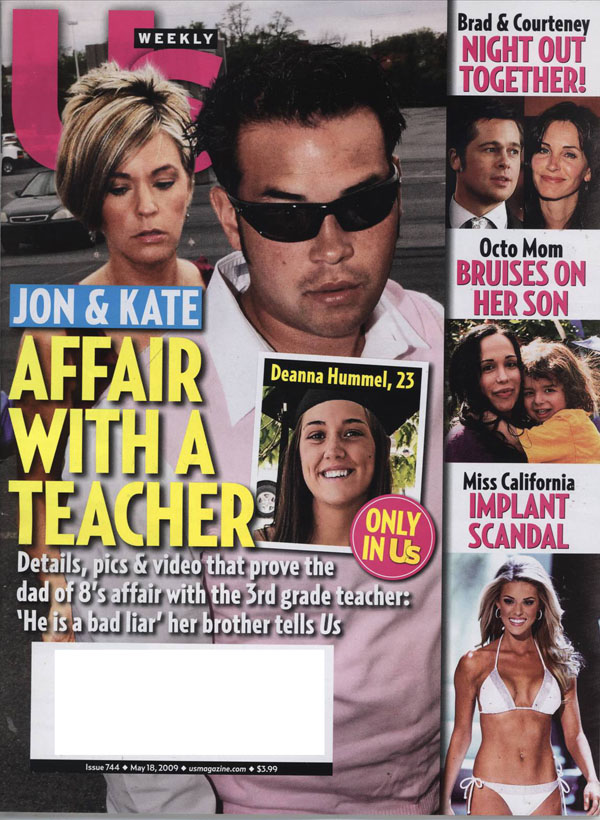 I finally got a chance to read US Weekly's cover story with the details of Jon Gosselin's alleged affair with a 23 year-old teacher from Reading, Pennsylvania. Both Jon and the other woman, Deanna Hummel, have denied the story, which was told by Deanna's brother, Jason, with confirmation from "five sources," including her cousin, who also went on the record to say "there's speculation among the family that something's going on between Deanna and Jon." Deanna said Jason is trying to get back at her for kicking him out of the home they share, and she dismissed him as a former drug dealer who has had multiple run-ins with the law. The account in US Weekly of Deanna and Jon's relationship is compelling, though, and includes corroborating details that we haven't heard yet.
So far we've seen video of Jon leaving Deanna's home early in the morning, and a photo of Deanna sunbathing on the lawn at Jon's parents' home as he sat nearby. "Unemployed" reality star Jon is also said to have spent hundreds on expensive gifts for Deanna, including a nearly $300 purse that US Weekly has the receipt for along with confirmation from the store where Jon shopped. Deanna's brother also suspects that his sister's new diamond watch is a gift from Jon:
One of the ways to his mistress' heart? Expensive presents. "He gave her a Cole Haan bag," Jason says of the $295 Pixie Straw Collection bag that Jon FedExed, with receipt (shown in US print edition), to the Hummels' home. A store clerk confirms to US that Jon shopped at Beverly Hills' Rodeo Drive store on March 25, while traveling with Kate. As for other gifts, Jason points to his sister's new diamond watch. "She never could have afford the watch, and it's not a style she would have picked out," Jason says.
[From US Weekly, print edition, May 18, 2009]
There are plenty of funny quotes from Jason in the article. You've already heard the one where he claimed to have overheard his sister getting it on with Jon and called it "gross" and "nast". He also described the moment he first saw Jon coming over, bearing 1/2 a pizza, chips and an iced tea.
I remember the first night he came over, in mid-February. She opens the door and I'm like, "Oh my God, Deanna, come on." He came over with dinner, which was totally pathetic. He brought, like, a half-eaten box of pizza, a bag of chips and iced tea. It looked like a pizza that Kate had already eaten. I felt like going into the kitchen and dragging this guy out of my house.
[From US Weekly, print edition, May 18, 2009]
Jason called Gosselin "dumb" and a "moron" as he explained his clumsy courtship of his sister, saying he didn't try hard enough to hide the affair. It looks like Gosselin didn't have to bother, considering that his girlfriend's sister was the one he had to worry about, not the paparazzi or random witnesses.
Kate Gosselin has said that she's "hesitant to believe" that her husband has been stepping out on her, and blamed the tabloids for blowing up what she considers a non-story. There's speculation as to how their TLC reality show "Jon & Kate Plus 8″ will address the infidelity rumors. The show is sure to get many more viewers looking for trouble now that the news is out. Kate claimed that the show "will address the bigger picture, regarding the very public focus on our family and the stress it's caused in our relationship, but not necessarily any specific tabloid." The show's fifth season premieres in just two weeks and as MSNBC's The Scoop points out, they'd do well to show the family having problems as a lot of people will be tuning in looking for some drama.