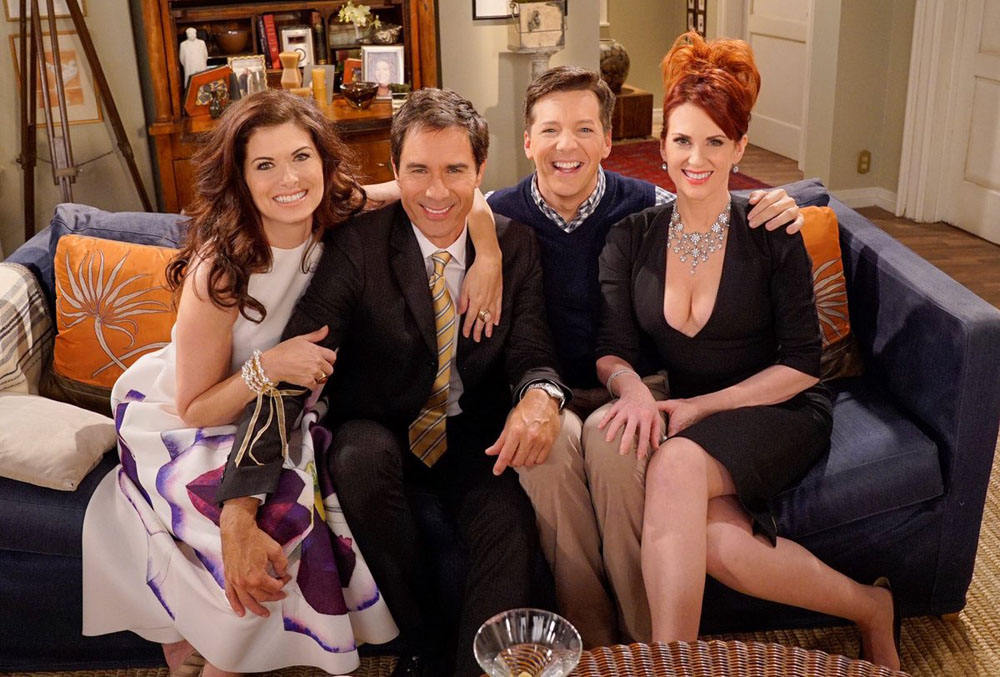 If you're a fan of Will and Grace, you've no doubt seen the 9-minute mini-episode, of the original cast – Debra Messing, Eric McCormack, Sean Hayes and Megan Mullally – reprising their roles and discussing the upcoming elections. The clip was shot last Wednesday, which marked the 18th anniversary the show's premiere on NBC in 1998, and was released on Monday. The video has already had nearly four million views. If you haven't seen it yet, check it out here. It's hilarious, but not as funny as the terrible laugh track will make you believe. Wow, I do not remember the laughter being quite so obnoxious. Anyway, here's the clip.
Is this clip the precursor to a full-on Will and Grace reboot? You can keep Fuller House, this, my friends, is a reboot I can completely get behind. The event was teased on social media by everyone involved. Debra tweeted a group shot with the caption, "Only smiling because of where Eric's hand is!"
Only smiling because of where Eric's hand is! @EricMcCormack @SeanHayes @MeganOMullally pic.twitter.com/Sc9kDYgLcN

— Debra Messing (@DebraMessing) September 25, 2016
Eric also tweeted some photos, including one from rehearsals, noting, "I used to be able to do this without glasses…" I do love me a man wearing glasses.
I used to be able to do this without glasses… pic.twitter.com/l9ctYCZqH6

— Eric McCormack (@EricMcCormack) September 26, 2016
And, my favorite part of Will and Grace, Megan tweeted a photo of her triumphant return to the set, with the caption, "I remember this place."
I remember this place. pic.twitter.com/Elwgvx7Sof

— Megan Mullally (@MeganOMullally) September 26, 2016
Debra and Eric spoke with The Hollywood Reporter about how the reunion came together and talked about the possibility of getting the gang back together again. The whole article is a good read, but here are some of the highlights:
Debra on the reunion: It was immediate, electric joy [when she got the call from show co-creator Max Mutchnick]. I did not hesitate for a second. I said, "I'm in, just tell me where and when." I thought it was such an incredible idea. Will & Grace was always about being irreverent about whatever was going on in the world. With how unprecedented this election cycle has been, there's no perfect time than right now for the show to be on based on the kind of show it was and the kind of comedy we did. To find out that after 10.5 years of being away from it and be able to come back and have this reunion — and Max had the sets, which was so insane — so to do this homage sketch and revisit the characters and to have fun with what's been going on the election was heaven to me. 

Eric on the reunion: It was incredibly emotional. The show was always funny and fun. Rehearsals were funny, read-throughs — the very first one of the script — were always funny. Across the board, the network would always show up because they knew it was going to be funny right out of the gate. From moment one [of the reunion], there was a tremendous happiness — but also a real sadness — because we knew it was brief: it was going to be 24.5 hours and then we were going to be done. It wasn't just the four of us either; we had a lot of our original writers and producers and crew there. There was a sense of, "This is incredible and it's all going to be over way too soon."

Debra on filming the episode: It was incredible and not something I ever thought could ever be possible….Of course people were saying, "I wish this wouldn't end." All department heads said, "Why can't we pick this up in a week? Why aren't we doing this? This is what the country needs with all the craziness." There was a longing to keep the family together. But at the end of the day, it was like a family coming together for a wedding: family members from far and wide, having big party, hugging and saying goodbye and realizing that we shared something really special.

Eric on bringing W&G back: There is no official talk. A lot of that started the past 36 hours on the internet, which can create its own crazy expectations. We had a great time. It's a never say never type of situation. But at this point, there is no talk.

Debra on bringing W&G back: Everyone has been asking: are we really coming back? Could we really come back? My response, which I've learned in the last five years, is I never say never anymore.
I get the feeling everyone would be up for this, even Megan Mullally, who,when asked about the possibility of stepping into Karen's stilettos again, , said "All I can say is I don't know what the future holds, but I know there's a very good feeling right now between everybody, and we had a lot of fun going back and working together…So who knows."
This really needs to happen. Please TV gods, make this happen. Oh, and please, everybody, #VoteHoney.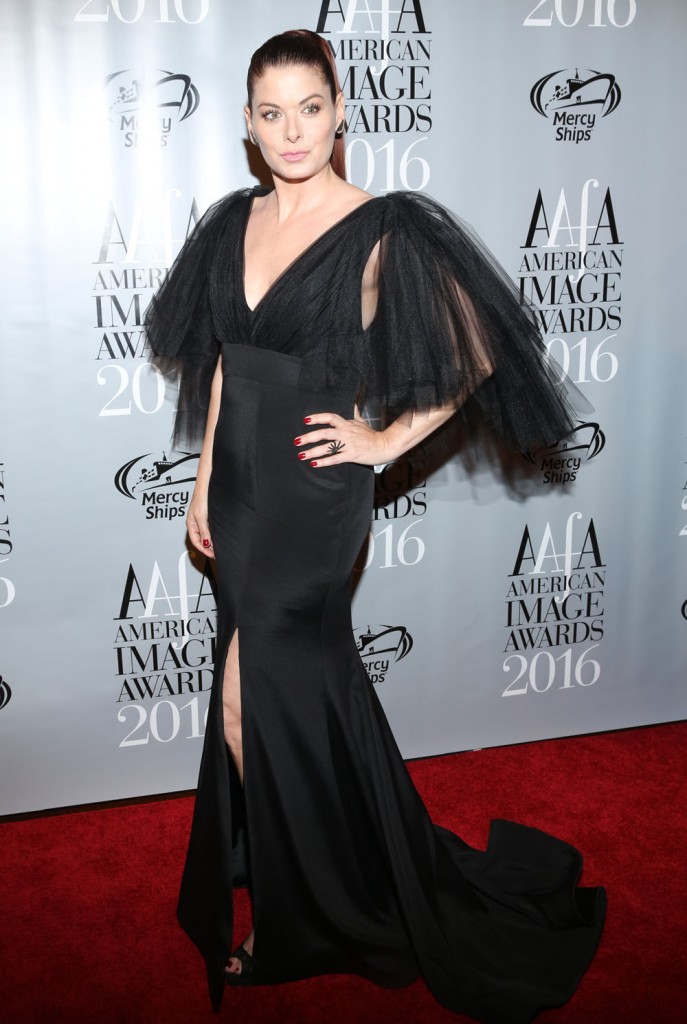 Photo credit: WENN.com, Getty Images