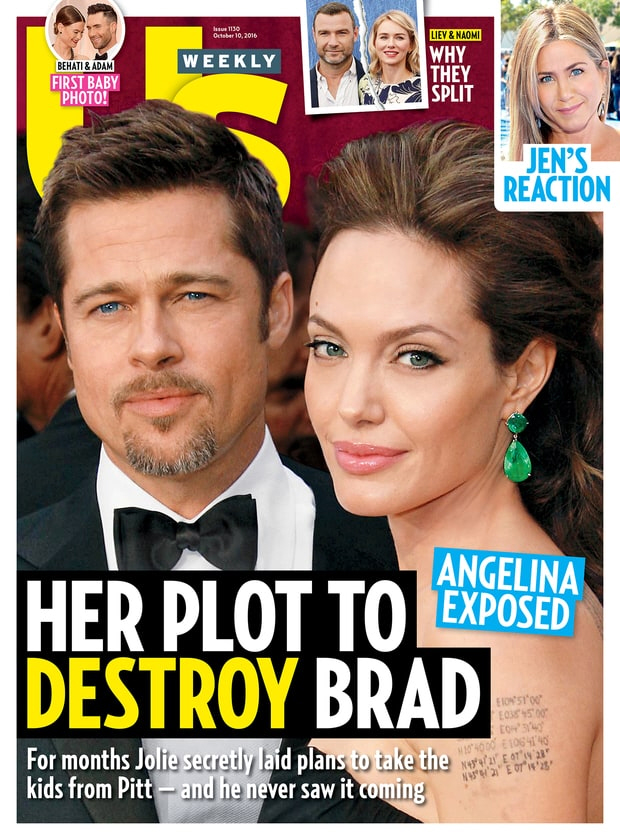 As we discussed yesterday, Us Weekly's cover story this week is all about The Villainess Jolie's "plot" to "destroy" Brad Pitt by… calmly filing for divorce and cooperating with an ongoing investigation into Brad's conduct on a private plane. The first excerpt released yesterday did not include much new information. Thankfully, Us Weekly teased a bit more online throughout the day, plus LaineyGossip had the most interesting part from the print edition. Some highlights:
Old-school Mean Girl: Us Weekly says that in 2012, Angelina mean girl'd Stacy Keibler, who was then dating George Clooney. Brangelina and Clooney and Keibler shared a brief flight together from LA to Palm Springs and "Angelina refused to acknowledge that Stacy was even on the plane. Angelina went out of her way to ignore her, from takeoff to landing. She would not even look Stacy's way. She was not having it!"

Jolie has a long history of being an icy bitch: "Angie can be cold," the source said of Jolie. Her attitude towards her husband's social circle was just one of the things that took a toll on their relationship after 12 years together. Jolie never meshed with Pitt's A-list pals and was icy towards them throughout the years. "Angelina was not engaging with Brad's friends or their wives … particularly in the last couple of years," a third source told Us.

Living in separate wings: When they were in the same home – their Hollywood Hills compound – they would live separately. "Angelina basically had her own wing and he had his. They began living these separate lives."

Brad and Angelina fought a lot this year: Brad allegedly 'didn't want to be alone' and turned to friends while working on his latest movie Allied to discuss his problems. 'He said he was just worn out and fed up with problems at home. He said they've had rocky moments before, but this is the roughest patch they'd ever been through.' A source close to Angelina alleged that she wasn't happy with Brad airing their dirty laundry, telling Us Weekly: 'She cannot deal with anyone talking about their business.'

What went down on the plane? Per LaineyGossip: When Jolie and Pitt boarded the private VistaJet plane from Nice, France, en route to L.A. September 14, their marriage was already beyond repair. "Their arguments," says the Pitt friend, "progressively became more frequent." They had another blowout during the 14-hour flight. At some point, Pitt, who had been drinking, allegedly became enraged and began yelling at Jolie. "When Maddox intervened to protect Angelina," says a Jolie source, "Brad got up in his face and screamed at him to mind his own business." Another insider claims closed-circuit footage exists of Pitt getting "physical" and causing "damage to the plane itself." (According to TMZ, when the plane stopped in International Falls, Minnesota, to refuel, Pitt disembarked and tried to drive off in a fuel truck.)
[From Us Weekly, The Daily Mail & Us Weekly]
So on one side you have a guy who screams bloody murder into his teenage son's face and possibly caused physical damage to a private plane. On the other side you have a woman who might be a bit cold and bitchy to Brad's friends' rent-a-dates. TOTALLY EQUAL! Such plotting. Much destruction. Icy Bitch Realness.
E! News also has another pro-Brad story about how all he ever wanted was stability for their kids and "When she would travel, which was a lot, he would stay with them. Any time he wasn't working, he was with the kids." And…? Anytime HE was working, she was with the kids too. Guess who worked more during their marriage? Yep.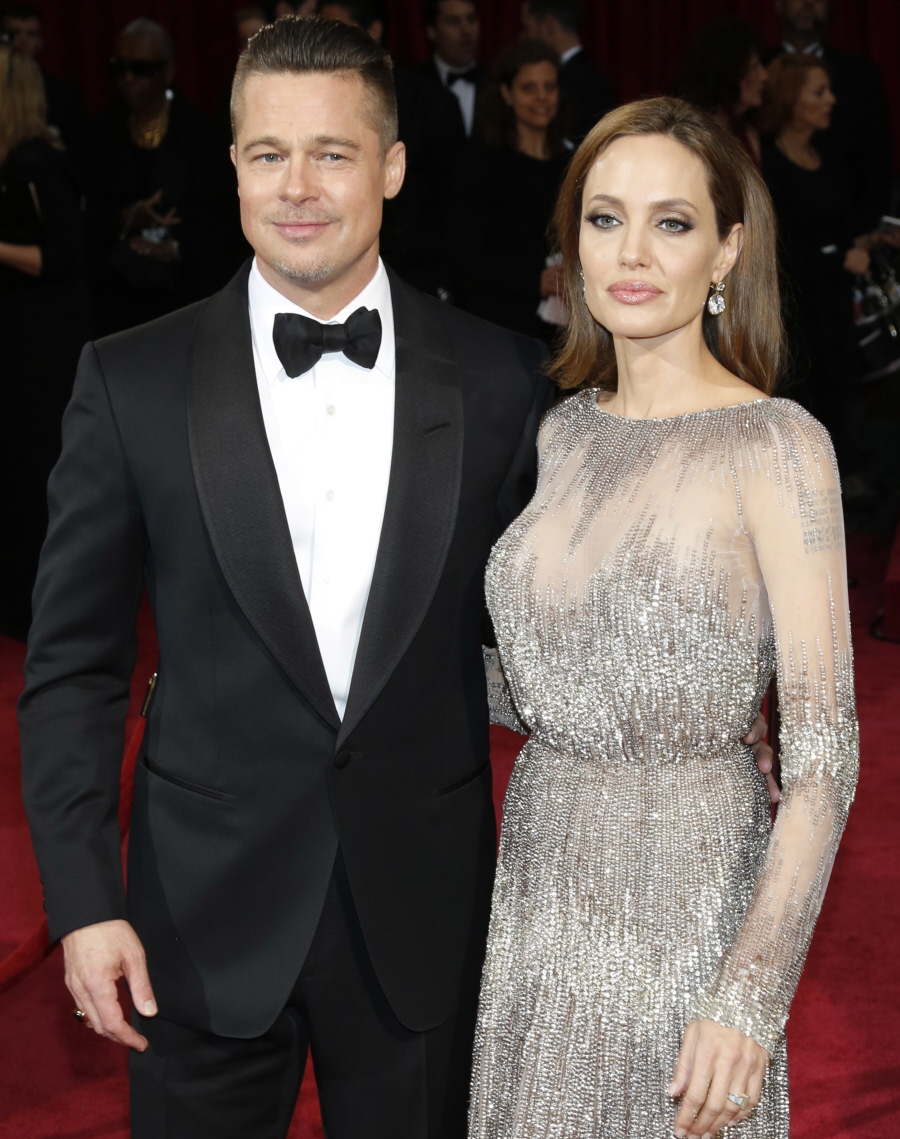 Photos courtesy of WENN.