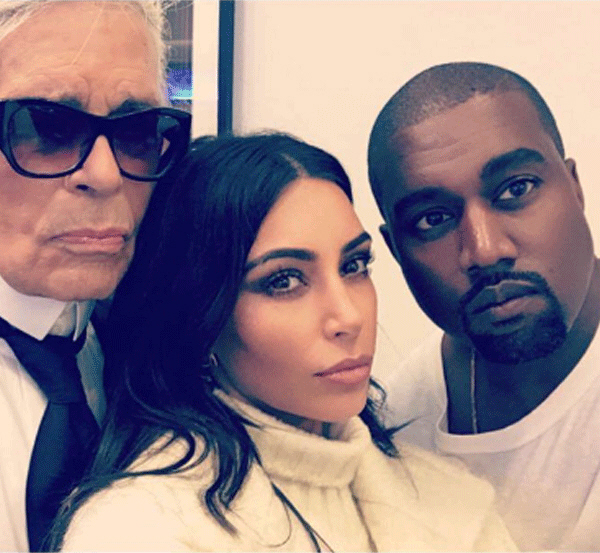 Karl Lagerfeld is surprisingly friendly with the Kardashian-Jenner clan. Kendall Jenner has modeled for Chanel, and Karl has photographed Kim Kardashian and Kanye for magazine editorials in the past. While Lagerfeld hates most things, he doesn't seem to mind Kim in small doses, even if he (I suspect) thinks she's tacky as hell. Well, Kim's robbery came in the middle of Paris Fashion Week, just a few days before Karl's big Chanel show. So obviously people were asking him to go on the record about what he thinks about Kim's robbery and assault. And he obliged. With some victim-blame-y stuff.
Karl Lagerfeld is not mincing words about Kim Kardashian's robbery. The famed creative director of Chanel addressed reporters during the label's fashion show in Paris on Tuesday, commenting at length on the reality star's life-threatening experience. The comments were captured on video and shared by The Telegraph.

"I don't understand why she was in a hotel with no security and think like this," the 83-year-old designer began. "If you are that famous and you put all your jewelry on the net, you go to hotels where nobody can come near to the room. You cannot display your wealth and then be surprised that some people want to share it with you."

As a resident of Paris, Lagerfeld also commented on how the event may impact the area, particularly after the country suffered two of its deadliest terrorist attacks in November and July.

"Image-wise, I think it is very bad," he told reporters. "We make all the efforts to make Paris appealing."

Despite his critical words, he did issue a message of support to Kardashian immediately after reports surfaced of the robbery. "Dearest Kim, We are all with you. Love, Karl," he wrote on a note photographed and shared on social media.
The problem with people "blaming" Kim for her conspicuous consumption is that it feels like those people believe Kim somehow "deserved" to be "punished" for being rich, or having nice jewelry, or for being a woman alone in a private and (what she assumed was) secure location. Do you see how absurd that is? It's her fault for being alone. She's responsible for the crime because she was alone in a rented apartment that she believed to be secure. It's her fault for wearing nice jewelry too, and for being on social media. Women have the right to wear jewelry, to post on social media, to stay in hotels and more without being assaulted and robbed. End of story. And the fact that this is coming from Karl Lagerfeld, the chief designer of Chanel, a label that prides itself on exclusivity and conspicuous consumption, is particularly ridiculous. Lagerfeld is selling the same look-at-me consumption that Kim is selling.
As for this crime reflecting badly on Paris… Kim hasn't said anything in which she blamed the city of Paris or anything like that. Crime happens in every city, everyone knows that, and this robbery could have happened in any city. This incident did reflect badly on the Hotel de Pourtalès though, especially since everyone now believes that there was some kind of inside-man in the building, tipping off the burglars.
Photos courtesy of Instagram, Fame/Flynet.