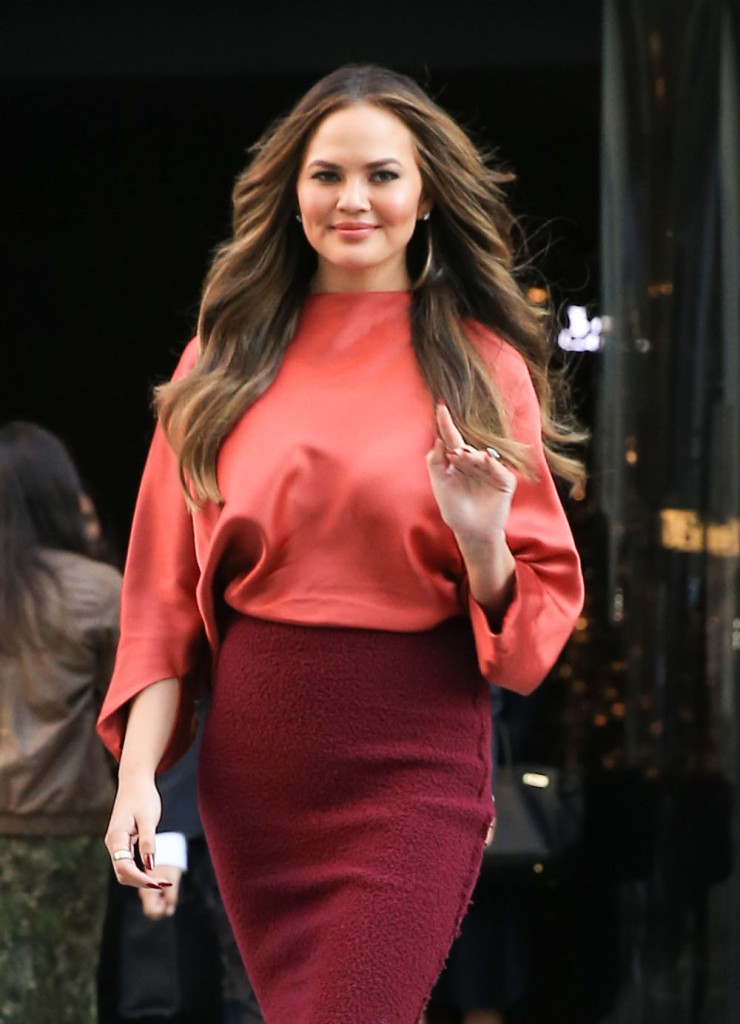 I certainly am no Sports Illustrated model (current or former) and I'm not married to a pop star, but I can kind of relate to Chrissy Teigen. She's a foodie who can admit she likes a big ol' burrito from time to time and she's able to poke fun at herself. The 30-year-old Lip Sync Battle hostess just added another thing to the "celebrities are just like us" list when she confessed to opening some mail addressed to Rihanna.
On Tuesday's episode of The Ellen Show, Chrissy told Ellen that she and her husband John Legend recently moved into RiRi's former residence in Los Angeles, telling her, "I never in my life thought I would be cool enough to live in Rihanna's pad." And, as everyone who has moved into a new place encounters, you sometimes get mail addressed to the former resident. Most of us either merk the latter return to sender or toss it, but if you got something addressed to Rihanna, you'd probably be at least a little curious as to what's inside the envelope. Chrissy admitted she received some mail addressed to the singer and tried to do the right thing but wanted to do it at an inconvenient time, telling Ellen, "I tried to bring it to the Grammys, but John was like, 'No! That doesn't look cool. Please don't. You're embarrassing me."
So, of course, Chrissy 'fessed up and said she opened a bill, discovering that Rihanna owed $18 to Bugatti. She may or may not may have checked out some of her fan mail as well. When Ellen told Chrissy that opening someone else's mail was illegal, Chrissy seemed honestly surprised and said, "But it's my house now! Can you not? Are we going to edit this? This is why I can never run for president."
In addition to her confession of criminal activity, Chrissy also talked about her daughter, Luna, who at 5-months old is currently undergoing sleep training and is still adorable. She boasted, "She really is such a good baby because she has John's temperament. Thank goodness!" She also briefly talked politics with Ellen, as she has used her Twitter feed to encourage her followers to register to vote. Not surprisingly, she and John are on Team Hillary. She hinted that maybe Hillary could legalize "a few things" that her younger fans might enjoy, once again knocking any presidential aspirations down another peg. Ellen joked that maybe she could legalize opening other people's mail. It was a cute interview, which you can see here:
I know she can get a little annoying with her constant social media activity, but I think her heart is in the right place. As much as I am not a fan of Kim and Kanye, Chrissy attacked online trolls who were saying that Kim deserved to get robbed in Paris. That's admirable.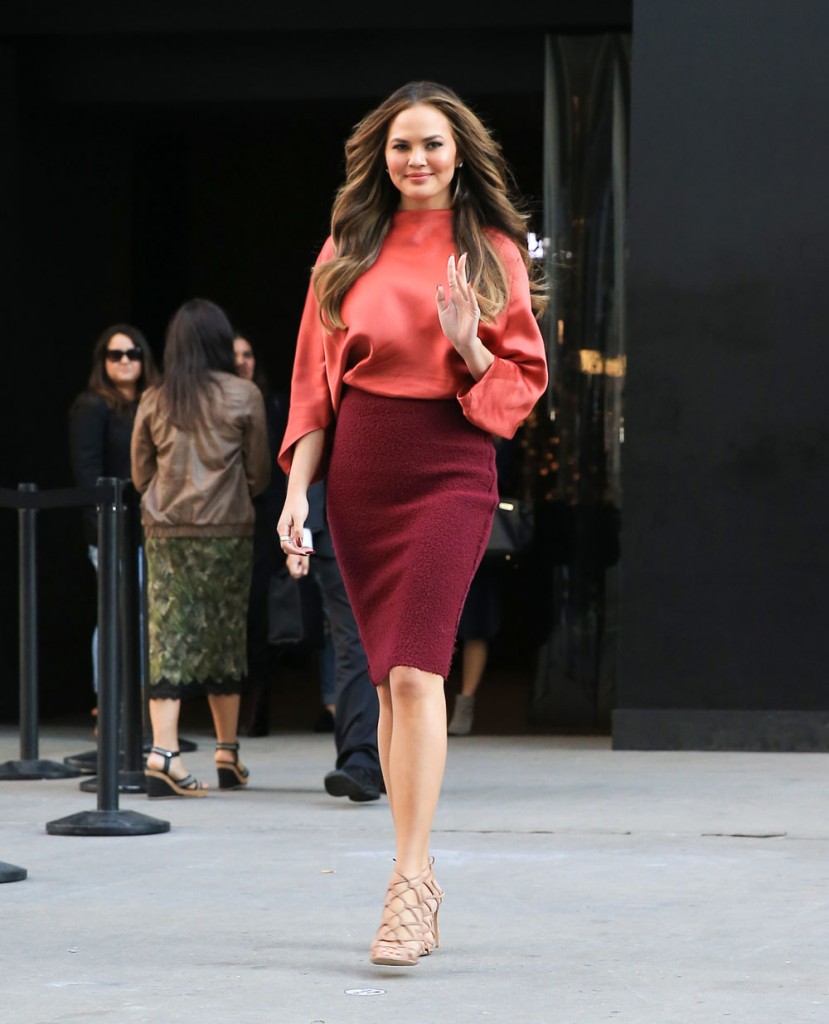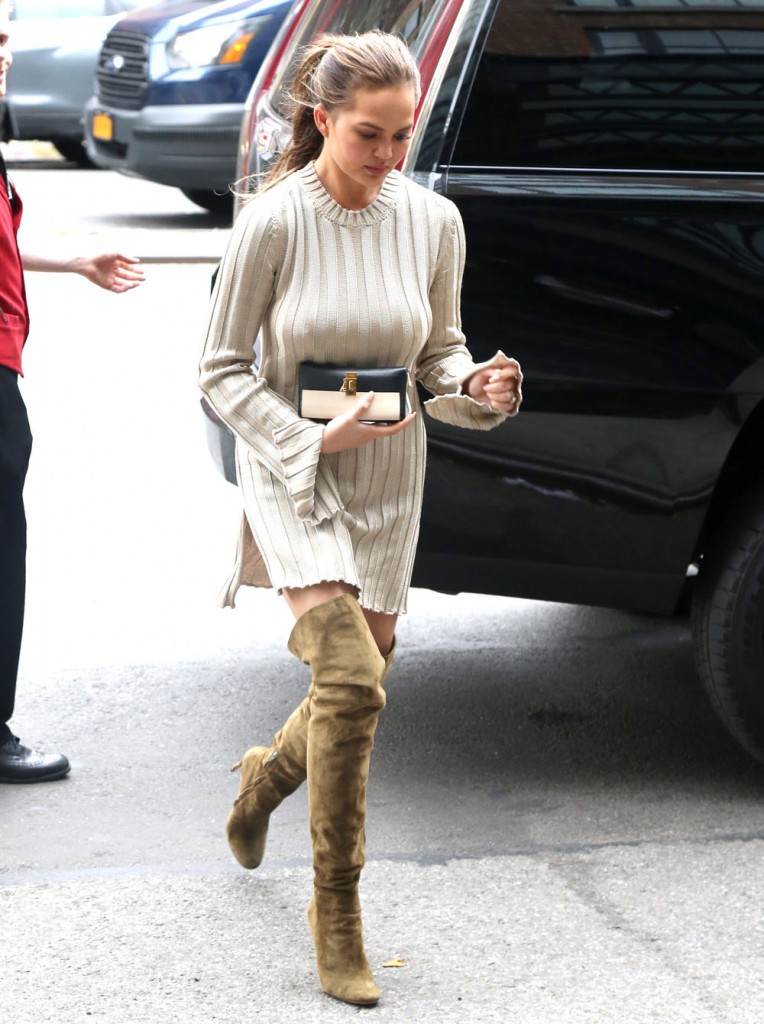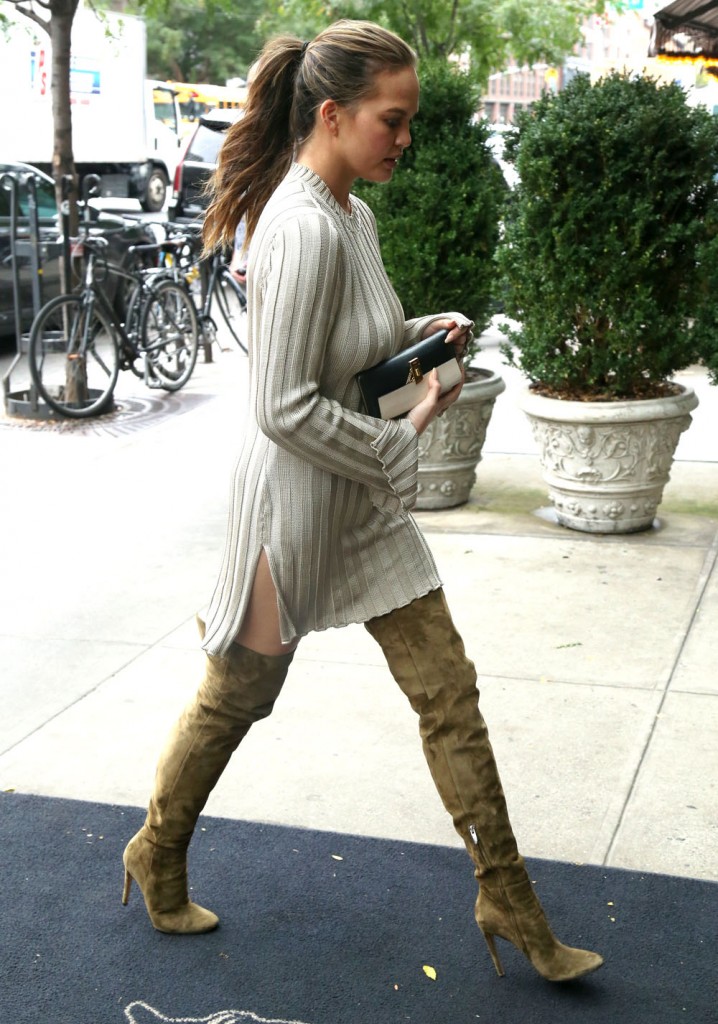 Photo credit: Fame Flynet