Jennifer Garner was out with one of her workout buddies earlier this week getting coffee in their gym clothes. She was surrounded by paparazzi and was in a playful mood. At the beginning of the video above you can hear her say to a paparazzo "Brad and I are dating." It's unclear what question he asked but I would assume he loudly inquired whether she was was dating someone and she didn't just volunteer that information out of nowhere.
The guy asks incredulously "You're dating Brad Pitt?"
"Isn't that great, yay?"
"Oh my God, that's insane. Ben must cry himself to sleep every night."
Then Garner rejoins her friend and they laugh about it, with her friend saying "Oh no. Make it stop."
The two walk to their black Range Rover and the paparazzi yells "Congratulations on you and Brad."
The rest of the video is just the two of them headed to their gym, Body by Simone, and then leaving the gym afterwards. (Sidenote: I have only done this workout once and it's insane.)
After their workout, Garner is asked "Jennifer do you have any advice for Angelina Jolie on her breakup with Brad?" She wisely does not answer that one.
So this is getting major headlines. Is this Garner's next move for attention after doing a couple of pap walks with Ben right after the Brangelina split or was she just harmlessly joking around? Maybe it's a little from column A, a little from B, to steal an expression from Kaiser. I know that I've said things I thought were funny when out with friends and then later thought, "why did I say that?" but I get social regret often. She was just messing around and she deals with these photographers trailing her every day. It's got to get old and she was teasing. Maybe if Garner used social media she could issue a statement that she was joking but she's not on twitter or instagram so that's not going to happen. She's old school but she still knows how to get press.
Oh and Huffpo reminds me that Garner made a reference to Brad Pitt and Jennifer Aniston in her Vanity Fair interview. She said, in reference to her own relationship with Ben and people wanting to see them back together, "When Jen Aniston and Brad Pitt broke up I was dying to see something that said they were getting back together." Does she hope that Brad stays with Angelina now or is she wiser about what that would entail, since she's living it? It's an honest question!
Supposedly these photos were taken on 10/1 (Jen is wearing the colorful pants there) and on 10/2, which is when the video was filmed. She's wearing the same shirt though. Credit: FameFlynet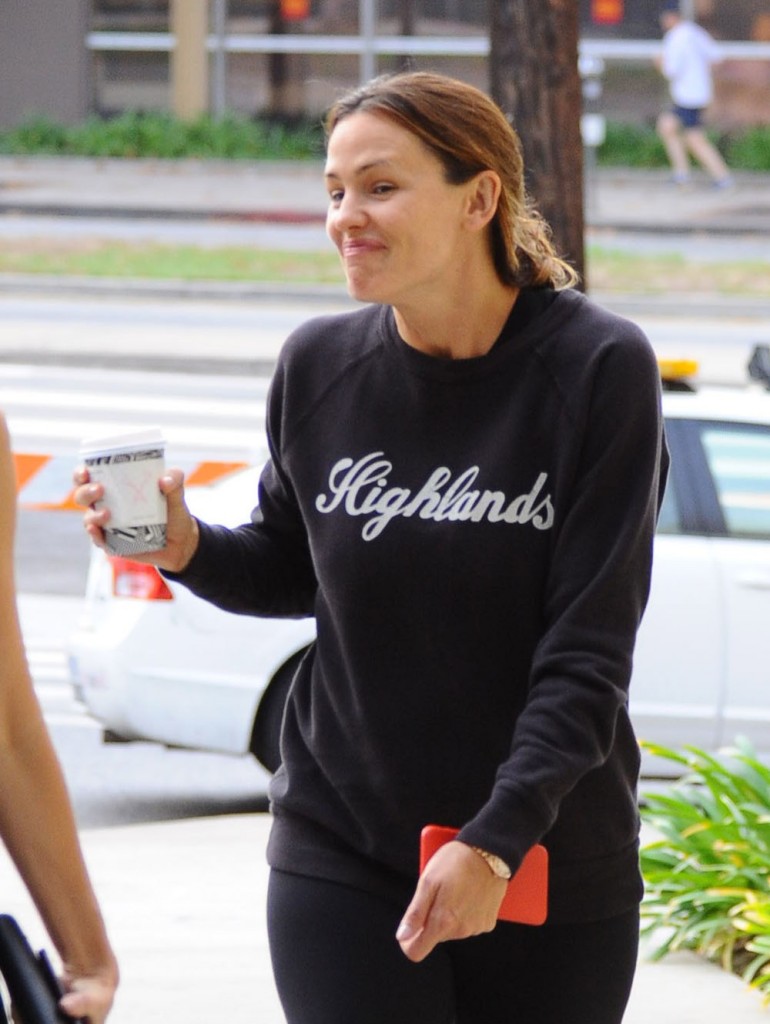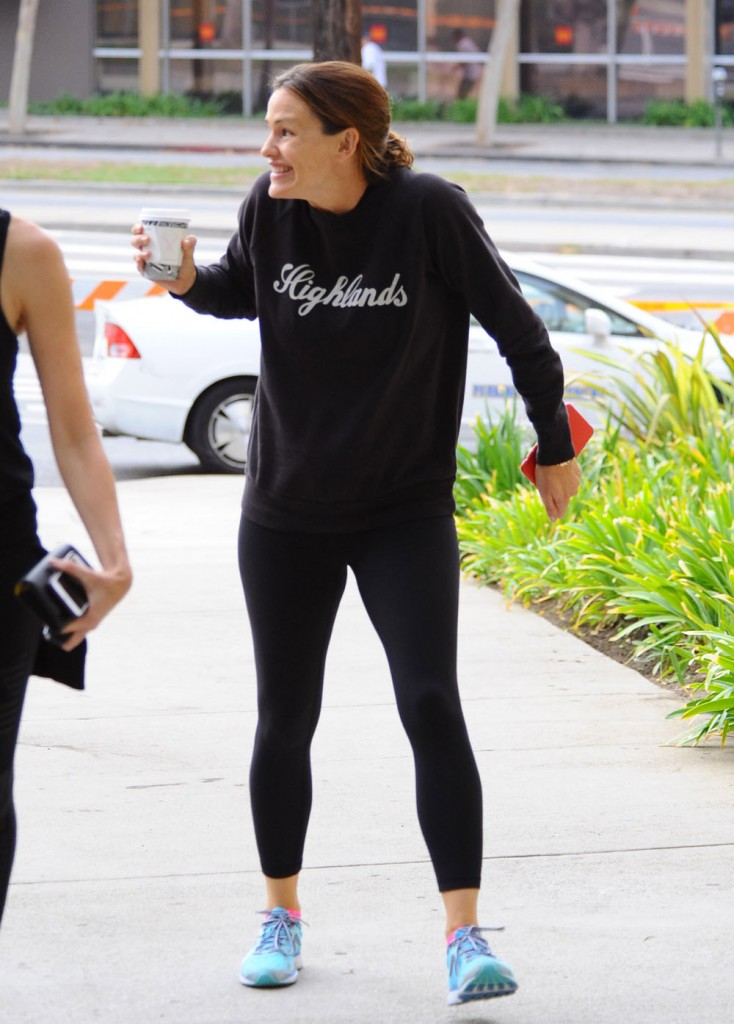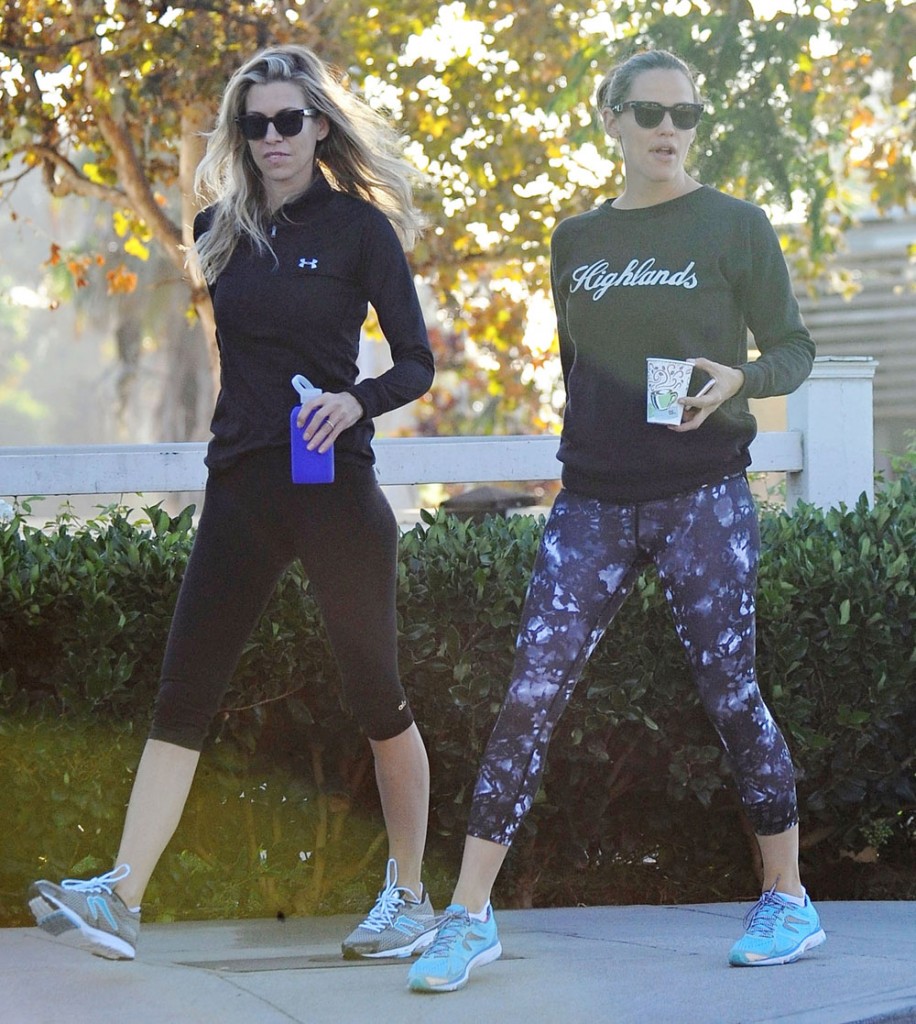 Photos credit: FameFlynet