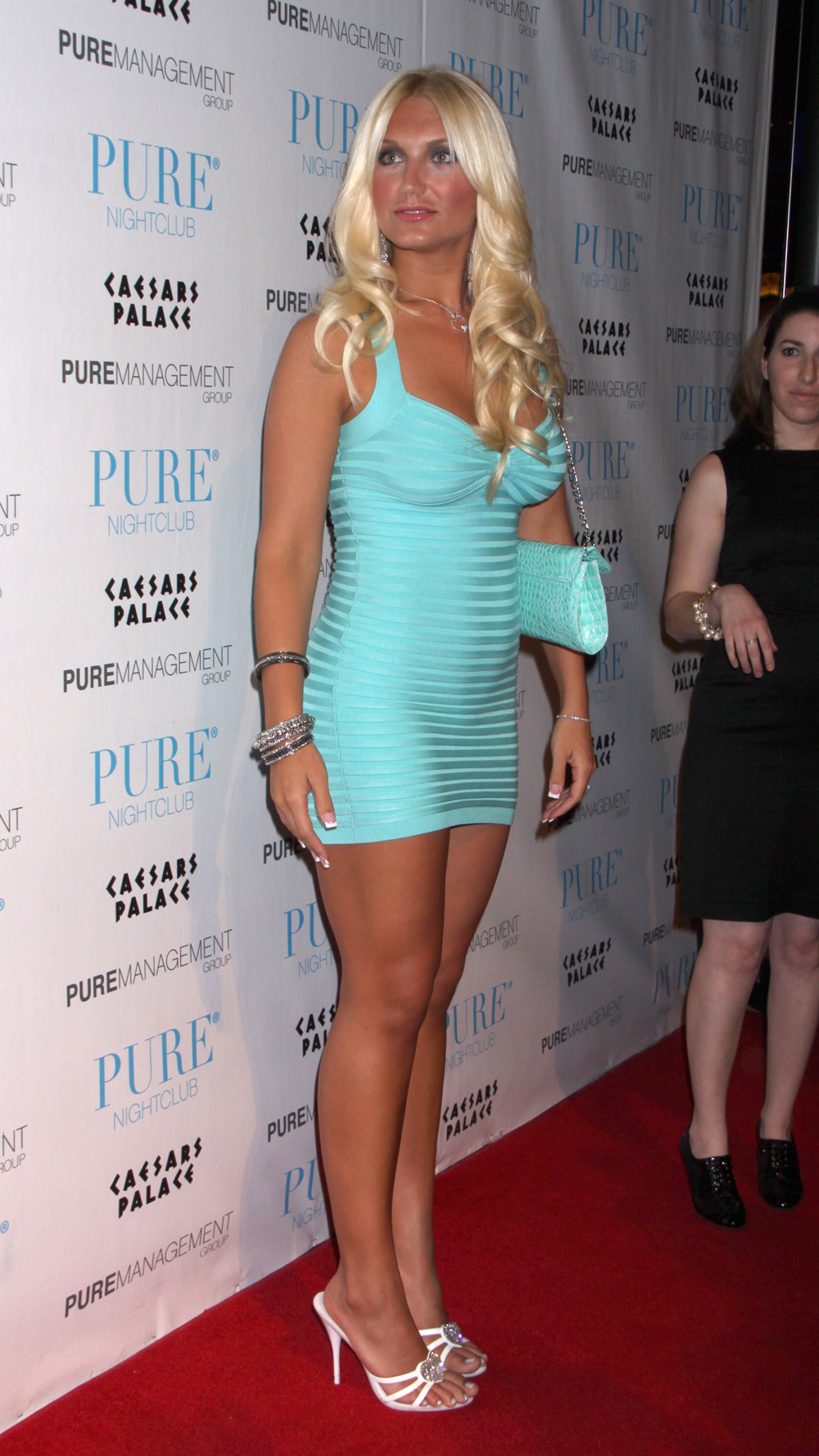 Just in case you thought the Hogan family had put their issues with each other aside, I'm here to tell you… not so much. They're also still really big on lying and fabricating the truth, considering they're giving very different versions of a story, only one of which can be true. Brooke Hogan turned 21 last week in an appropriately tacky party at Pure nightclub in Vegas. According to Brooke, she invited her mom Linda – with whom she's been estranged – to her birthday part, but Linda didn't bother to show. According to Linda's people, she was never invited.
Brooke Hogan was all smiles as she celebrated her coming-of-age last week at Sin City's Spago Restaurant alongside her boyfriend Stack$, father Hulk, brother Nick and a few close friends — but notably absent for the intimate affair was her mom, Linda Bollea.

Brooke reached out to her mother numerous times and let her know that she was more than welcome at any of her birthday celebrations and that she would love her to be there, but Linda chose not to attend, said a source.

"Linda was really, really hurt," another source told Tarts. "But Brooke has sided with her father in all of this, she was adamant about not celebrating with her mom or extending an invitation."

Following dinner, Brooke partied with (and couldn't keep her hands off) her beau inside PURE nightclub while typically protective Hulk looked on disapprovingly.
[From Fox News' Pop Tarts]
It's hard to side with anyone in Hulk and Linda's divorce, considering how reprehensible their behavior has been. It's not surprising that Brooke would be creeped out by her mom's relationship with a 19-year-old former friend of her younger brother Nick. But her dad also said he understood why OJ Simpson killed Nicole Brown, so you'd think she'd want to stay far away from both of her parents.
In related Hogan news, near-killer Nick has wanted his own reality show for a long time. Because he's such a wonderful, special person and not one of the world's greater assholes. Unfortunately for dear Nick, no one's willing to touch his show – or much of anything having to do with him.
"I want to do where I'll make the most money," Nick said [to Hulk in audio tapes of Nick's jail phone conversation with his dad during his incarceration] , his father adding that he'll produce the show and make his son the owner.

But so far Nick hasn't [had] any luck with that controversial show of his, with an insider telling Tarts that the production companies and [sic] hesitant to even touch it. A rep for VH1 (the network behind "Hogan Knows Best" and the spin-off "Brooke Knows Best") confirmed to Tarts that there was nothing in the works regarding Nick.

Although the now 18-year-old has made the move to the outskirts of Tinseltown and still has high hopes of making it on the big-screen.

"He wants to start his own charity," a source close to mama Linda said. "He wants to make a name for himself."
[From Fox News' Pop Tarts]
Um, a charity for what? If I were to be forced to list 10,000 adjectives that describe Nick Hogan, never ever would I say anything along the lines of "cares about others." Obviously he wants to start his own charity to try to look like a better guy than he is. Though to be fair the guy who robbed my neighbor's apartment is better than Nick Hogan is, so it wouldn't take much. Surely he doesn't need to start a charity to improve his image. When you're considered nothing but scum, anything is a step up. Hell, he could just slow down at a yellow light once in a while and people will think he's a little bit less of a douche bag than he is.
Here are the Hogans at Brooke's birthday party on May 5th in Vegas. Images thanks to WENN.com .