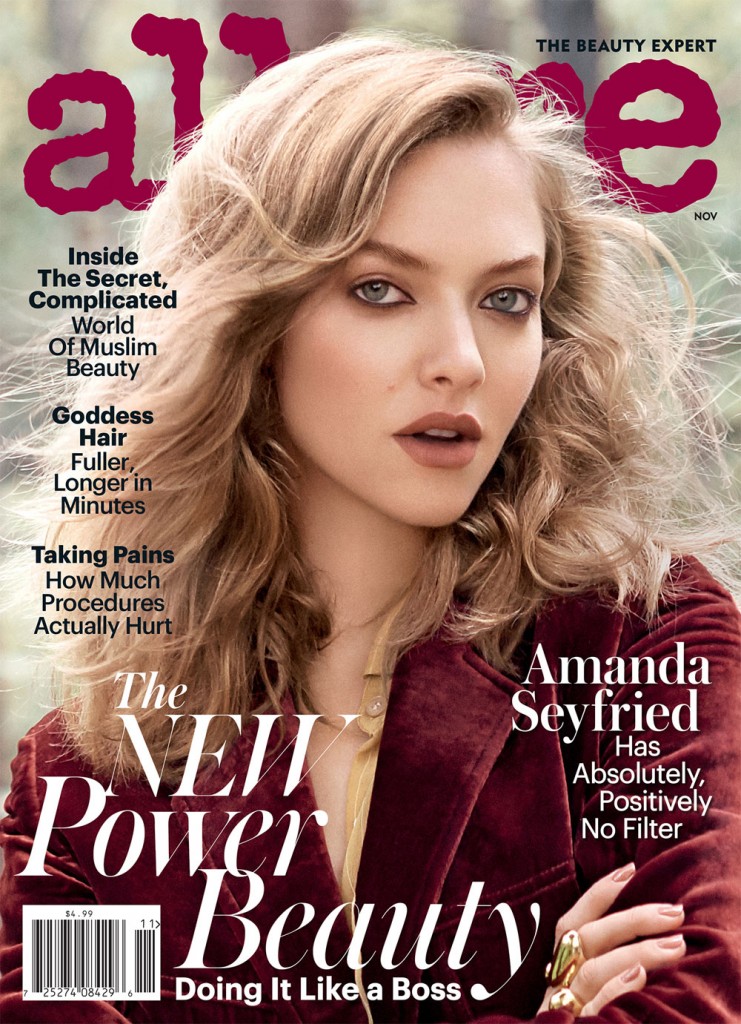 Amanda Seyfried covers the November issue of Allure, and they put her in a gorgeous burgundy velvet jacket and styled her straight out of the 70s. She's beautiful no matter what, she's got that incredible hair, and that look really suits her. A lot of outlets are focusing on Amanda opening up in the interview about the fact that she has obsessive compulsive disorder and takes Lexapro to control it. This isn't the first time she's told the press about it. She's been open about the fact that she has OCD and suffers panic attacks and that she's being treated with Lexapro. Good for Amanda for continuing to talk about her struggles and for trying to reduce the stigma of mental health treatment.
Amanda met the Allure journalist in Stone Ridge, New York where she has a home and is raising chickens. She and her fiancé, Thomas Sadowski, plan to adopt a goat and a pig and just rescued two cats. Amanda also has her Australian Shepard, Finn, whom she Facetimes when she's away from him for too long. That's so cute that she face times her dog! Here's some of what she told Allure and there's much more at the source:
Q: Have you done a lot of work on your place?
A: "I bought the house in 2013, and then I had it redone…. I just finished renovating one of the barns for guests. I put in a bathroom and a little kitchenette, but no stove; I want people to eat meals in the house. Also, I always worry about people and how they use stoves. Which is just a controlling thing."

Q: Is this related to OCD?
A: "Yes. About the gas. You could so easily burn down something if you leave the stove on. Or the oven."

Q: Are you medicated?
A: "Yeah. I'm on Lexapro, and I'll never get off of it. I've been on it since I was 19, so 11 years. I'm on the lowest dose. I don't see the point of getting off of it. Whether it's placebo or not, I don't want to risk it. And what are you fighting against? Just the stigma of using a tool? A mental illness is a thing that people cast in a different category [from other illnesses], but I don't think it is. It should be taken as seriously as anything else. You don't see the mental illness: It's not a mass; it's not a cyst. But it's there. Why do you need to prove it? If you can treat it, you treat it. I had pretty bad health anxiety that came from the OCD and thought I had a tumor in my brain. I had an MRI, and the neurologist referred me to a psychiatrist. As I get older, the compulsive thoughts and fears have diminished a lot. Knowing that a lot of my fears are not reality-based really helps."

On her insecurity
"It's funny when insecurity hits you. Sometimes I feel I know the world so well, but then…it's so debilitating. You're like, What am I doing here? No one wants to see me. Why are you taking my picture? It's stupid, it's irrational, and it's not all about me, but I make it about me because I'm insecure."
Amanda reminds me of Kristen Bell's recent admission that she's on antidepressants – the more celebrities talk about it, the more word gets out and people feel like they're not alone. There's no shame in it and mental illness affects people from all walks of life.
In this interview Amanda talks about the little town where she lives a couple of hours outside New York City. She said "There's a little strip mall. But it's a cute strip mall. There's a Dunkin' Donuts, a reflexology place. Even the grocery store is special. It's the classic small-town grocery. There's a lot of local things happening. And then I go to the farm stand. Everything you get is absolutely local." Unlike a lot of other celebrities, you get the impression that she's genuinely excited about it, and enjoys the normalcy of life where she can blend it. It isn't an affectation about sampling the culture and looking down on people, she really wants to be a part of things and that's novel to her.
Also, look at this new photo of Finn!
Finn is not impressed with your loom work.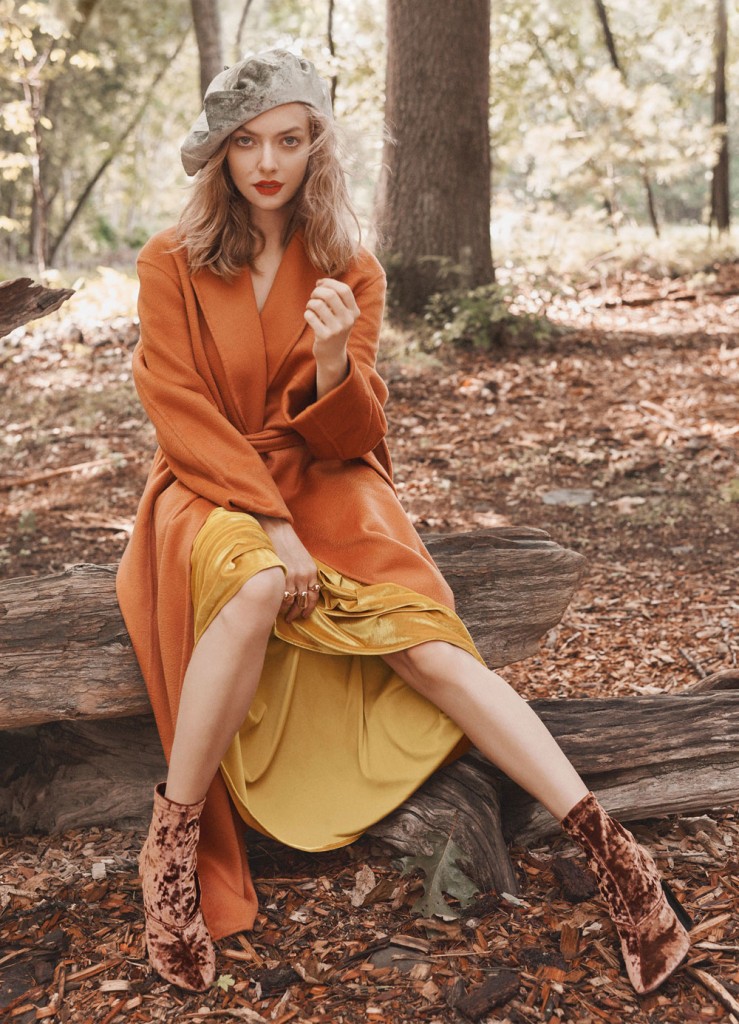 Photos credit: Amanda Seyfried/Instagram and Scott Tindle for Allure