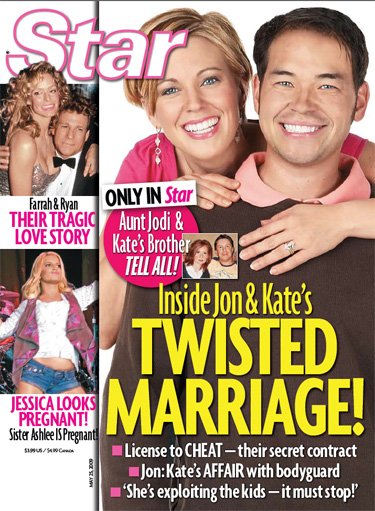 Star Magazine decided to take a much-needed break from the uncool Bermuda Triangle this week, and they're running with a cover story about Jon and Kate Gosselin called "Jon & Kate's Twisted Marriage". Epic. It's more hardcore than the US Weekly covers devoted to the couple. Star lays most of the blame for problems within the marriage right at Kate's feet. Sourcing Kate's brother Kevin and his wife Jodi, Kate is accused of ignoring her children for the sake of her career, having an "explosive temper" and cutting off almost all of her family. They also claim that Kate and Jon have a contract that allows him to have women on the side:
Jon & Kate Plus 8 wife Kate Gosselin got on her high horse Tuesday slamming reports that she may have been cheating with her hunky married bodyguard. But what she didn't know when she spoke to a magazine was the source of those explosive revelations!

In the May 25 issue of Star, we have an exclusive tell-all with the couple who were closer to Kate than anyone else — her brother Kevin Kreider and his wife, "Aunt" Jodi. They were mainstays of the TLC show for its first three seasons.

Kevin and Jodi's shocking revelations about Jon and Kate include: Jon told Kevin he believes Kate is having an affair with bodyguard Steve Neild; Kate drew up a secret contract that allows Jon to have girlfriends on the side — as long as he stays on the show; She has cut off her entire family — even her parents — and spends less and less time with her eight children while she promotes her career; Her explosive temper and controlling ways have led to bitter battles between the TV couple.

And Kevin and Jodi reveal why they are no longer on the hit show. Kate freaked out when TLC suggested they be paid for their time. "No one else is getting paid but us!" Kate screamed at her brother. "We're done!'

Kevin has a simple message for her family members. "Kate and Jon, I urge you to focus on what's most important, and stop trading your marriage and family for fame and fortune!"
[From Star Magazine]
It all seems very retro, doesn't it? When a couple is having problems in their marriage, just bash the woman. That being said, Kate doesn't seem like a very good person. But neither does Jon. But I hate the idea that there's a "reason" for Jon's wandering eye. Considering Star actually has a named source, Kate's brother, I'd bet that much of this stuff is true. Sort of. I'd guess that there's some sort of personal beef between brother and sister, and that after Kevin spoke to Star, he's going to be cute out of Kate's life as well. I'd also bet that Jon isn't an angel, either. Won't anyone think of the children?
Jon and Kate are all over the tabloids this week – US Weekly in running several stories about Kate's cheating heart and Jon being the most hapless husband in the world. Kate is on the cover of People with the headline "We Might Split Up" and the Enquirer screams "She'll lose all 8 Kids"
Thanks to CoverAwards for these photos.