Rob Lowe was sued for sexual harassment by an ex nanny, Jessica Gibson, in April of last year. Gibson alleged that Lowe tried to get her to touch his manhood and that he and his wife openly discussed their sex lives and routinely walked around the house naked. Lowe filed a peremptory suit for defamation, saying that Gibson was trying to extort money from him.
Gibson's story didn't add up
I was willing to believe Gibson at first, but there were so many inconsistencies in her story, and so many people who spoke out against her, that she didn't seem credible at all. Gibson worked for the Lowes for seven years and returned to work for them twice after she quit for the first time. She never filed any harassment complaints with her supervisor, the police, or the state department of labor. She never told her family or friends about any supposed harassment. Her mother, father, and sister all told People Magazine they were surprised by the allegations because it was the first they had heard of it.
Her sister said she was doing it for money; male employees said she hit on them
Gibson's own sister issued a sworn statement that her sister told that she wouldn't have sued if the Lowes would have paid her $200 they owed her. She also claimed Jessica said she was hoping for a large cash settlement. Two other employees of the Lowes, a chef and a tennis instructor, issued separate declarations in which they detailed the ways that Gibson hit on them relentlessly and tried to solicit sex. Several other employees issued declarations on the Lowes' behalf.
As if all of that isn't enough, Gibson was also represented by vampire celebrity attorney Gloria Allred. Allred went after the Lowes with venom, admitting that she sent over 100 requests for documents and saying she was anxious to interview them in person. "I'm looking forward to sitting eye to eye with the Lowes," Allred said, adding that it might make them "uncomfortable."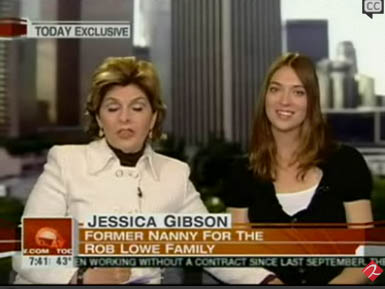 In a joint interview with Allred on The Today Show Gibson looked like she was trying not to crack up laughing the whole time. Allred answered most of the questions, Gibson couldn't explain why she kept working for the Lowes for seven years if she was being harassed, and it just came across like a scam.
Not surprisingly, Gibson has finally dropped her lawsuit and the Lowes have also dropped their suit against her. It's unknown if any money changed hands, although given everything I've seen I would hope that Gibson was at least forced to pay the Lowes' legal bills.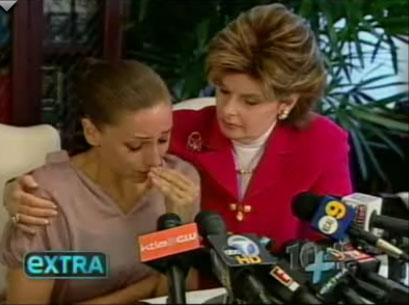 The Lowes are being sued by another nanny, a woman named Laura Boyce who is also repped by Gloria Allred. Boyce doesn't claim that Rob Lowe harassed her, but says that his wife, Sheryl, walked around naked and discussed her sex life in a way that made her uncomfortable. In a press conference that Allred held to introduce her new client, Allred ran the show while Boyce cried the entire time with her head down. When reporters asked Boyce a question, Allred covered her mouth so that she wouldn't speak. That case is probably going to get thrown out too.
I'm glad to see this ended well for the Lowes, but it's got to have been a hard, expensive battle that cost them a lot of money, time and effort. You also have to wonder what kind of effect it had on Lowe's career. If you have a lot of sympathy for the accusers, which is natural as you wonder why people would go through all this trouble if it wasn't true, please read through our past coverage of this and all the evidence to the contrary. I paid close attention to these cases, and it's hard to come to any other conclusion than the fact that it was a shakedown.
Rob Lowe is shown below at Pinkberry on 1/31/09. Credit: WENN.com