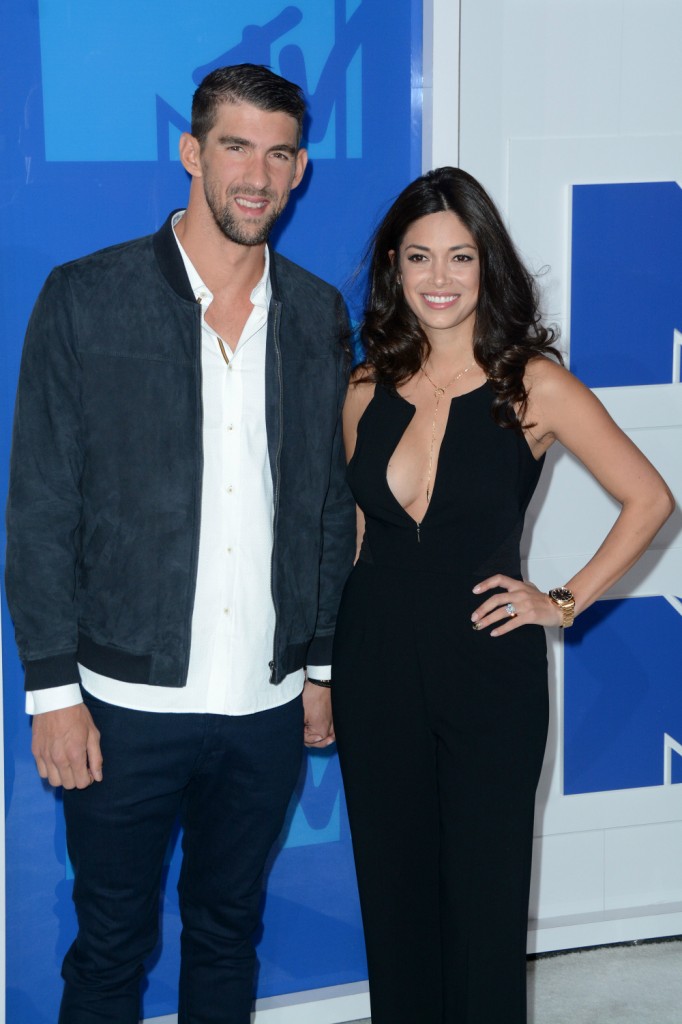 Michael Phelps needs to get his butt back in the pool ASAP to extinguish his pants, which are ON FIRE! Ever since he completed his final Olympic games with a record-breaking 28 career medals, my focus has been on his impending wedding to Nicole Johnson. I understand that sounds stalkerish but it incorporates some of my favorite things – Michael + Nicole and weddings. So as I was waxing poetic about how Michael really is helping Nicole plan and how beautiful the wedding will be and blah, blah, bah – Michael and Nicole were already hitched! According to E! News, the couple, who welcomed the Mighty Baby Boomer on May 5th of this year, got a license on June 9th and then did the deed on June 13th. So they were married before they even left for Rio. And it was right in front of us the whole time. Nicole posted this clue the night of their ceremony:
Of course, were I paying attention, I might have noticed a rather significant detail in this post from August – like say, her wedding band:
I'm just teasing about the lying. Nicole and Michael have been saying all along that the wedding would be small and that they intend to throw a big party afterwards for all their friends. They just omitted a few details… like the fact that the wedding had already happened. I assume the party is what is being planned. Nicole posted a pic of a wedding dress show captioned, "Eenie, meenie, miney, mo" so I also assume there will be an additional ceremony or maybe she'll just wear a wedding dress to the reception. I don't know but I am so happy for them. I think Nicole is a great influence on Michael and they seem so grateful for each other. Plus, they made the Mighty Boomer and we can all rejoice in that.
What's that? You want some Baby Boomer pics? Mm, okay! You can see Michael teaching MBB PSF (Phelps Stank Face) here. And there's this one but it's got baby butt in it.
Photo credit: Instagram and WENN Photos