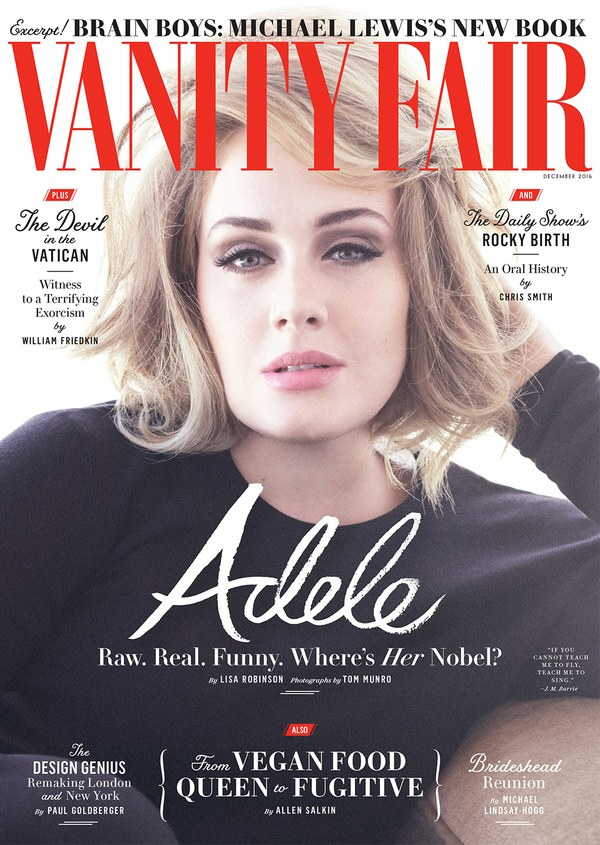 I feel like I've been waiting for this Adele interview for a year. While Adele did a lot of significant press late last year when she released 25, what we've been missing is a comprehensive, tell-all interview where she discusses life, love, fashion, money, music, babies and more. This Vanity Fair interview is it. I don't want to oversell this, but this is the best Adele interview I've ever read. I think it's because after all this time, Adele has proven herself to herself. You know? She's in a place where she knows exactly who she is and she's pretty happy. And she's really, really chatty. You should totally read the full interview here. Some highlights:
Shaved legs: She only recently shaved her legs for the first time in months. When asked if her partner minded her hairy legs, she says: "He has no choice. I'll have no man telling me to shave my f-ckin' legs. Shave yours."

On the "bravery" of having a kid in the middle of a successful career: "Actually, I think it's the bravest thing not to have a child; all my friends and I felt pressurized into having kids, because that's what adults do. I love my son more than anything, but on a daily basis, if I have a minute or two, I wish I could do whatever the f–k I wanted, whenever I want. Every single day I feel like that."

She says she doesn't think she'll have another child: "I'm too scared. I had really bad postpartum depression after I had my son, and it frightened me." Did she take antidepressants? "No, no, no, no. But also, I didn't talk to anyone about it. I was very reluctant . . . . My boyfriend said I should talk to other women who were pregnant, and I said, 'F-ck that, I ain't hanging around with a f–kin' bunch of mothers.' Then, without realizing it, I was gravitating towards pregnant women and other women with children, because I found they're a bit more patient. You'll be talking to someone, but you're not really listening, because you're so f–kin' tired. My friends who didn't have kids would get annoyed with me whereas I knew I could just sit there and chat absolute mush with my friends who had children, and we wouldn't judge each other. One day I said to a friend, 'I f–kin' hate this,' and she just burst into tears and said, 'I f–kin' hate this, too.' And it was done. It lifted."

Her knowledge of post-partum depression: "My knowledge of postpartum—or post-natal, as we call it in England—is that you don't want to be with your child; you're worried you might hurt your child; you're worried you weren't doing a good job. But I was obsessed with my child. I felt very inadequate; I felt like I'd made the worst decision of my life . . . . It can come in many different forms. Eventually I just said, I'm going to give myself an afternoon a week, just to do whatever the f–k I want without my baby. A friend of mine said, 'Really? Don't you feel bad?' I said, I do, but not as bad as I'd feel if I didn't do it."

On Donald Trump: "We only know Trump from The Apprentice, so we think a reality star is running for president. I just don't think anybody should be building walls or sh-t like that right now. I think we need to look after each other. Everyone must vote."

She would be fine if she never toured again: "I'd still like to make records, but I'd be fine if I never heard [the applause] again. I'm on tour simply to see everyone who's been so supportive. I don't care about money. I'm British, and we don't have that . . . thing of having to earn more money all the time. I don't come from money; it's not that important a part of my life. Obviously I have nice things, and I live in a nicer area than I grew up in. That was my goal from the age of seven: it was 'I ain't living here.' I didn't care how I was getting out, I didn't care where I'd be living, but I knew I wasn't living there. I love being famous for my songs, but I don't enjoy being in the public eye. I love to make music, and I love doing shows, and I needed to go back to work—not for money but because something was missing. I wasn't creating music. But there is such a massive difference between what I do for my work and what I do in my real life. I don't think anyone should be famous for going to a grocery store or a playground."

Her life with Simon: "I have no desire to be with anyone in show business, because we all have egos. He's not threatened by any stage of my life that I'm going for, and that's an amazing thing. It's the most serious relationship I've ever been in; we've got a child together and we live together. After releasing my first album, all the other people I ever was with were so insecure about themselves—they couldn't handle it at all. When I try to describe this to my friends they don't always get it, because they go out with people that are our age, but Simon is already who he is, and I'm still becoming who I'm going to be. He's confident. He's perfect."
She talks in long monologues and yet it never feels self-indulgent, like how actors can prattle on about their method or whatever. I think that's because Adele is real, you know? What you see is what you get, and she's an intelligent, engaging and witty woman… who likes her privacy. Within this interview, there are long, jazzy riffs on motherhood, the power of female friendship, longer explanations for why she thinks her partner Simon is the one, and more. It never feels like she's reciting some publicist's talking points. And that's really nice. Also: I'm sort of surprised that she doesn't want another baby, but I love what she says about younger women feel pressure to have babies and maybe the braver thing is to not have a kid.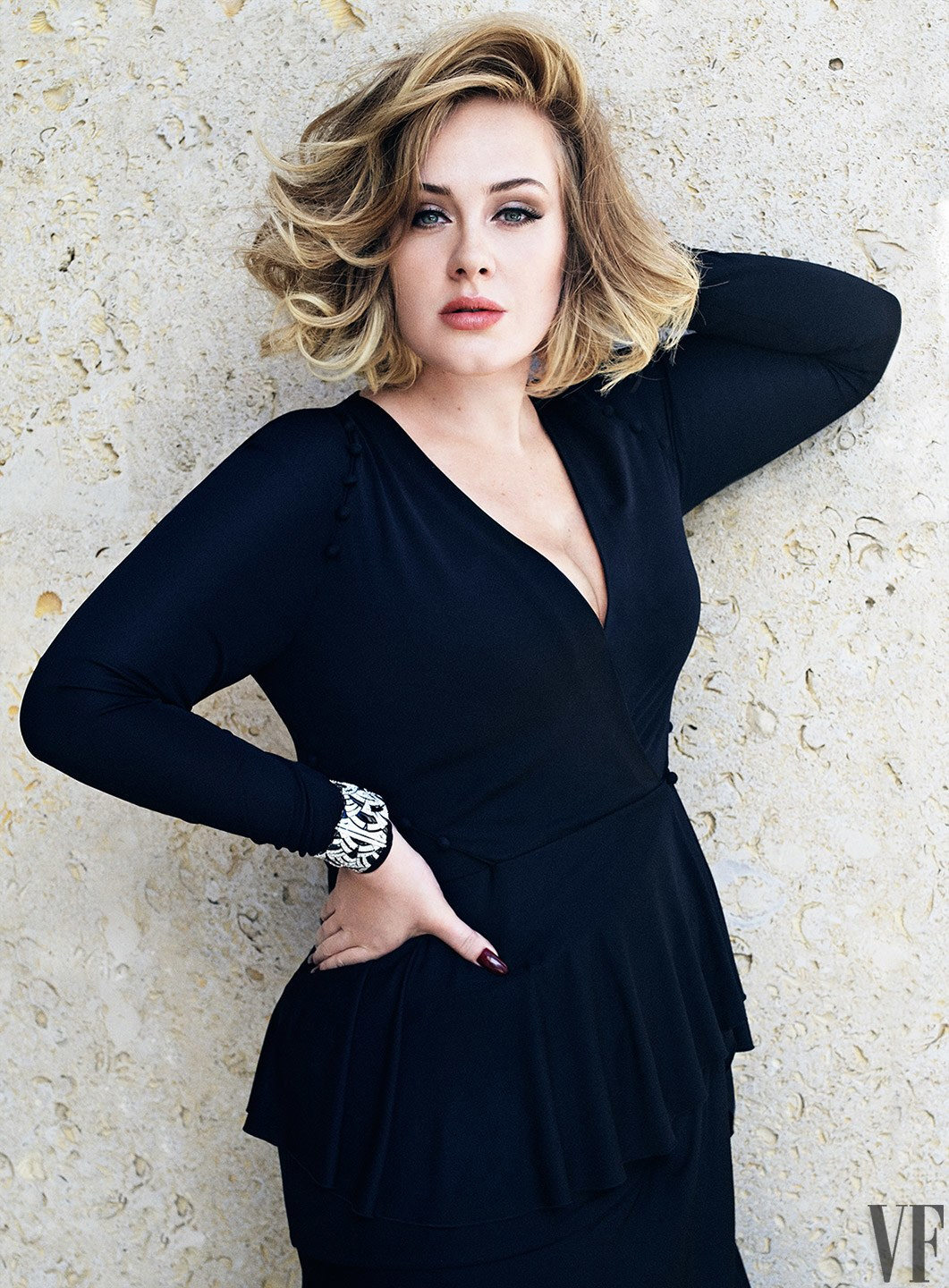 Photos courtesy of Vanity Fair.