I'm sorry this took me a couple of days to get to but I wanted to be able to do it justice. Leah Remini has a new docuseries on A&E which is coming out on November 29 called Leah Remini: Scientology and the Aftermath. We've heard that it will focus on Scientology's effects on families, but the trailer, which was aired on Entertainment Tonight, makes it look much more comprehensive than that. For those of us who have followed this cult for years, there's little that surprises us – physical abuse, child neglect and abuse, forced abortions, forcing couples and family members apart, using slave labor, bankrupting members, but there are some sad bombshells in this trailer, particularly a former Scientologist explaining she was statutory raped at 14 by her 35 year-old boss. Of course Scientology higher ups did nothing to protect her or prosecute the perpetrator. That seems kind of inevitable given everything else we've heard about Scientology, but it's still shocking and heartbreaking. As Lainey writes, it's like Leah is shocked too, although at this point how surprising is any of this to her? She's surely heard these terrible stories and she lived it too. Here's more of what's in the trailer above (in case you can't watch it) and some quotes from Leah on the show:
"My whole life I was a very dedicated Scientologist. I didn't want to find out what I'd done was a lie," the 46-year-old actress says in the trailer, which is intercut with former members emotionally recalling their experience with Scientology. "Something inside of me was saying, 'Get them out of this thing.'"

[Former parishioner] "I was 14 when I started in Scientology. I had a boss who was 35 years old and we had sex. The organization did not tell my other, did not tell the police. They're going to sweep it under the carpet and it will all be over with.

[Remini] "Fight for your family, fight for your daughters, your sons. Let's get to the abuses, let's get to the abortions. Wake up."

Remini, who left Scientology in 2013 after being a member since childhood and has since disavowed the Church, is executive producing the eight-part series.

"This series is about sharing the truth about Scientology," Remini said in a statement about the show. "Truth born out of very personal experiences. Truth that is shocking, things I did not expect to find when I embarked on the journey of making these shows."
[From ET, additional quotes from trailer added]
Scientology has responded by personally attacking Leah and all these former parishioners because that's what they do. If you care, you can read that on People.
I really give credit to Leah for making this series, at her own personal peril, to speak out against the horrors of Scientology. The cult no longer has the power it once did but their fair game policy puts a target on defector's backs and they routinely stalk, harass and spread lies against people who leave, not to mention people who speak to the press about them. Some strange "suicides" have occurred among Scientology's enemies, I'm just saying. Leah has her celebrity to protect her, and I hope these other ex Scientologists have good people around them as well. I'm looking forward to this show.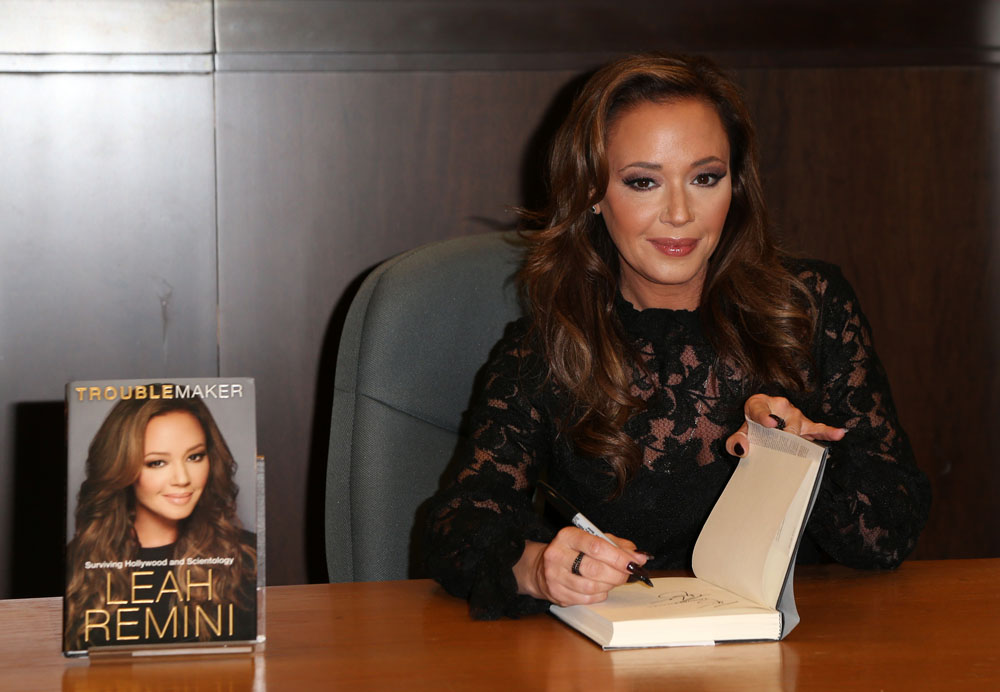 photos credit: WENN.com and Getty