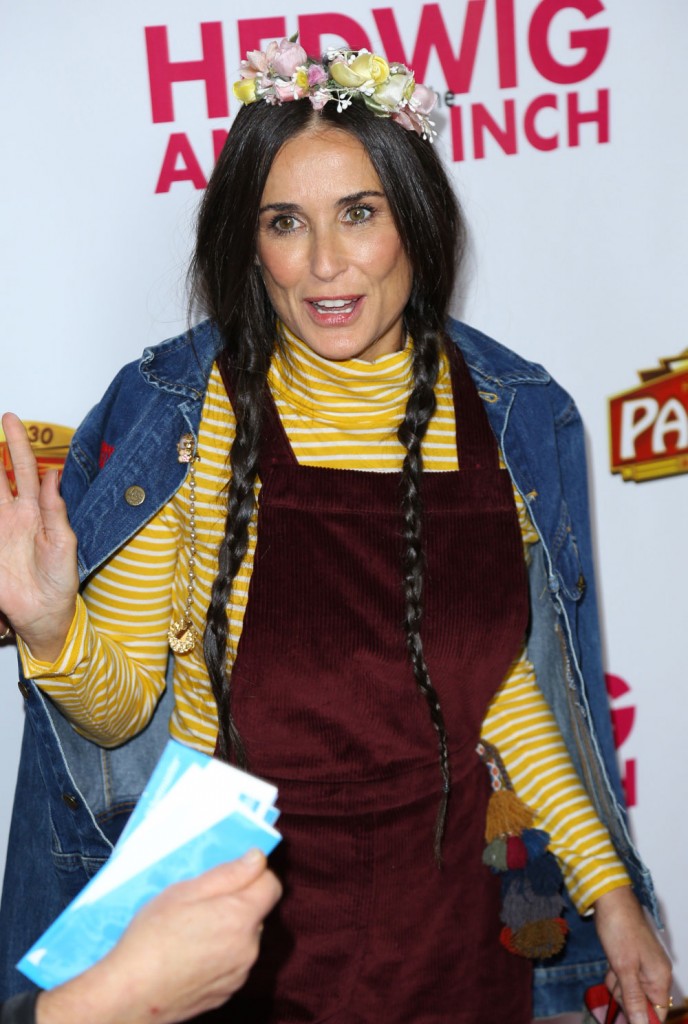 On the Late Show a few years ago, Demi Moore told a story about how she'd seen a practitioner in Austria who put leeches on her as some sort of alleged detox treatment. This is based on old-school medicine as leeches have an anticoagulant in their blood and can help aid circulation. Of course they were applied indiscriminately for all sorts of ailments and could do more harm than good. We've also heard stories that Demi spends up to $700 a visit for her dog to get acupuncture, so this has the potential to be true. According to the National Enquirer, Demi spends a ton of money on blood from a special mountain goat in Peru which is supposed to eliminate wrinkles and keep you young-looking.
"Demi was told by a doctor during her recent Peruvian trip that there was a rare mountai goat whose blood was a 100 percent guarantee for eliminating wrinkles and keeping one's body 30 years younger looking," a good pal revealed to All the Buzz [National Enquirer].

The miracle blood costs $100,000 per milliliter, and "Demi has ponied up for five vials!" the friend admitted

"She already immersed herself in one and told friends she feels completely different, like she has a new lease on life! She's saying that it is better than surgery and plans to visit the Peruvian mountains twice a year to stock up!"
[From The National Enquirer, print edition, November 14, 2016]
The "doctor" who sold her this is probably amazed she fell for it. The Enquirer has these numbers wrong, right? Because you should be able to get an entire heard of goats for much less than $100,000. You could keep your own mountain goat, or hire a Peruvian sherpa to domesticate one and bleed it a little once a week, for just a couple of thousand dollars a year. There's no way the blood from a mountain goat is worth $100k a ml, there are 5ml in a freaking teaspoon. Someone at The Enquirer is not good at math. Or Demi isn't.
I tried to google to see if this was a thing, and I found only weird treatments for sports injuries involving injected goat blood (don't do this!), unproven and potentially dangerous treatments for MS with goats blood, and goat blood given as an enema to treat thalassemia patients. None of these treatments are at all proven but I guess if you're putting it on your face it's not as bad. This reminds me of that "vampire facial" thing which was popular a few years back, but that used the person's own blood injected back into their face with some kind of chemical. This story needs more details about how this mountain goat blood is applied exactly. Is it injected, applied or injested? (It sounds like it's just topically applied, which would be useless, not that it would do anything either way.) Is it really hard to catch these goats and are they free range? I have so many questions about this.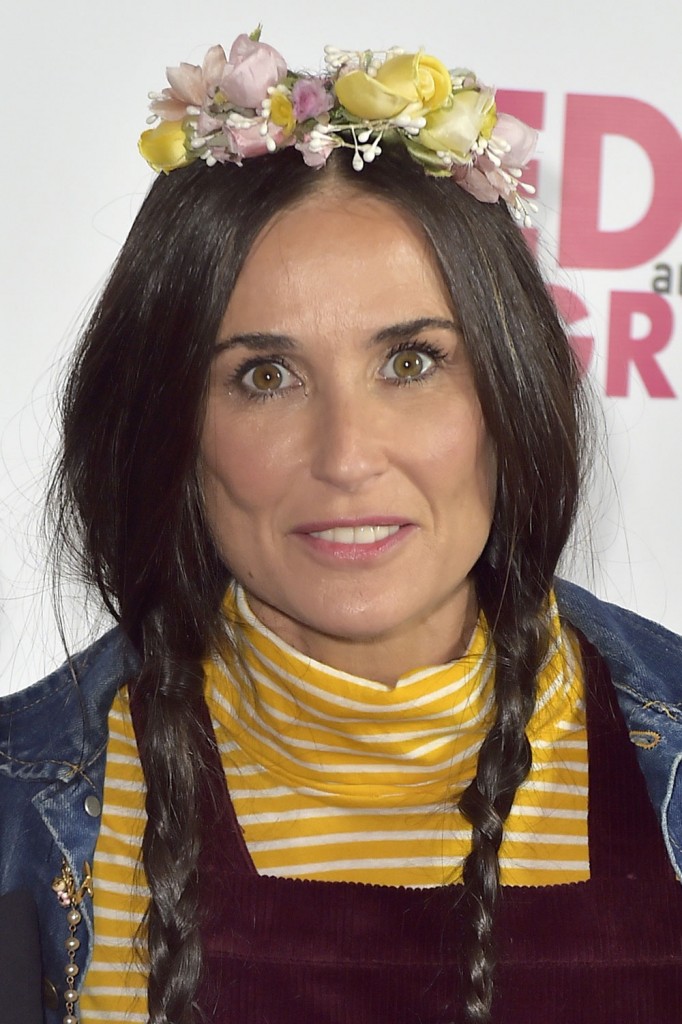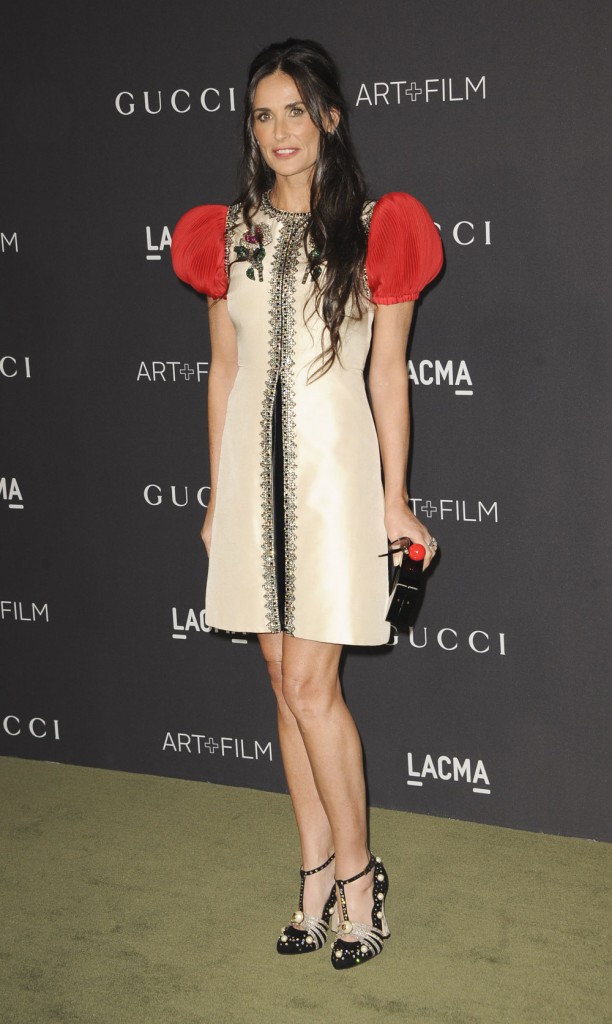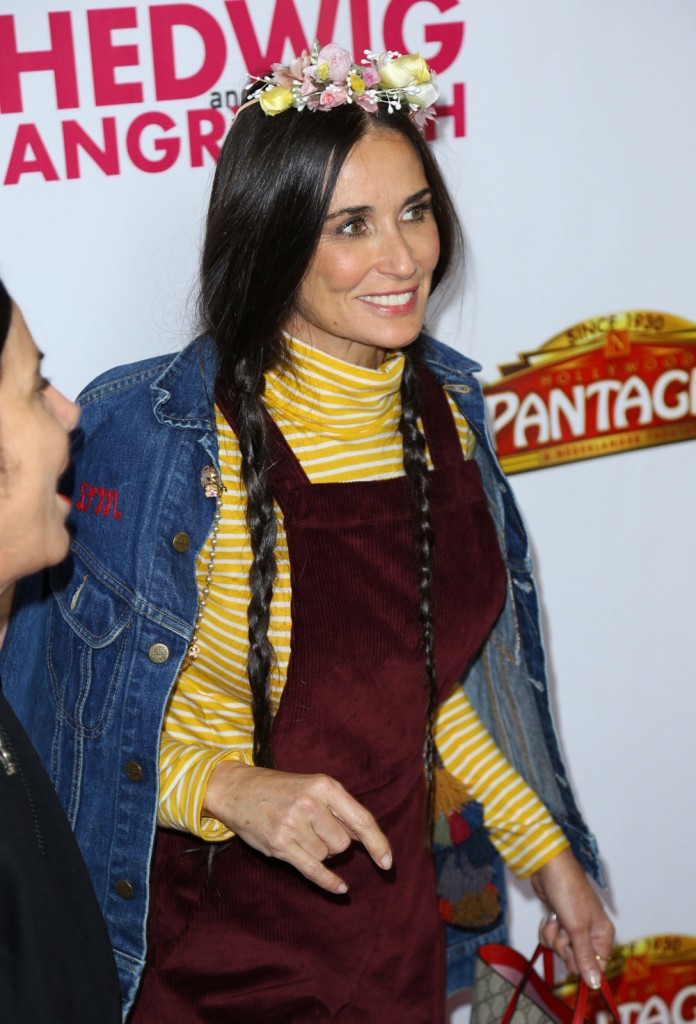 Photos are from 11-2 (Hedwig premiere) and October 30 (LACMA gala) credit WENN