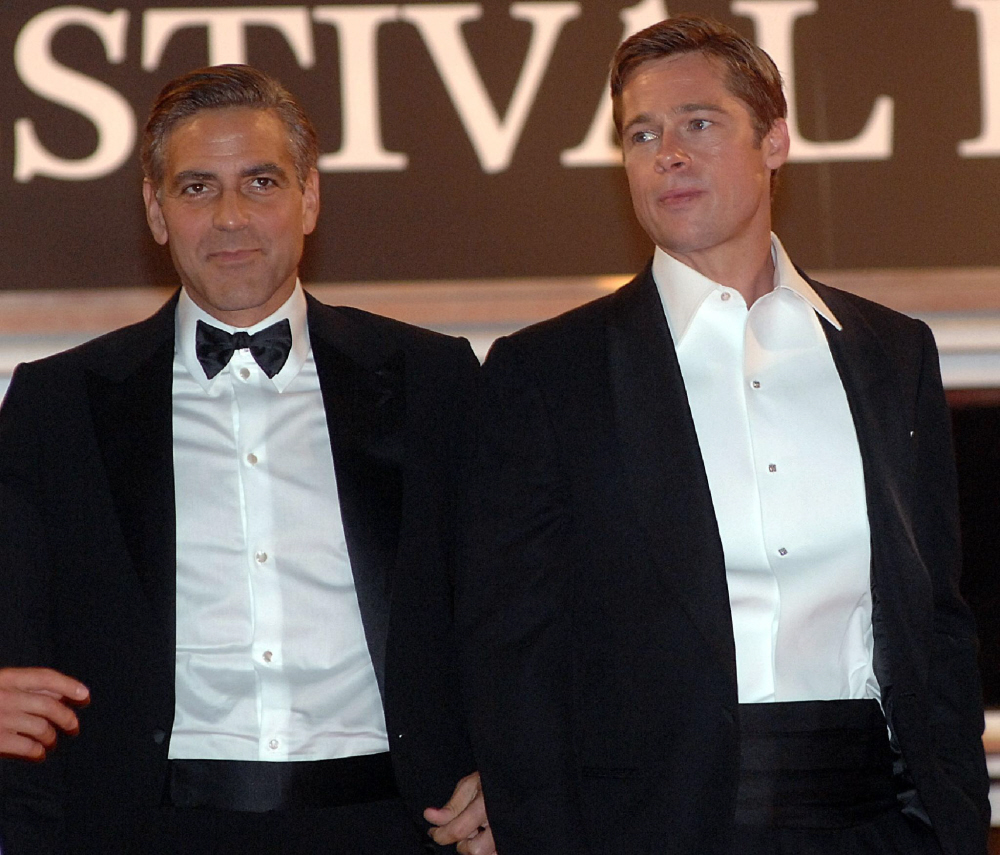 Whenever the tabloids tried to make "George Clooney & Angelina Jolie hate each other" into a thing, I always think back to the Newsweek roundtable discussion Jolie and Clooney participated in back in 2008, for the Oscar season. While Clooney and Jolie didn't seem like BFFs, it was clear that they were friendly and on good terms. Fun fact: Marion Cotillard was also part of that roundtable! Such a wicked web. Anyway, the tabs have been trying to make it sound like Jolie and Clooney hated each other for years. The only story I really believed was that Angelina was bitchy to Stacy Keibler, just because… that seems like something that would happen. The current issue of Star is trying to make the Clooney-Jolie Beef into something again, this time with an added twist that finally Brad Pitt and George get to be bros again now that the Villainess Jolie has been jettisoned. And Amal made it happen!
The legendary bromance between Brad Pitt and George Clooney is back on! Source confirm that with Angelina Jolie out of the picture, George finally felt comfortable enough to reach out to his old friend.

"Angie never liked George and drove a real wedge between him and Brad," explains a mutual pal. "But George is a very forgiving guy and wants to be there for his buddy as he goes through his divorce."

In fact, it was George's wife, Amal, who encouraged her hubby to reach out to Pitt, says the insider: "She knows how much not having Brad around has hurt him."

Now the A-list dudes are making up for lost time.

"Their catch-up drink turned into an emotional, five-hour talk," reveals the source. "It's a huge help to the poor guy – Brad's finally got his friend in his corner."
[From Star Magazine, print edition]
Just my opinion: George and Brad were never BFFs in the first place. They were friends and colleagues and they liked each other. People wanted them to be BFFs and they used that communal desire to sell three Ocean's movies. Besides, right at this moment, George is directing a movie and he probably has zero time to spend hours at a wine-soaked Pitt cryfest. Now, do I think George will absolutely be on Team Pitt in the upcoming Jolie-Pitt War? Sure. Absolutely. I think most people will be on Brad's side. He's Hollywood's Golden Boy and Angelina is The Villainess. We'll see.
Photos courtesy of Getty, WENN.