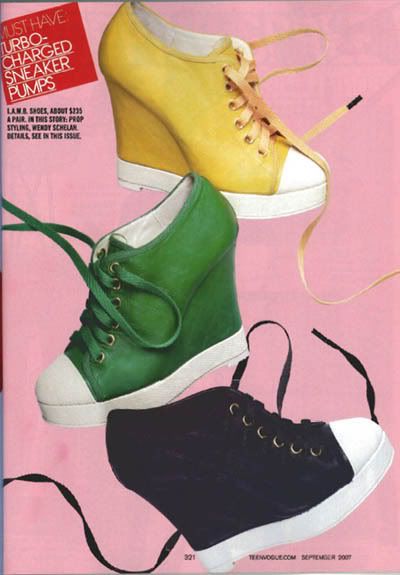 The latest shoe offering from Gwen Stefani's questionably styled and definitely overpriced l.a.m.b. line are these ridiculous sneaker pumps, priced at $225.
These look like something a Photoshop artist whipped up in a Worth1000 contest with the theme of "bad fashion hybrids."
Commentors on ONTD, where we found this story, note that Victoria Beckham wore a similar white pump sneaker on her reality special. Commentor chung_chung includes this picture of Dries Van Noten shoes from the Spring Summer '07 collection, which are the shoes Posh owns and look suspiciously similar to the ones from the l.a.m.b. line. I personally find them less hideous, but maybe that's because they're white and seem more understated.
I can't believe she's suing Forever 21 for stealing her designs when all she does is steal others' designs. She just tweaks a little more.
Maybe this was one design she should have left well alone, but I guess that could be said for most of the rest of the l.a.m.b collection too.
These remind me of those ugly sneaker pumps that J.Lo popularized a few years ago that were basically high top converse with a heel. They actually look decent in comparison to these sloped clownish numbers.
J.Lo has her own line of shoes, too, but they're much more palatable and about half the cost of Stefani's brand.
If you like these sneaker pumps for some reason, (maybe you're one of those fashion-forward people that has enough other stuff going on that you could pull this off) you'll have to wait a while to get your hands on them. They're not yet available on the l.a.m.b. store's website.
Scan from TeenVogue via ONTD.