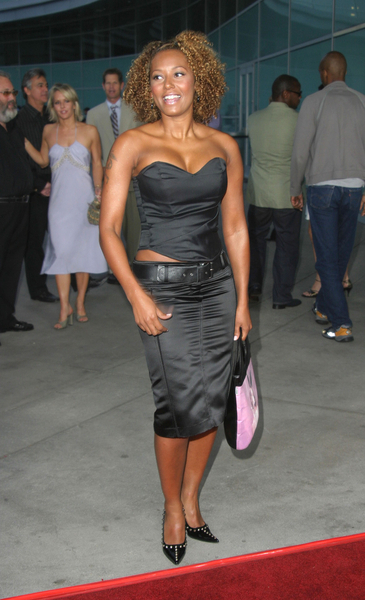 Scary Spice Melanie Brown just canceled her scheduled interview with Larry King, which was supposed to air tonight. Access Hollywood is reporting that she and Angel Iris are both sick. Perez Hilton is reporting that Mel and boyfriend Stephen Belafonte (no relation to Harry Belafonte – he changed his last name) were secretly married in Las Vegas on June 6th, and that she was due to break the news on Larry King. I'm not reporting it as fact, just oh-so-innocently passing it on. Access Hollywood has some info, along with a slight dig at the singer.
"Spice Girl Mel B has cancelled her appearance on CNN's 'Larry King Live' tonight, Access Hollywood has learned, because she and her new baby, Angel Iris Murphy Brown, are sick.

"Last Friday, Eddie Murphy admitted to being the father of Melanie Brown's infant daughter, two days after Brown filed a Superior Court petition to legally establish him as the child's parent.

"The interview with King was expected to be Mel B's first time discussing the paternity situation in a televised interview.

"Yesterday, Mel B was photographed on holiday in Miami, supposedly, healthy and having a good time."
[From Access Hollywood]
Fametastic reported that Mel called Stephen "the love of my life" and told friends she planned to marry him.
"The couple only began dating in May but the pair have been friends for over seven years.

"The Spice Girl has now reportedly told a friend: "He's the love of my life and I'm going to marry him."

"'Stephen's been a godsend. [Eddie Murphy] hasn't been in touch once since I had the baby [daughter Angel], it's unbelievable. But Stephen has been a tower of strength.'

"'Stephen's got a much bigger c**k as well!'
[From Fametastic]
That is one classy and reliable friend. I'm pretty sure that if you use asterisk-requiring language, you're likely not the most reliable source. But who knows, maybe the British are known for throwing that word around – as we reported here, Victoria Beckham did publicly refer to Eddie Murphy as the Beverly Hills version of said appendage. Though she didn't mean it in a flattering way. Well let's hope Melanie reschedules quickly, and confirms or denies all these rumors.
Picture note by JayBird: Header image is Mel B at the Cineramadome at the Arclight Theatre in 2003. I thought you all might be tired of all the "Spice Press conference" images. Images thanks to PR Photos.
Update: It's confirmed by Brown's rep that Brown wed Stephen Belafonte in a quickie ceremony in Vegas on June 6.