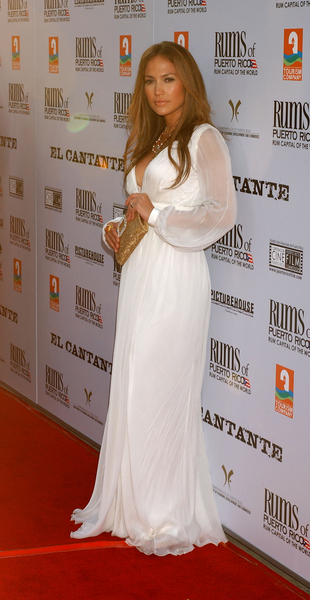 Jennifer Lopez has been awarded a total of $545,000 against her first ex-husband, Ojani Noa. Noa had written a book (with the help of a ghostwriter) about Lopez titled, "The Unknown Truth: A Passionate Portrait of a Serial Thriller." The book was never published due to an injunction Lopez filed immediately upon learning of the book. However the book was going to reveal some details embarrassing to Lopez.
"Among the revelations purportedly made in the ghost-written book, according to media accounts, was that Lopez had multiple affairs during her brief marriage to Noa, including one with salsa-singer Marc Anthony, Lopez's third and current husband, while he also was married to someone else.

"Anthony and Lopez, 38, married in June 2004, just days after he was divorced from Dayanara Torres, a Puerto Rican model and beauty queen, and five months after Lopez broke off her much-publicized engagement to actor Ben Affleck."
[From the Associated Press]
Lopez and Noa had signed a nondisclosure, "non-disparagement" agreement during an earlier legal settlement. It was the violation of that agreement that won Lopez the $545,000 – $200,000 in damages for breach of contract, and $348,000 in attorneys' fees and arbitration costs – along with a permanent injunction against Noa which prohibits him from disclosing any intimate details from their relationship. Noa originally offered not to publish the book if J-Lo agreed to pony up $5 million. Extortion anyone?
The previous legal agreement involved Lopez's restaurant Madre's, which she started in 2002 and hired Noa to run – well after their divorce. You'd think that meant they were okay with each other, right? Well six months later Noa was fired, and it was under the settlement of a lawsuit he brought against her that he agreed to keep his trap shut about the famous diva. Too bad, because he apparently he had some good details. Celebitchy reported that Noa claimed J-Lo would go all voodoo on her enemies amongst other crazy things.
I have to say, if I Ojani Noa, sitting around thinking to myself, "What can I do to improve my cash flow?" Writing a tell-al about J-Lo would not be my first plan of action. Even if there wasn't an injunction. She's crazy, and if he believes any of the stuff he wrote about her, he shouldn't be too surprised if he finds some dead possums hanging from his doorway or something. Considering his biggest claim to fame was marrying J-Lo for forty-five minutes and managing her restaurant, I'm guessing $545,000 takes a pretty serious chunk out of his savings. Hey Ojani Noa, from now on, be smart, and obey the J-Lo. You're lucky she went after you with lawyers instead of an army of grenade toting bats.
Picture note by JayBird: Here's J-Lo and Ojani Noa back in the day. Thanks to 1brokenheart.com. Header image is Jennifer Lopez at the "El Cantante" premiere in L.A.
Images thanks to PR Photos.