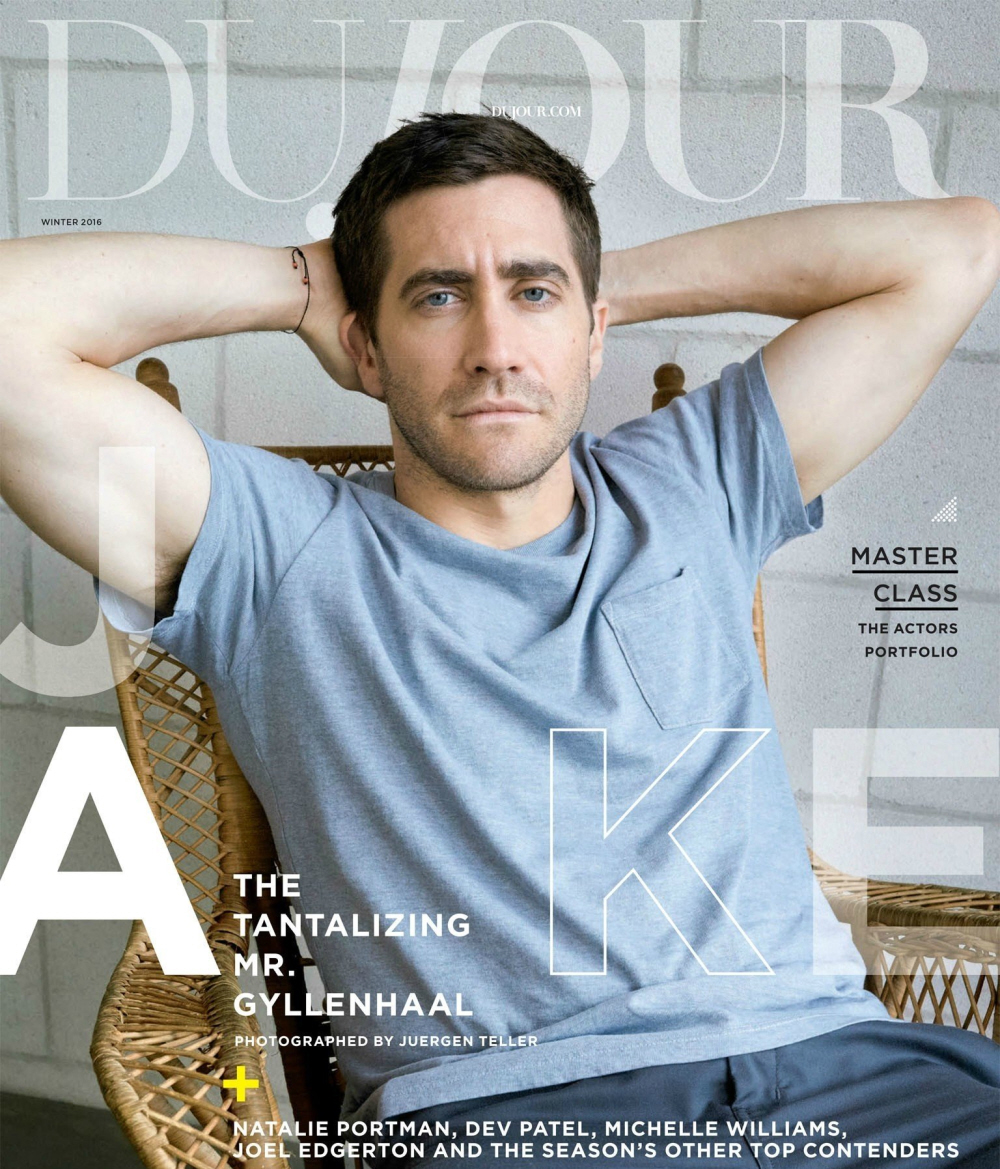 Jake Gyllenhaal covers the new issue of DuJour Magazine to promote Nocturnal Animals, the Tom Ford film where he plays dual characters. Jake has gotten good reviews, and the film is well-received overall. I'm not sure if Jake is in for a big awards season, but I could see the film being up for some Best Picture awards, and Jake might come out to support the film in general without being personally nominate for anything. While I'm not a Jake super-fan – I could take or leave him, honestly – I ended up feeling a little bit sorry for him in this DuJour interview. Maybe he was just in a weird head space when he spoke to DuJour, or maybe he really is just this quiet, serious, lonely, solitary figure. Throughout the interview, there are near constant references to his isolation and loneliness, to the extent that the DuJour journalist even pulls back and avoids asking a question about Heath Ledger. You can read the full piece here.
Why he signed on to 'Nocturnal Animals': "I read it and was immediately like, 'Yes. I'm in.' That was actually a very difficult experience for me, emotionally, because there was no opportunity for retribution. I don't think I ever really [did] get out of it in a way. It's not like I'm walking around in character all the time, but I think the mood definitely [was] pervasive in everything that I did while I was making it. But, I think film, generally, in my opinion, is a lonely place. I found sadness in the fact that everything was about aesthetics in this world. I was living in a space where I was like, 'Where is the truth here?' I walked through it like that the whole time—and I think that's where Tom [Ford] wanted me to be."

He's learned that his great love is the theater: "I did one show on the West End in London when I was 22 years old. And then was convinced by a lot of people at a certain age, when I was very impressionable, that it was more important to be doing movies. I'm thankful for that because, you know, it's wonderful financially—but I think my heart has always been on the stage."

He doesn't want to be a self-destructive actor: "I think I came to the realization that acting is not just one thing. There is not just one way… There's this growing notion—there always has been with actors, in particular—that the real great ones are the ones who mess themselves up somehow. I've always wanted to dispel that idea. I really don't condone the idea of hurting oneself."

Seriously, theater is his great love: "You can spend your life looking for this idea of what you think love looks like. Or you can actually open yourself up to the things that are capable of loving you, and that you are capable of loving. And that means people who are of like minds. Finding the space that you love—I think that's the biggest thing that I feel."

He's an isolated man: "My imagination is becoming more and more important to me. When you go too far into the reality of something, you kind of destroy your imagination."
The quote about his imagination being important to him came after the writer's riff about how Jake seems to be very in-his-head these days. It's not that Jake is rude at any point – if anything, he seems very polite and professional. It just seems like he needs something light in his life. Everything is too serious, too heavy, too isolating. That being said, he doesn't seem unhappy. Maybe this is just a weird promotional tour.
"There's this growing notion—there always has been with actors, in particular—that the real great ones are the ones who mess themselves up somehow." I get that. Actors and artists tend to glamorize the idea that their art is supposed to be an act of self-immolation by various means (alcohol, drugs, chasing the adrenalin rush). At least Jake seems to be making a conscious choice to avoid that.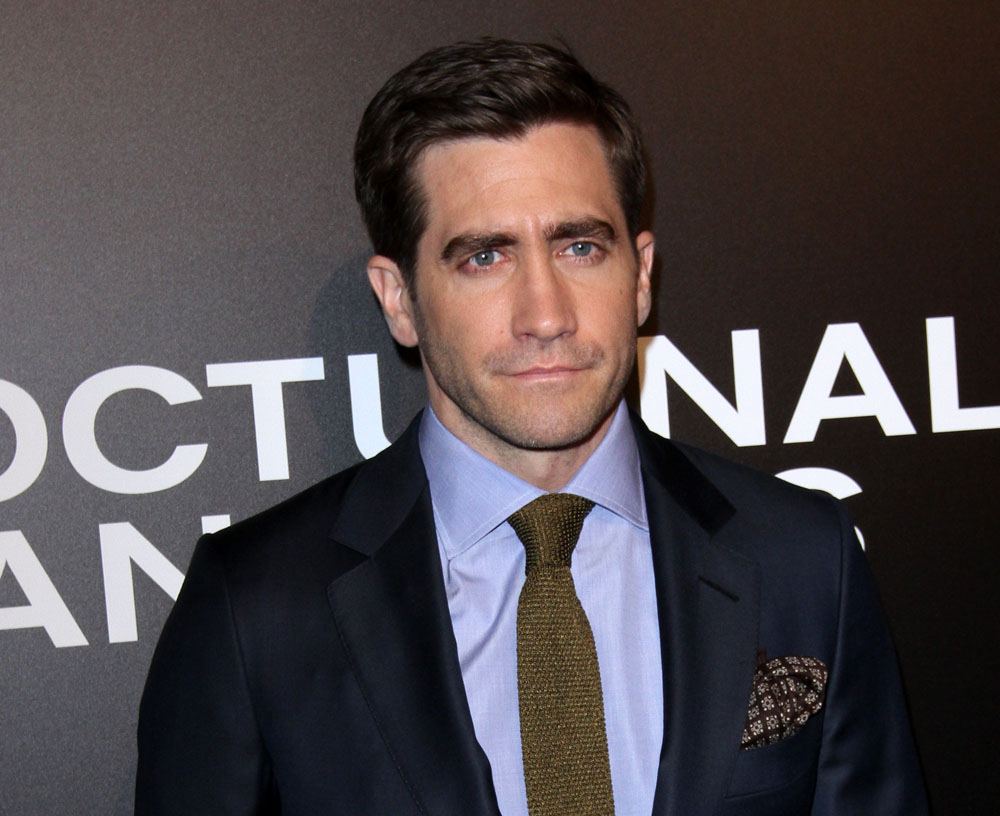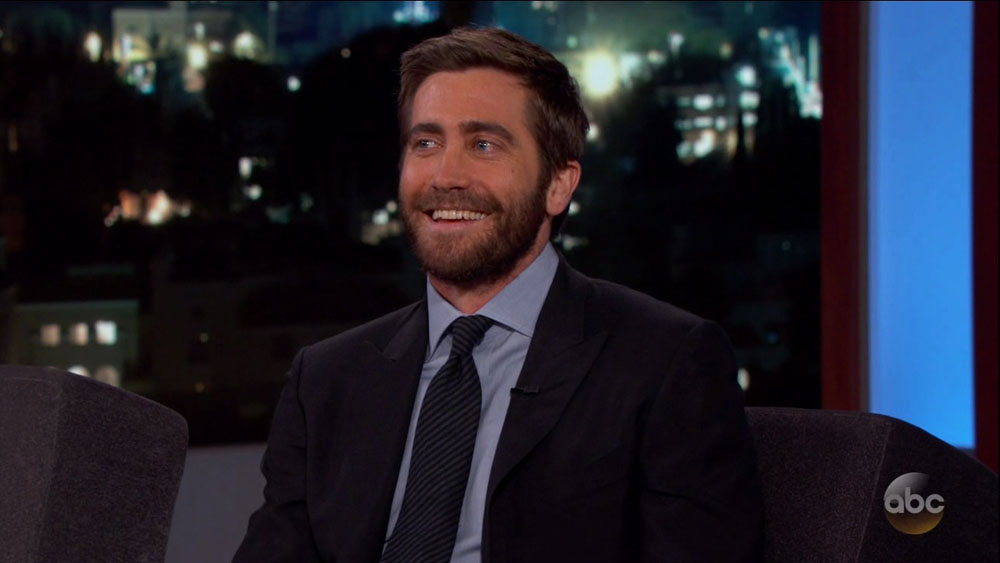 Photos courtesy of WENN