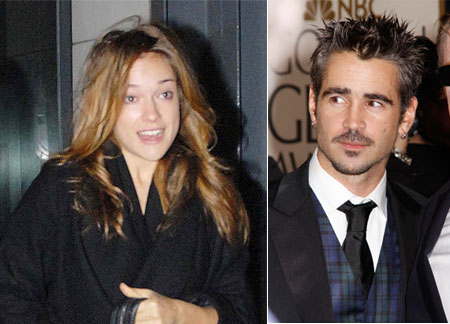 Reports have come in steadily that Colin Farrell is pretty serious about his new girlfriend, Polish actress Alicja Bachleda-Curus. The two met last year while working on Neil Jordan drama Ondine, a film about an Irish fisherman (Farrell) who finds a girl/mermaid (Alicja) in his net. I guess it's like Splash, but in Ireland, maybe? Colin denied dating anyone for months and months, even going so far as to proclaim his celibacy. The celibacy didn't last long (if it even existed in the first place), because Colin and Anicja have been spotted together in Europe and America consistently over the past few months. Now this latest news, from Star Magazine – Colin is so in love with Alicja, he's asked her to move in with him. Something about how he wants her to cook for him. If that's all he's looking for in a girlfriend, why hasn't he found me?
Home is definitely where the heart is for Colin Farrell! The reformed bad boy, 32, went gaga for gorgeous Alicja Bachleda-Curus when the two shot the drama Ondine last summer, as Star revealed – and now he's asked her to move into his $4.3 million Hollywood Hills pad.

"Colin wants to be with her all the time," says a friend. "He loves knowing she'll be waiting for him when he comes home."

There's another big plus to cohabitating with Alicja, 26, says the pal: "She really likes to cook for him!"
[From Star Magazine, print edition, May 25, 2009]
If this was the old Colin Farrell who shagged every woman he saw, I would doubt the authenticity of anything having to do with this report. I would even doubt that Colin has some big Hollywood Hills home. But I tend to think there's a lot of truth to it now. Colin really is a changed man, he's not the hellraiser he once was. He's clean and sober and he's in an adult relationship and has been for a while. And he probably does have a big house in Hollywood – his son James probably spends most of the time with his mother, in Los Angeles, and Colin probably bought the house to be closer to the boy.
A few months ago, Colin gave a particularly heart-wrenching and honest interview about his special-needs son, rehab and his own "profound sadness". Colin said, "I don't know if I would be here if I hadn't had [James]… He was a huge part of me going in and making certain changes in my life… The negative aspect to all this good fortune was loneliness. I never figured it out…I just had a broken heart and was profoundly sad. I had all these wonderful things in my life and yet I found myself at this point." Sigh… so Irish, isn't he? But I totally believe him, and if Alicja makes him happy, so be it. He deserves it!
Alicja Bachleda-Curus is shown in the header out on 11/26/08. Colin is shown on 1/11/09. Credit: WENN.com. Alicja is also shown below at the premiere of Trade on 9/19/07. Credit: Bauergriffinonline