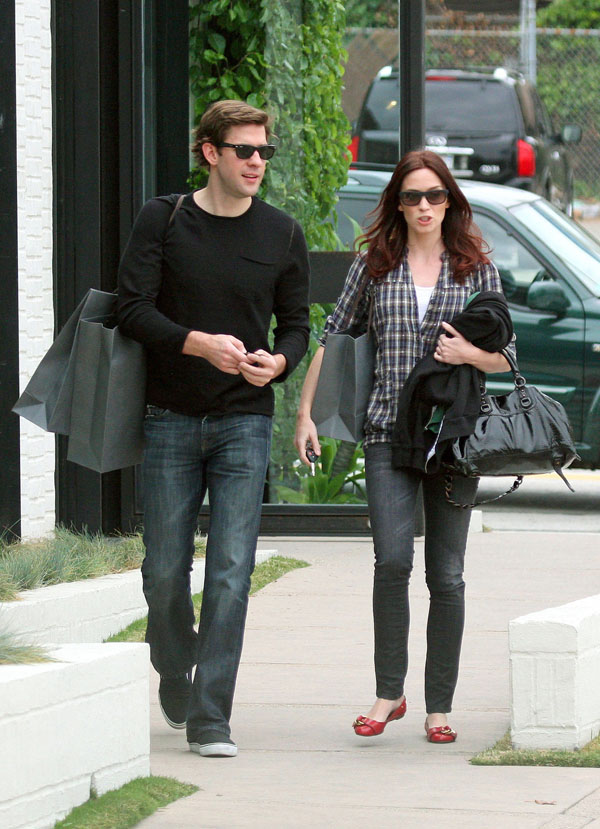 John Krasinski is the guy every mother wants her daughter to bring home. He's got his pick of all of the "nice" girls in Hollywood and beyond, but I'm struggling to see his type. First, he had that on-and-off relationship with Rashida Jones, daughter of Quincy and former star of The Office. Then as soon as English cutie Emily Blunt dumped Michael Buble, Blunt and Krasinski were a couple and have been ever since. Now reports are indicating that John might be dumping Emily for his costar, Lake Bell.
John and Lake met on a Nancy Meyers film that is yet untitled. Meyers wrote and directed that film with Diane Keaton and Jack Nicholson, Something's Got To Give, so she usually knows how to pick a cast. But John Krasinski and Lake Bell? Lake Bell is like the budget version of Amanda Peet. John could do better – and has with Emily Blunt.
Looks like The Office's John Krasinski has a workplace crush! Although he's been dating The Devil Wears Prada's Emily Blunt, 26, since November, John, 29, has gotten very close to Lake Bell, 30, his costar in the upcoming untitled Nancy Myers film, an insider tells Star.

"John and Lake have been flirting like crazy on set. In between takes, they sit next to each other, giggling and whispering like teenagers – he'll play with her rings or she'll rest his head on his shoulder."

While other cast members are bussing about the obvious chemistry between the two even when cameras aren't rolling, "I don't think they care," says the insider.

"But it's almost uncomfortable to watch." Let's hope Emily doesn't pay a surprise visit to the set!
[From Star Magazine, print edition, May 25 2009]
Let's hope Emily does pay a surprise visit to the set and dumps Krasinski. What am I saying? I adore John Krasinski, and I so don't want to believe this story. Could it be that the guy every mother loves is just the same as all of the other up-and-coming Hollywood womanizers? This is what happens when an actor is so identifiable with one particular character – Jim Halpert would never do this. I can't believe it.
John Krasinski and Emily Blunt are shown above on 4/2/09. Credit: RADCLIFFE/bauergriffinonline.com. Lake Bell is shown below on 4/23/09. Credit: WENN.com