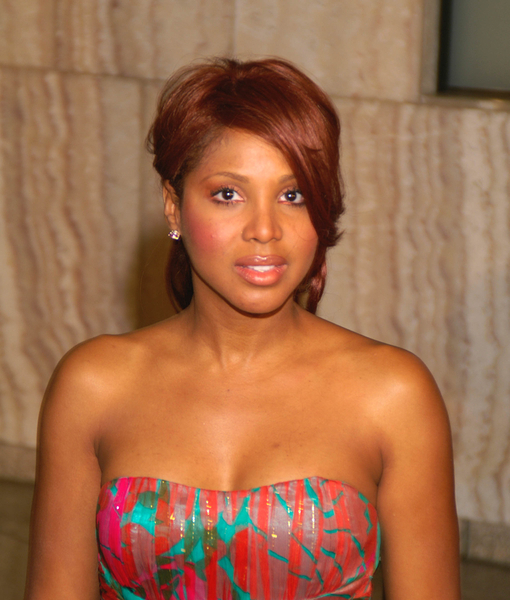 Toni Braxton, she of little clothing and the crazy nip slips, has been sued for breach of contract for not paying for her clothing. Ironic, no? Anthony Franco, a wardrobe and costume designer, sued Braxton for the $15,000 she still owes him for work he did for her "Toni Braxton: Revealed" Las Vegas show. Braxton was supposed to pay Franco $35,000 for designing the whole wardrobe for her show, and she wrote him a check for that amount. However she stopped payment on it. She eventually paid him $20,000 – leaving $15,000 still owed.
"Is there a chink in Toni Braxton's business chain?

"The "'Unbreak My Heart' chanteuse was sued for breach of contract Friday by a costume designer who claims Braxton bounced a check and has yet to pay their agreed-upon fee for his work on her Las Vegas show, 'Toni Braxton: Revealed.'

"Plaintiff Anthony Franco, who says he designed the entire wardrobe for Braxton's standing act at the Flamingo Hotel, claims he has only collected $20,000 of the $35,000 that's owed to him and that the check he tried to cash was returned for insufficient funds because the defendants put a stop-payment on it.

"Liberty Entertainment Inc., which issued the check, has also been named as a defendant.

"Franco is seeking $15,000 in compensation, plus unspecified damages for the alleged slight, according to the complaint filed in Los Angeles Superior Court.

"Braxton's reps have not yet commented on the suit."
[From E! News]
Braxton has a history of money and management problems. She filed Chapter 7 bankruptcy protection ten years ago, owing almost $4 million. According to Wikipedia, "All of her personal household possessions were tagged and marked for sale to pay off her creditors, including her prestigious awards." In January 2007 she filed a lawsuit against her ex-manager Barry Hankerson for "fraud, deception and double dealing," for convincing her to leave her longtime record label for his own. Hankerson is the uncle of the late R&B singer Aaliyah, and was her manager as well. She lost the suit, in a big way – the judge ruled that she had to pay Hankerson $375,000 and a percentage of the sales from her next album.
Toni Braxton sorta seems to have a screw lose. I really hate it when celebrities are always losing their clothes. 99.9% of the population walks around everyday and is able to keep their naughty bits to themselves. It's not that hard. It's not indicative of classiness when anyone does it, but Toni is almost 40 years old – that's way beyond the age where she can pretend to be dumb and not know what she's doing. And she seems to think she doesn't have to pay for things, services included. Here's some super classy pictures of her performing.
Picture note by JayBird: Here's Toni Braxton at the House of Blues in Chicago in March 2006. Header image is from the Something New Movie Premiere in January 2006. The last pic is from 27th Annual American Music Awards in January 2000. I just thought it was funny. Images thanks to PR Photos.