Gwyneth Paltrow is on the cover of September's W Magazine, and they're wildly proclaiming it to be her comeback. Sounds great, except it's not Gwyneth. Clearly they used one of Madame Tussauds wax sculptures. From the look of her lips, it was one of the dead ones too. They took away everything that makes her look like Gwyneth Paltrow. Instead she just looks like some generic, soulless model. Though a lot of people would call Gwyneth generic and soulless on her most attractive day too. A lot of people don't like her, as she's been accused of being a snobbish, pretentious, boring, demanding, and egocentric bitch. And looking at these photos, I've got to believe that both the photographer and the retoucher agree.
And my God, how long is she going to insist upon that California circa 1972 hairstyle? I bet she gets up every morning and combs her hair 100 times a la Marsha Brady and thinks, "Should I wear it parted directly in the middle or 1/8 a centimeter to the left?" In the header photo she looks incredibly smug and mannish, and also like she's contemplating coming right through that cover and kicking your ass.
"Gwyneth Paltrow took a hiatus from the bright lights of Hollywood to raise her two children, but now the Oscar winning actress is preparing to step back into the spotlight.

"The former industry darling has marked return with a glamorous covershoot for American magazine W.

"Her tousled mother-on-the-run hair was replaced by a sleek blonde mane and her usually alabaster, make-up free look was given a rather dramatic bronze and polish for the cover. "
[From the Daily Mail]
That's hysterical. I think "rather dramatic" is a nice way of saying "shockingly bizarre." I'd like to direct your attention to this picture, because I used to work in a vet clinic. So let me tell you, this photo is really true to life. Nothing is sexier than a cat on crutches. Well I'm assuming she's supposed to be a cat, but those might be spoons on her head. It's hard to tell. I also like the picture further down with the cane. Right before Christmas I fell down an entire flight of stairs and tore my medial collateral ligament in my knee. I had to use one of those canes for a few months, and I was pretty embarrassed. But now, thanks to Gwyneth, I realize that it was not embarrassing but actually really, really sexy. I also happened to lounge on a chair like I was half drunk and slipping off while wearing my super sexy garters… you know I really think I was probably the inspiration for these shots. Plus I have an awesome picture of Jesus above my bed, just like she does. Actually it turns out Gwyneth had knee surgery and is still recovering, so someone at the photo shoot decided to get "creative."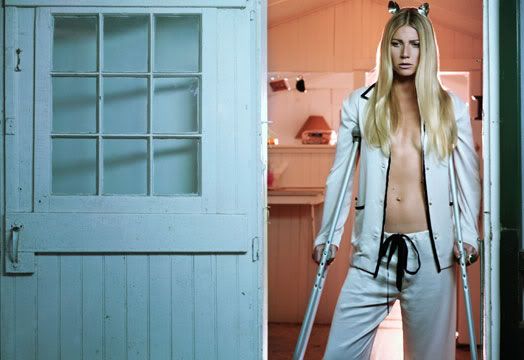 Thanks to The Daily Mail and ONTD for these pics.