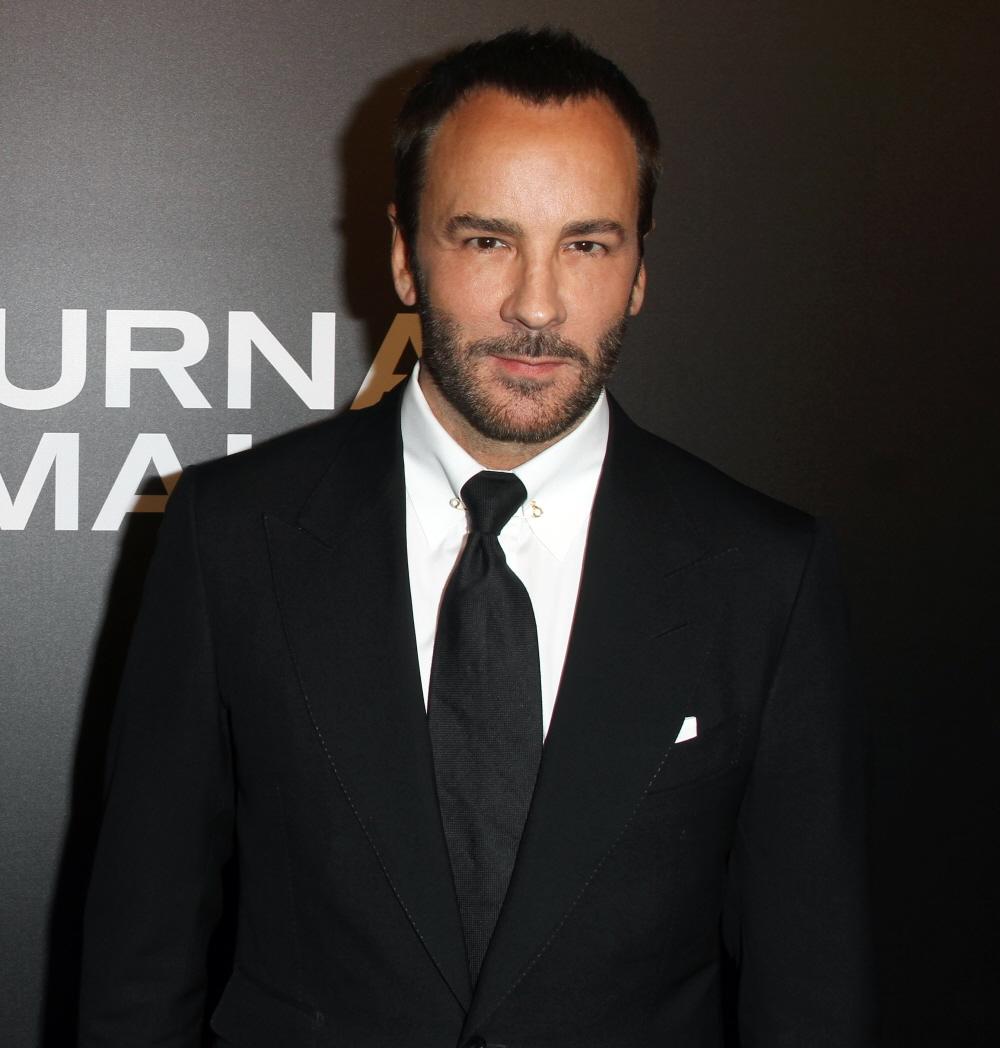 I wish Tom Ford was a more prolific filmmaker, so we could enjoy his interviews all-year-round. He's deliciously snobby, bitchy, judgy, funny and thoughtful. I could listen to him snort derisively about sweatpants all day long (and I'm wearing sweatpants right now!). GQ has named Ford one of their Men of the Year, and this interview is just perfection. By that I mean… these quotes are so crazy, controversial and hilarious. His four-year-old son owns a pair of shoes with dinosaurs on them. Tom Ford loathes these shoes. He tries to convince Jack that they are tacky. He tries to forbid Jack from wearing them to school. That's just one of the many amazing stories in this GQ piece. You can read the full piece here. Some highlights:
He takes up to five baths a day? GQ writes: "He takes the first of his three to five daily power baths at 6 A.M., rising before Richard and Jack, in order to rouse himself from the sleeping pills that have made him nearly comatose. He sits in the bath with his eyes closed, sipping iced coffee through a straw like he's in the ICU being brought back from anesthetized abyss."

His son's style: He helps Jack dress, and he allows Jack to pick his own clothes. Granted, the only clothes Jack owns are clothes that Tom Ford, who is his father, has pre-selected for him; he has little access to items that his father finds unacceptable. So Jack wears his Lacoste shirt and his jeans, and he tops off the look with Velcro Stan Smiths. He's just gotten out of a phase in which the only color he would wear was camel—"Camel, camel, camel, camel," Ford grouses, "all he wanted was camel"—a monochrome 2-year-old. Now all he wants to wear is black. "Jack, black doesn't really look good on little children. You need to wear some color." Grudgingly, the toddler says, "Okay, gray." Ford throws up his hands and retrieves some gray. A sore subject in the Ford household: Jack has some light-up dinosaur shoes, and sometimes he tries to wear them to school, and when Ford catches him doing this, he has to step in. "What does Dada say about the dinosaur shoes?" "They're tacky." "And when are we allowed to wear them?" "On weekends."

Whether he ever wears sweatpants: "I mean, really, no… No, absolutely not." But Tom Ford is kind and doesn't want me to have a bad experience during this interview, and so he concedes that he's a member of a tennis club in London that only permits its members to wear white, and yes, sometimes he does get into the car in this one pair of white sweatpants, since it's required, but no one on the street sees him because his driver pulls him right up to the club. This seamlessly transitions into a conversation about how men should never ever wear shorts unless they are within very close proximity to a pool, but literally like the deck of the pool, not the eating area. In the eating area, you pull yourself together and put on some pants, for Christ's sake—you're eating. "It's a very American thing—that weird thing where you go to the Hamptons and people are in shorts, loafers, and blazers. No."

New York is over: "I find New York too frenetic. I mean, I have to take Valium when I'm in New York, and the energy doesn't seem focused at anything because everything's so difficult. You get back at the end of the day and you feel like this. And you think, 'Oh God, I did this and I did that, but what did I really do? I went downtown. That was exhausting.' "

He & his family are living in LA for the year: "I live in the Hollywood of the 1930s. I don't actually live in the Hollywood of 2016. Here is the city of Los Angeles"—he holds his hands up, one above the other, about two feet apart—"and above them is an oil slick. The oil slick are the interesting, smart, intelligent people who are stylish, who you could have a conversation with, who'd want to be friends. Then"—and here he indicates the rest of the space—"you have morons."
Now I need to know how Jack ever got his hands on those dinosaur shoes. Who bought them? Tom obviously did not buy them. Perhaps Richard (Tom's partner/husband) bought them. Perhaps they were a gift from some aunt or uncle or godparent, just one small way to play a joke on Tom. Whoever bought them, thank you for that. I hope someone buys Jack some henna tattoos, flip-flops and sweatpants next. Tom will FREAK OUT.
There's also a rather graphic-yet-thoughtful discussion about how Tom once told an interviewer that he believed every man – gay, straight, whatever – should be penetrated at some point in their life. While his old statements were more "lascivious" (he says he was drunk when he was doing the original interview), he stands by the sentiment still because he thinks if every man had to experience penetration the way a woman experiences it, it would help men "understand women," the vulnerability that women have biologically, and what he describes as "literally an invasion" (ie, sex). He actually made me think about that for a few minutes. While I think the sentiment is interesting, I don't think it would actually change the way straight men understood the female experience, you know? There's more to being a woman than merely being penetrated.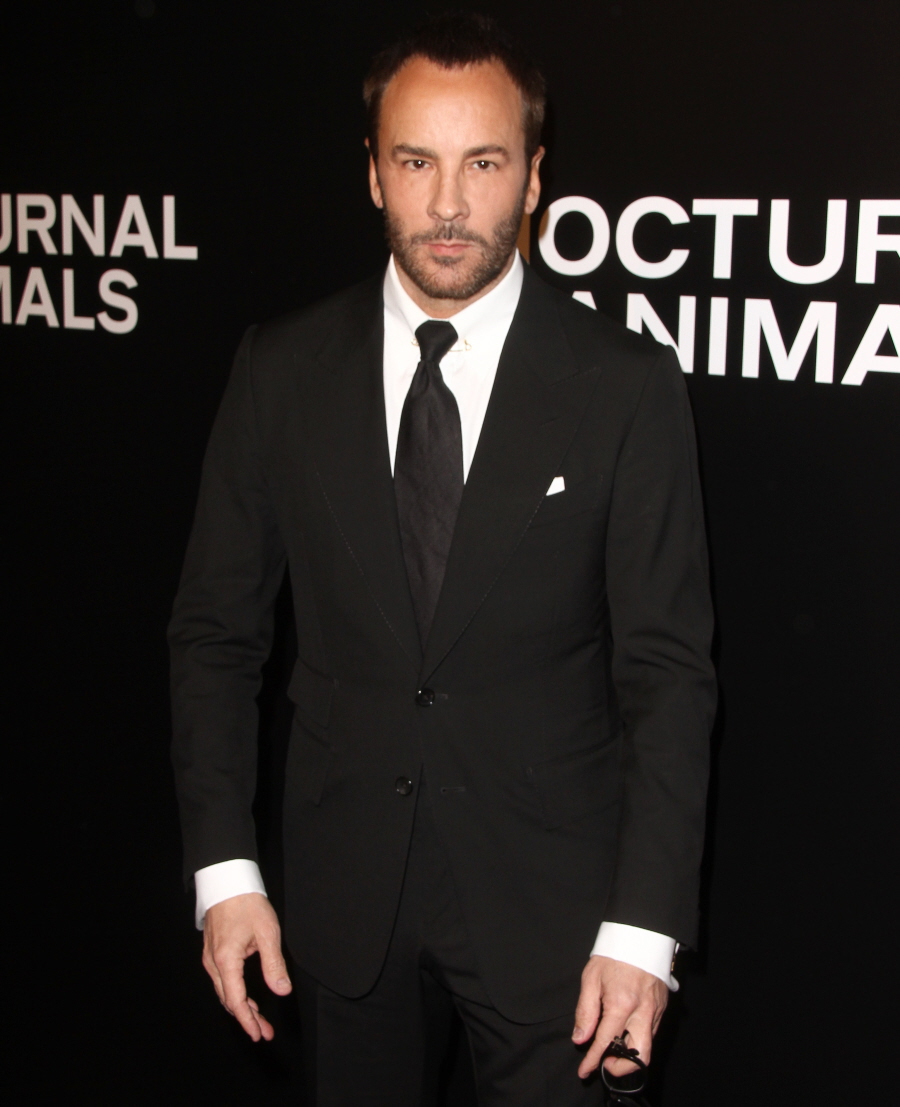 Photos courtesy of Fame/Flynet.