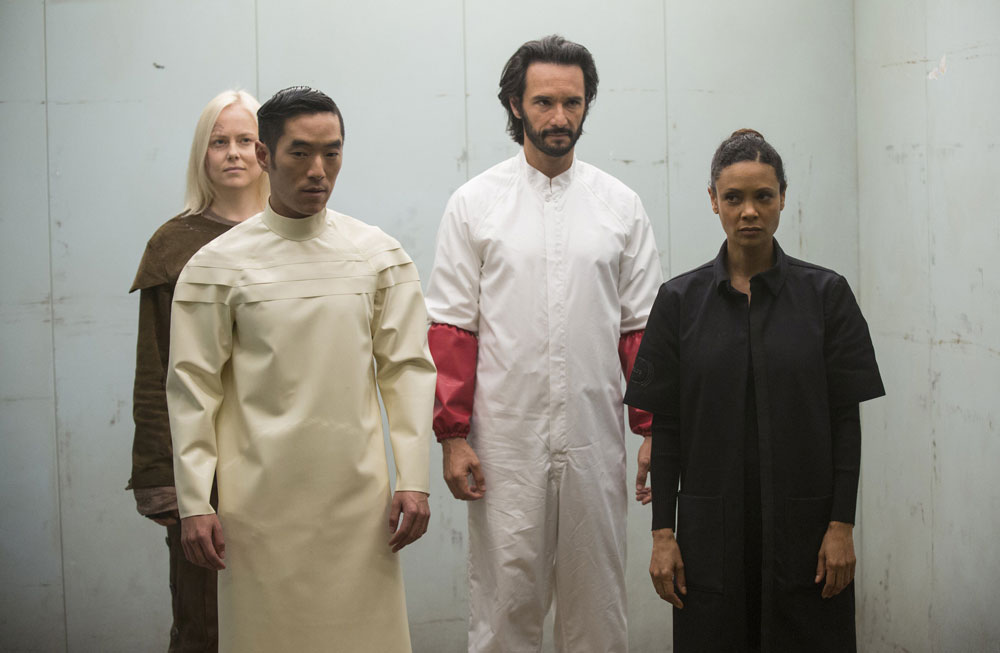 Spoilers for Westworld finale, which aired last night, follow
You guys I'm sorry I didn't do a Westworld recap yesterday. I find recaps challenging under the best circumstances, but with a show this complicated and with this many twists it's especially difficult. Plus I still have questions and I don't know if I'm missing key background information which should be obvious. For instance, Ford programmed Maeve to lead the revolution and to sic all the hosts on the humans, right? He even programmed her to change her own settings, I presume. So did she have any other option than to return for her daughter, and was that part of her new code, was that her core code she was reverting back to, or was it a deviation? If she was always meant to return, then was Felix in on it from the beginning with Ford and is that why he gave Meave the coordinates for her daughter?
I knew that William was the Man in Black in a different timeline because there were so many fan theories about this, but I still found it somewhat shocking, and like I have to go back and figure out what this means for Dolores specifically. She was becoming self aware and is that why she kept seeing herself as a double, was that the emergence of her consciousness or was she seeing a literal double of herself? Was she seeing her own memories of those places? Is Dolores really Wyatt, Teddy's mysterious foe, or is that just Teddy's cornerstone? This show makes me feel like I have to watch it again just to figure out what's happening and like I'll end up with even more questions once I grasp more of the complexity.
Westworld isn't coming back until 2018 unfortunately, but I feel like there's enough to unpack in the existing season that I could watch it all over again. It's so well crafted and written and showrunners want to keep up that quality so they're taking their time with the next season. In the interim there are a lot of great interviews with the creators, husband and wife team Jonathan Nolan and Lisa Joy, who are delivering some of the most poetic lines on television. My favorite interview is with the NY Times, but there's another on Entertainment Weekly which is well worth reading too. Here's some of the NY Times interview, and in the full interview Nolan does address some of my confusion over Dolores.
When you shut down production to turn back to writing scripts, did you have any big changes in mind for the show? For instance, did you have a different ending originally and then reworked it?

NOLAN No big jumps. All of these things had been layered together so, so carefully from the beginning, which is part of what makes it so difficult to write. You're writing at least three separate timelines that have to interact with one another as if it's all ever-present.

So to be clear: There are at least three timelines. What timelines were you working with?

NOLAN One timeline is between 34 and 37 years ago that results in the conception of the park. Another timeline that plays out 30 years ago. And the present day timeline.

Many of the biggest twists of the series were laid out weeks ago by websites like Reddit or Vanity Fair. I'm sure it was satisfying to see people so engaged, but was it also frustrating that your biggest secrets were revealed?

NOLAN It's a great problem to have this many people engaged with the show. Look, internet speculation has always existed. With a lot of shows along the way, the theorizing doesn't add up to much. In the case of "True Detective" in the first season, a lot of the theorizing was outside of the scope of what the show intended to do. In our case, the theorizing was right on target. We were layering this idea of a nonlinear experience experienced linearly. Sites like Reddit, which I love, that's not a problem. In this case, I was only frustrated when quote-unquote theories, which at a certain point clearly became spoilers, wound up in headlines. When those theories have been taken out of a site like Reddit and put into headlines, that's a bummer.

Will it affect next season's plotting? People will piece stuff together a lot sooner.

NOLAN Not at all. We're not going to change the way we write the show because of the way it's written about. That would be intellectually and creatively bankrupt.
Nolan also says that the confusing dream-like sequences make sense because we're experiencing them as the hosts would essentially, as they're making sense of reality. As for what's next for the show, he adds "We really want the audience to have no sense or very little sense of what to expect for Season 2." Mission accomplished I guess. I don't want the Man in Black/William the Elder (Ed Harris) to die yet. He's one of my favorite villains and when he delighted in seeing the host uprising, I got a little thrill too. Also, I want Maeve to find her daughter and to be the one who enacts revenge on the Man in Black. If he's going to die it should be at Maeve's hand. One final question which I read from a fan Q&A – did Ford really kill himself or did he have Dolores kill his host double? If he really killed himself, did he pass his consciousness off to a host? Producers called this question "really really good" and wouldn't specify whether it was dead on or not but said that Ford's "sacrifice is real."
Also my favorite lines were from Dolores. Her dying words during Ford's new storyline, "The beautiful trap is inside of us because it is us," and her words to the Man in Black, which we've heard variations of before "They say that great beasts once roamed this world as big as mountains yet all that's left of them is bone and amber. Time undoes even the mightiest of creatures. Just look what its done to you. One day you will perish and will die with the rest of your kind in dirt."