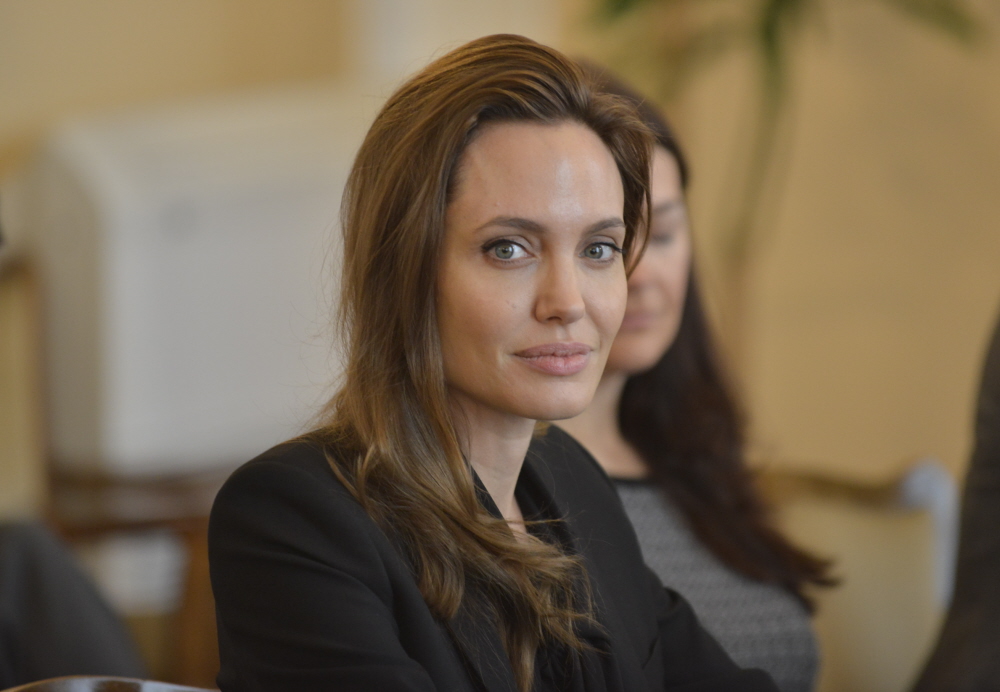 Angelina Jolie was seen and photographed for the first time in public since she filed for divorce in September. She was seen at the Hotel Bel-Air with some or all of her children. I'm not sure if she's really staying at the hotel or if it was just a day-trip or what. You can see the full length photo here. She wore a black sack, basically.
Angelina Jolie was photographed in public for the first time since filing for divorce from Brad Pitt: https://t.co/ADitvk9X18 pic.twitter.com/ctNyBG3cBH

— Us Weekly (@usweekly) December 10, 2016
If you're getting Witch Vibes from Angelina these days, that might be because she's actually a WITCH. At least according to the British tabloid The Sun. For months now, Team Pitt has been pushing a storyline about Angelina that just sounds so… stupid. I really don't know what to say about it other than that. The story goes that Angelina has fallen under the spell of two powerful women, Arminka Helic and Chloe Dalton. Dalton and Helic are influential advocates and humanitarians and they've advised Angelina for a few years on her UNHCR work and much, much more. There are claims (seemingly from Brad's camp) that Dalton and Helic are "advising" Angelina on her divorce too, that they have been pushing Angelina to drop Brad and move to London full time so she can pursue a purely political and humanitarian career. And that's what this new story from The Sun is about. Only The Sun calls Dalton and Helic "witches."
The Sun today reveals how William Hague's ex-adviser and a member of the House of Lords have become central in the war between Angelina Jolie and Brad Pitt. Pals say Arminka Helic, 48, and Chloe Dalton, 37 — mockingly referred to as "the two witches" — got between the couple in the marriage's last year as Angelina's personal advisers. Last night a long-time member of the couple's staff revealed: "The three are in cahoots together and it's Brad who loses out. It's very easy to get caught in Angelina's web for Chloe and Arminka. Angelina is a seductress of the highest order. I'm sure that they find it intoxicating because when she wants to be Angie is incredibly intoxicating."

For the first time, friends of the couple have disclosed how Brad became increasingly angry with the pair's close relationship with his wife in the last year of their marriage. A pal said: "At first he enjoyed having them around. But you could see, especially in the last year, he started to get more and more infuriated with them because they would never be out of the room. Every time he went into a room and wanted to speak to Angelina, they'd be there in the background. And he could definitely see the change that was going on where they would constantly advise her."

Another staff member explained: "They were always advising her, 'You should spend more time with us and some time away from Brad'. The asked her to come to a family estate in Yorkshire or go to Bosnia to visit Arminka's family." A second staff member added: "You'd catch them whispering into her ear either side of her and then as soon as you walked into a room they'd go quiet and stare at you."

An employee said: "Initially when they came into Angie's life it was entirely about the political and her charitable side, and then in this past period of time it took on a whole other life. It became very intense. It was notable in Hollywood that all of a sudden two UK political advisers were now somehow being viewed as legitimate representatives of Angie on every level."

In May 2015, the trio launched the Jolie Pitt Dalton Helic Foundation dedicated to improving access to education and preventing violence to women. Jolie lent the charity, which was set up as a company, £368,686 to get it off the ground. Accounts for December 2015 showed Jolie pumped in the sum and has not yet received any money back. Neither Helic or Dalton have made a loan to the company. The Jolie cash was spent in just seven months, between May and December 2015. The foundation has assets of £42,117 but an overall debt of £348,786. While the set-up is perfectly legitimate, official documents reveal Jolie is the only director responsible for covering any debts the foundation racks up.

The pair are believed to have travelled numerous times on business with Angelina, with sources suggesting they have spent at least 70 days with her this year. They are thought to have stayed with the family at the Amman Resort in Thailand last December and have travelled twice to Cambodia in recent months. They have also made at least six trips to LA, including in April, May, June, July, September and again this month. A pal said: "They're in contact all the time, including in Malibu recently. They come for weeks."

One staffer said: "If you went up to most people who work with the family anywhere around the world and you mentioned the nickname two witches, everyone knows exactly who you're talking about."
The misogyny of this is sort of disturbing. It's 2016 and we're calling powerful, thoughtful, passionate women "witches." Apparently, we're also attributing weird powers of seduction and psychological leverage to these women too. It can't ever be as simple as "Angelina has been in the process of moving away from the Hollywood life for years and she found two powerful allies to advise her on her current work." No, they ALL have to be witches. Mystery! Seduction! Intoxicating! BURN THEM! Drown them for their crimes!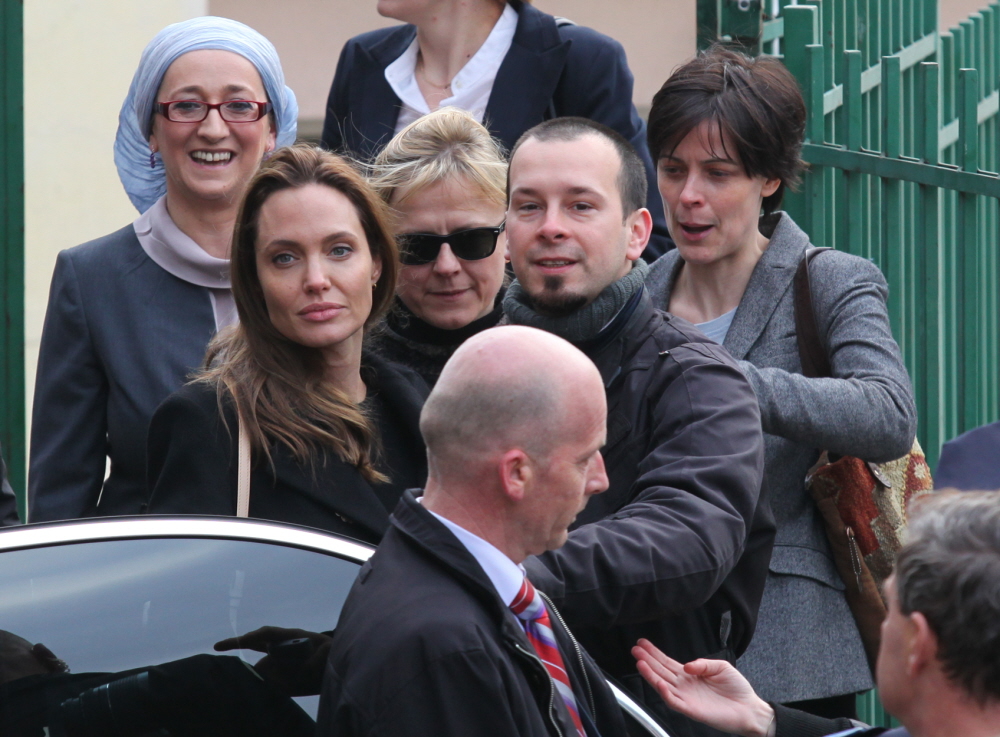 Photos courtesy of WENN.