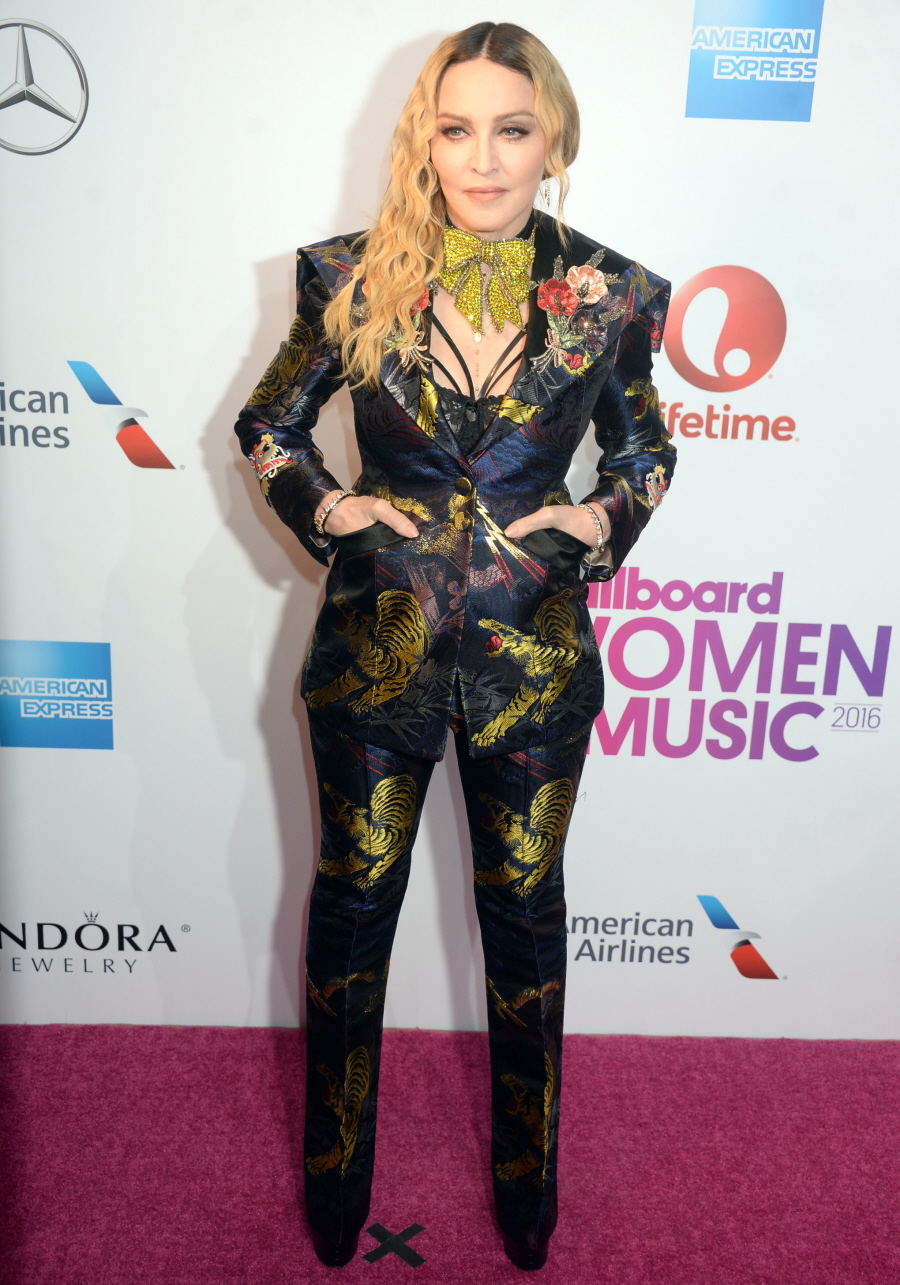 Madonna was named Billboard's Woman of the Year, for reasons which still remain a mystery to me. It reminds me a lot of the "???" feeling I had last year, when Lady Gaga was named Billboard's WOTY. It's like Billboard is picking names out of a hat. I mean, Adele? Beyonce? Solange? Even Halsey would have been a better choice. It's not that Madonna isn't worthy of accolades, especially for stuff like "lifetime achievement." But her 2016 wasn't particularly notable, I'm just saying. Still, we got arguably the best Madonna interview in years because of her WOTY honor. And she also gave a damn good acceptance speech:
The Material Girl was honored Friday as Billboard's Woman of the Year, and naturally, she began her acceptance speech with some provocative humor. "I always feel better with something hard between my legs," she said while straddling the microphone stand.

"I stand before you as a doormat," she continued. "Oh, I mean, as a female entertainer. Thank you for acknowledging my ability to continue my career for 34 years in the face of blatant sexism and misogyny and constant abuse."

In the frank, sprawling, passionate remarks that followed, Madonna spoke about being raped at knifepoint after first moving to New York as a teenager; about her musical inspirations; about defying critics and being called "a whore and a witch."

"One headline compared me to Satan," she recalled. "I thought, 'Wait a minute, isn't Prince running around with fishnets and high heels and lipstick with his butt hanging out?' Yes, he was. This was when I understood women do not have the same freedom as men."

Toward the end of her speech, the 58-year-old entertainer thanked her detractors and offered advice to women following in her footsteps.

"I'm not here so much because I care about awards," she said. "I'm here because I want to say thank you. To all the doubters and naysayers and everyone who gave me hell and said I could not or would not or must not, your resistance made me stronger, made me push harder, made me the fighter that I am. It made me the woman that I am today. So thank you."

She added, "What I would like to say to all women here today is this: Women have been oppressed for so long they believe what men have to say about them. They believe they have to back a man to get the job done … As women, we have to start appreciating our own and each other's worth. Seek out strong women to befriend to align yourself with and to learn from, to collaborate with, to be inspired by and enlightened by. True solidarity amongst women is a power on its own."
I've long believed that Madonna's greatest strength is her greatest weakness. Her strength is grabbing attention, being or playing the provocateur, being the person who refuses to be ignored. The weakness there is that she rarely has anything to say, so the attention, the provocation, the look-at-me-ism is just about Madonna the artifice/person, without any political, cultural or social message. But taken with her WOTY interview, this speech might show a new Madonna. Maybe her latest brand is Madonna the Feminist Warrior. While she's always talked about what it's like to be a woman in the music industry, her message has gotten harder, deeper and more interesting lately.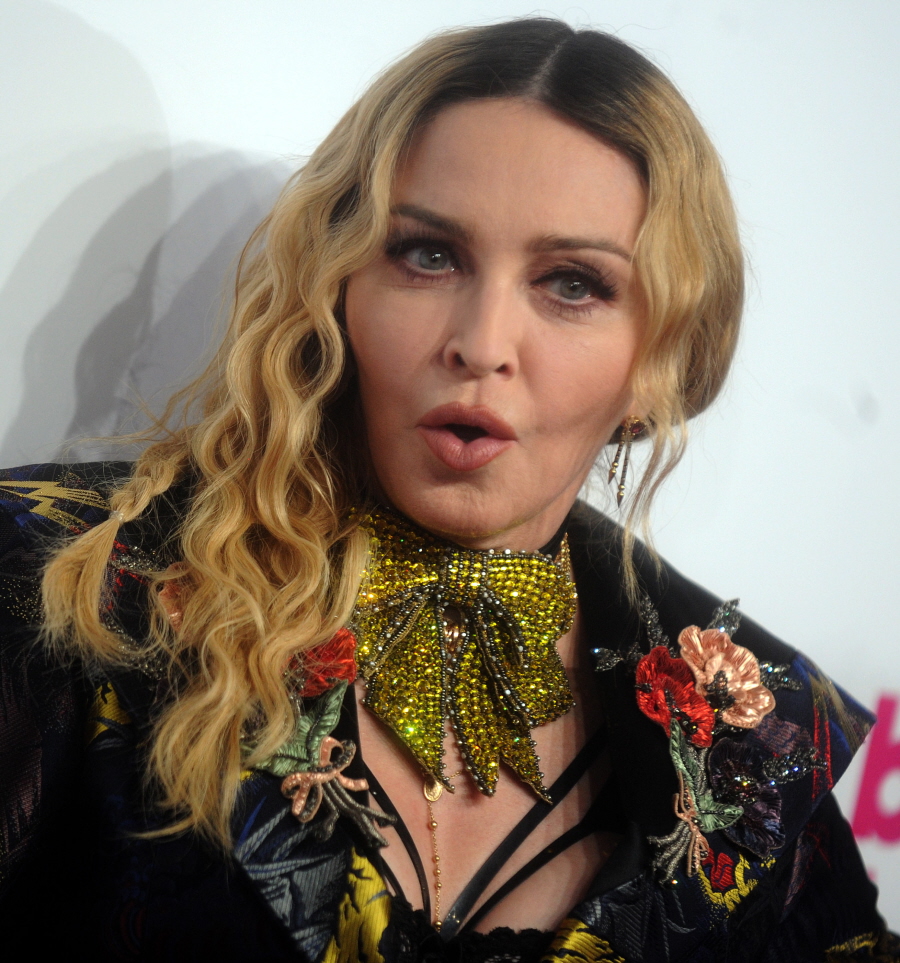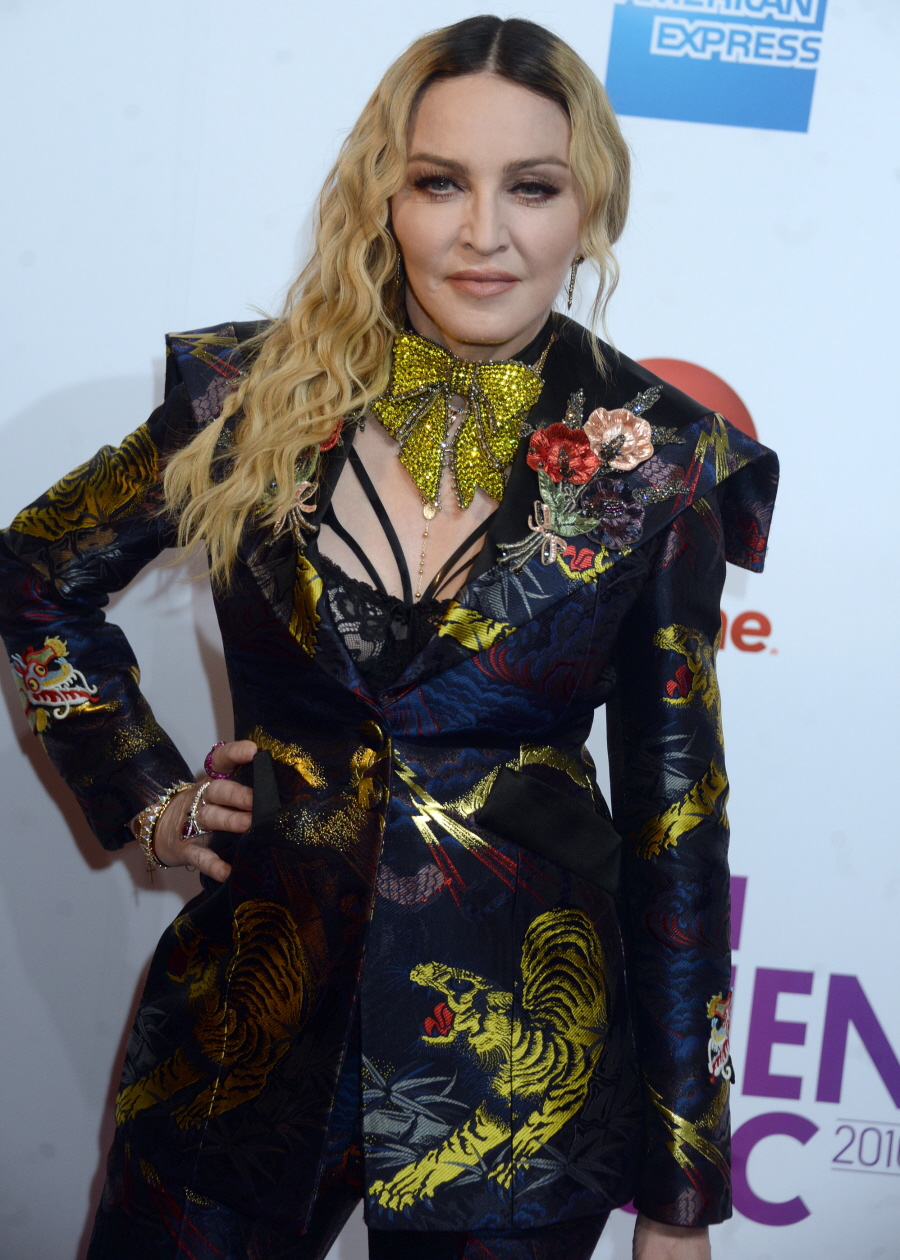 Photos courtesy of Fame/Flynet.