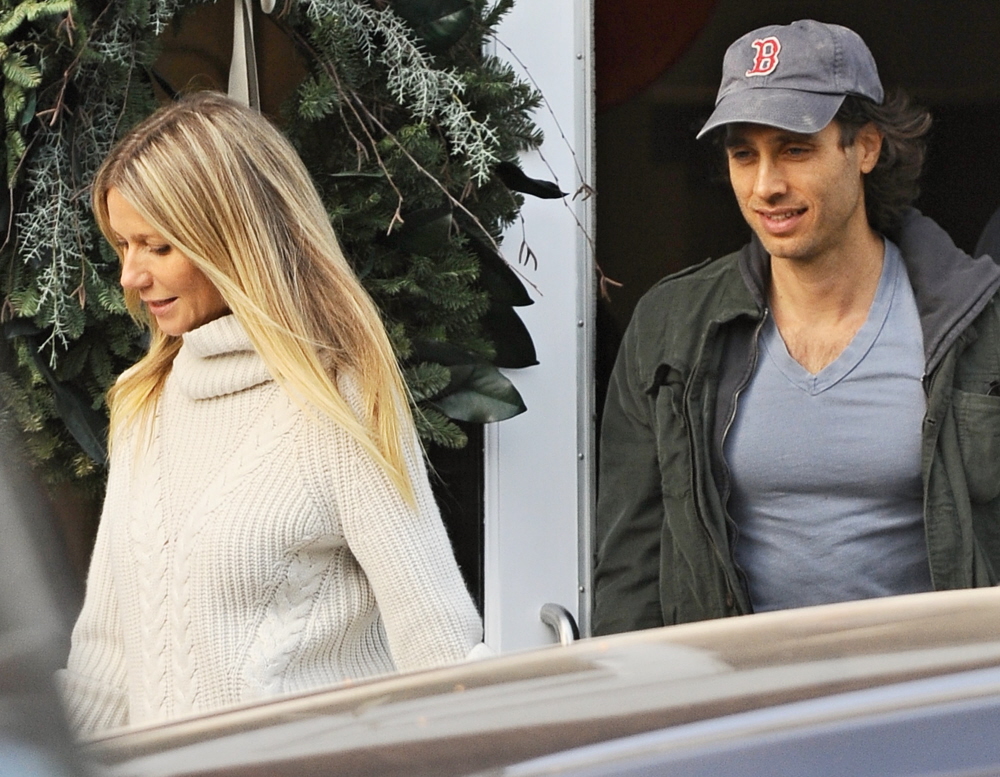 Gwyneth Paltrow allegedly started up with Brad Falchuk when they were both married to other people. That was the rumor – that Brad was "the other man" in Gwyneth's marriage to Chris Martin, and Brad was winding down his marriage at the time, although I still don't know if he's actually divorced at this point. Officially, Goop and Brad have been together since 2014, and while they've seemed outwardly "quiet" about their relationship, Brad has been Gwyneth's official plus-one at many events, and I get the feeling that she's folded him into her A-list circle pretty seamlessly.
There aren't a lot of photos of Gwyneth and Brad together, but they made a public outing over the weekend to check in on her Goop Gift pop-up store in Brentwood, which you can see in the photos in this post. While Gwyneth isn't wearing any notable rings in these photos, reportedly she was wearing a "huge ring" at a "recent party for her pal Jay-Z." According to The Sun, sources claimed: "Gwyneth had a huge rock on her wedding finger that caught a few people's eyes. Later she was introducing Brad to someone he didn't know and referred to him as her fiancé. She seemed totally loved-up." It's not that I doubt that Goop and Brad are loved up, I just have my doubts that Gwyneth will ever remarry? Am I alone there? I just don't get the vibe that she's looking to get hitched again.
What else is going on with Goop? She did a recent interview with Leandra Medine of Man Repeller, and Gwyneth tried to act like she's all about the nourishment of the common folk.
Gwyneth Paltrow may look like she subsists primarily on wild salmon and cucumber water, but the actress admits she's not above a good junk food splurge. In an interview with Leandra Medine of the Man Repeller, Paltrow dishes on the difficulty of adhering to a strict diet all the time. "I try to eat organic food when I can, eat local food when I can, and eat as little processed food as possible," she says, "but sometimes you need a bag of Doritos and a beer in an airport."

Medine also asks her if she "drinks a lot," to which Paltrow responds affirmatively. But how does she maintain that perfect glowing skin while still drinking booze? The Goop mogul gives the response any true business woman would. "Because of my products! I swear by them; I'm not kidding," she says.

When it came to her pregnancy cravings, the mother-of-two had to abandon all of her food philosophies. "I went from being completely macrobiotic, I got pregnant with my daughter, and if I smelled brown rice or salmon or vegetables I threw up," she says. Instead, her diet consisted of "grilled swiss cheese sandwiches, french fries, Jamoca Almond Fudge ice cream from Baskin Robbins, yogurt and apples."

As for how she deals with her detractors, Paltrow has a healthy attitude. "I actually really like criticism when it's constructive and helpful and I love input, but when somebody's coming to something with such a gender bias or a bunch of projections of their own s— on to you it doesn't help me, so I don't engage in it," she says. "I just stay really true my vision. I see a bullseye way off in my future, and I'm just like going for it."
Doritos and beer at the airport? Who is she, Jennifer Lawrence? Pretty soon, Gwyneth will be so RILL and she'll tell us stories about how she farts whenever she gorges on pizza. As for the "bullseye" she is working towards and how she doesn't want to hear "a bunch of projections," etc… oh, Goop. Keep trying to sell $8300 yurts to Trump voters.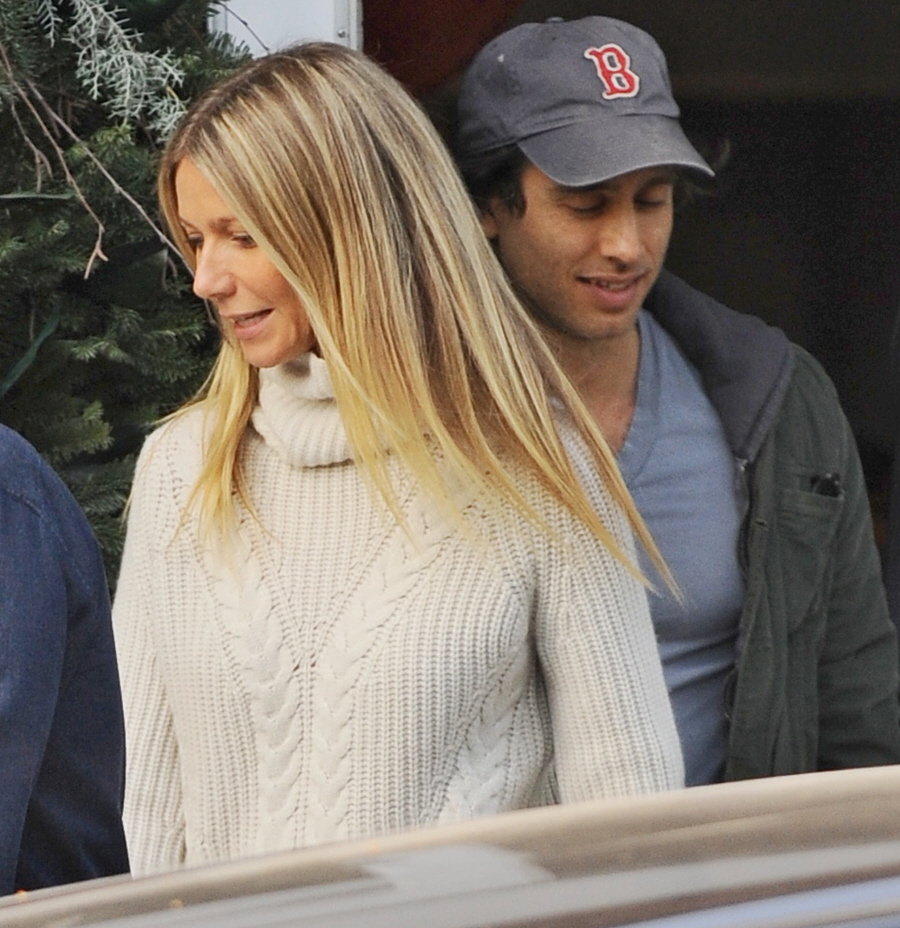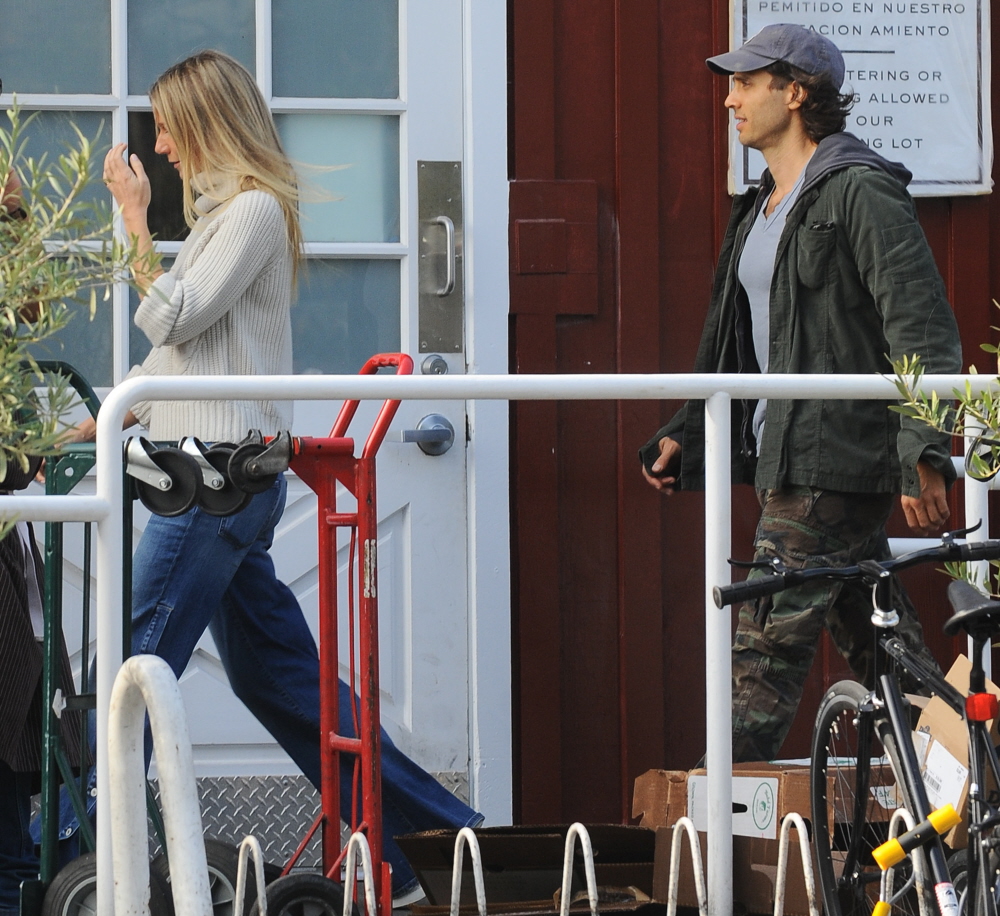 Photos courtesy of Fame/Flynet.