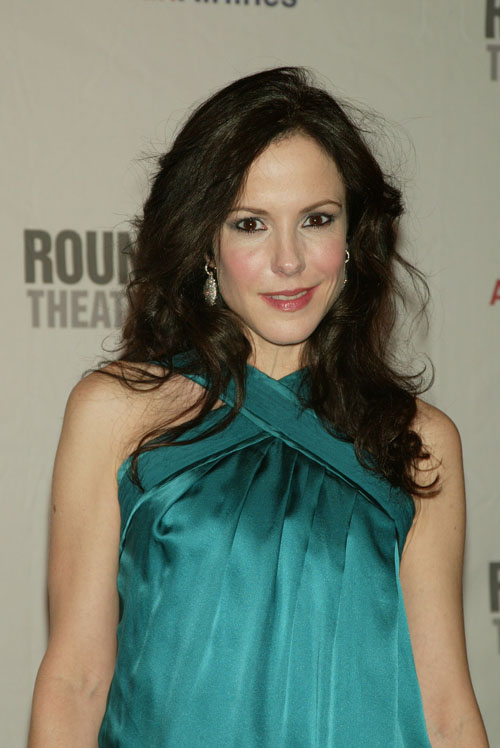 Mary-Louise Parker is the June cover girl for More Magazine (story via People), and she's got a lot to say about a recent episode of Weeds where she was naked. In one scene, Mary-Louise's character is naked in the bathtub, and Parker now claims that the director "goaded" her into it. She felt that her character didn't need to be naked, and she fought with the director over it. The result? She did the scene in the nude, and her attitude is now "bitter". She feared her boobs would become the talk of the internet, or as Mary-Louise suggests a headline: "'Mary-Louise shows off her big nipples." Yikes. She also talks about the direction she wants Weeds to go in – less sentimental, less crude, and more extreme dramatically. She also talks straight about plastic surgery – she says she hasn't had any, and I believe her:
Mary-Louise Parker has always been fine with the sex scenes in her role as Nancy Botwin, a marijuana-selling suburban mom in the Showtime series Weeds, but she thinks that a recent nude scene of her in the bathtub took things a little too far.

"I didn't think I needed to be naked," she tells More Magazine in its June issue. "I fought with the director about it, and now I am bitter. I knew it was going to be on the Internet: 'Mary Louise shows off her big nipples.' I wish I hadn't done that. I was goaded into it."

The show's co-executive producer, Roberto Benabib, defended the moment, stating that the nudity was necessary to convey the character's vulnerability. "We felt at that point in her life, defenses had been so thoroughly stripped away," he says. "There was a nonchalance to the nudity that informed the scene … I thought it was wonderful, one of the five best scenes Mary-Louise has ever done [on Weeds]."

Despite being bitter over the nude scene, Parker still very much enjoys playing her character on the show. "I like it the more extreme it is," she says. "But I don't like it when it's crass and crude for humor's sake, and I don't like when it's sentimental, when she's a sweet mother. To me, she's not that."

Parker also talks about the pressures to look young in Hollywood, but she's not giving in to the knife anytime soon. "Somebody told me that they'd read I had all this work done, and showed me a picture and it was totally airbrushed … it made me so mad," she says. "I don't like what that says to other women. I'm 44 and I look okay for 44. I'm not trying to look 34."
[From People]
She does look really good for 44, or for 34. She's one of those actresses who can do no wrong in my book, and I love her attitude about aging and about her work. It seems like she and Roberto Benabib really did have some kind of hardcore disagreement over the nudity, but I doubt the controversy will cause anyone to loose their job. The worst part of this interview is that Mary-Louise doesn't address any questions about Jeffrey Dean Morgan, that gorgeous beefcake that she is rumored to be back together with.
Mary Louise Parker is shown on 1/25/09. Credit: WENN.com