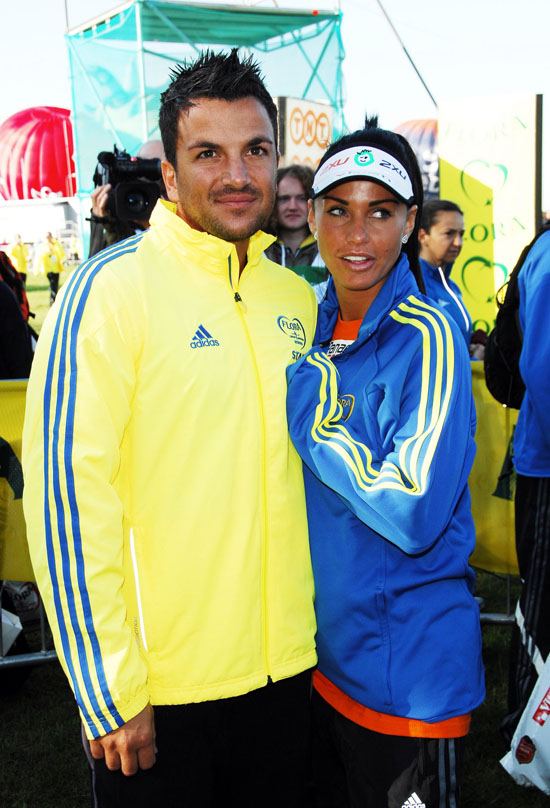 It was the divorce that everyone saw coming. British glamour model Katie Price, aka "Jordan," and washed-up pop singer Peter Andre called it quits a week ago amid rumors that Katie loves to booze it up and mess around with other guys. Today, sources are reporting that the estranged couple are trying to work out arrangements for their children – but both sides are still very emotional and volatile.
The couple, who both left the UK after announcing their separation last Monday, are returning for talks on Thursday to discuss who will care for Harvey, seven, Junior, three, and Princess Tiaami, one, according to the Daily Mirror.

They are believed to have arranged the meeting over the phone.

Following the announcement that their three-year marriage was over, Katie, 30, fled to the Maldives with the two youngest children while Peter, 35, went to Cyprus, where he is being supported by his family.

According to the Mirror, Peter gave his wife – still best known as Page Three model Jordan – no illusions about why he is returning to the UK for the meeting.

'I'm only doing this for the sake of the kids, not you,' he is said to have told her.

The couple are expected to discuss the possibility of sharing custody of seven-year-old Harvey, Junior, three, and Princess Tiaami, 22 months.

Details of how dramatically their relationship had deteriorated before the break-up emerged at the weekend, with the News of the World claiming the couple had not had sex for two years.

A friend of Peter's told the newspaper: 'To put it bluntly, Jordan stopped fancying him. It caused big problems because she has a huge sex drive.Things haven't been right in the bedroom for almost two years.'

Apprentice-reject Mona Lewis had already told how a chance encounter in a nightclub with Katie weeks before the break-up resulted in a startling confession about the state of her marriage. She said Katie declared: 'I may as well tell you that me and Pete are splitting up. You're going to see it in our TV series anyway.'

Mona, who approached Katie for an autograph and ended up getting an eye-watering account of her relationship with Peter, also claimed she told her the couple's sex life had fizzled out.

Katie is currently staying at the £2,800-a-night villa in the Maldives where she and her husband spent their honeymoon three-and-a-half years ago.

'When we met on I'm A Celebrity his career was over and he had hardly any money,' she is reported to have sobbed.

'It was me who turned that around for him.'

The News of the World also claimed Katie shared a kiss with a gay barman on the same night she was photographed flirting outrageously on a drunken night out in Bristol.

The pictures of her falling out of a nightclub are said to have enraged her husband, leading to the announcement of their separation.

Ben Osbourne, 21, was pictured seemingly kissing the drunk Katie on CCTV images captured outside the Flamingo nightclub in Bristol.

Ben said: 'It was probably only a ten-second snog… but it definitely wasn't the behaviour of a married woman.'

Meanwhile Katie has been using her computer to tell the world how she 'misses' her estranged husband.

On her Twitter page she wrote: 'I'm still keeping a dignified silence. I have made no comments, they are made up.

'I'm heartbroken. I never wanted any of this. We all miss Pete.'

Meanwhile Peter broke down in tears as the stress of the acrimonious split began to show.

After seeing pictures of his two young children in last week's papers Peter couldn't control his emotions – turning to his older brother for support.

Chris, 46, wrapped his arms around the devastated singer, helping him inside the £1million villa that Andre built as a holiday home for his family.

Peter hasn't seen his wife since ending their relationship last week.

He is surrounded by his family at the villa near Perivolia – 10 miles from Larnaca, and told reporters outside he was 'absolutely gutted'.

He also told journalists he was missing his children.

'Being apart from my kids is just breaking my heart,' he said. 'It's destroying me.'
Hold on: Peter is upset that his wife kissed a gay man? I'm confused. Unless, the only gay man she's allowed to kiss is Peter. Yeah, I said it. Anyway, is anyone else bothered by the fact that seven-year-old Harvey has seemingly been abandoned by both Katie and Peter in all of this? The child is severely disabled but yet, both Katie and Peter jetted off to other countries and left Harvey in the care of a nanny. Doesn't he deserve to be supported and cared for throughout this ordeal the same as the other children?
As for Katie keeping a "dignified silence," all I can say is, HA! When has that orange skankhound ever kept anything dignified or silent?
Katie and Peter are shown on 4/23/09 and 4/26/09. Credit: WENN.com