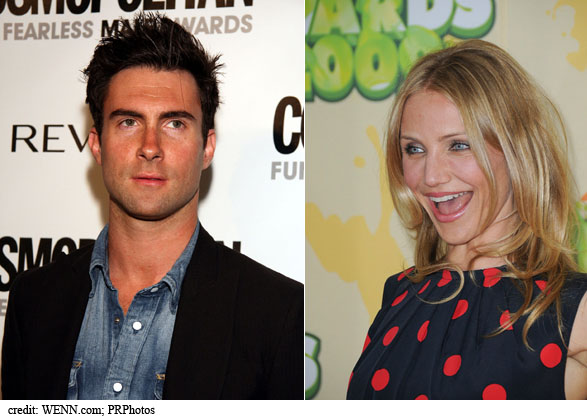 Cameron Diaz is certainly wasting no time getting over her breakup with hunky model Paul Sculfor. The confirmed bachelorette was seen getting cozy with Maroon 5 frontman Adam Levine at Hollywood hotspot Chateau Marmont over the weekend. Levine was formerly linked to Jessica Simpson.
It seems Cameron Diaz has wasted no time moving on following her split from model Paul Sculfor earlier this month.

The Hollywood actress, whose year-long relationship with the former Essex bricklayer ended after she refused to move to the UK, was spotted enjoying a lunch date with Maroon 5 lead singer Adam Levine.

The pair dined together at the Chateau Marmont over the weekend sparking rumours of a budding new romance.

They certainly dressed the part of a new couple in matching blue jeans and crisp white tops and spent more than an hour exchanging flirty glances and conversation over a meal.

Levine, 30, is known as something of a ladies' man in Hollywood and has been linked to a string of starlets including Jessica Simpson, Natalie Portman, Paris Hilton, Maria Sharapova and Kirsten Dunst.

His last romance was with a cocktail waitress named Rebecca Ginos who worked at popular LA celebrity haunt, Teddy's.

Cameron, 36, has enjoyed her fair share of high-profile romances too.

Prior to her relationship with Sculfor, she briefly dated singer John Mayer and had a four-year relationship with Justin Timberlake.

Her other love interests have include Matt Dillon, Jared Leto, Edward Norton, Vince Vaughn, Djimon Hounsou and Gerard Butler.

Aside from stepping back into the dating scene, Cameron is also busy promoting her new film, My Sister's Keeper, where she plays a mother of three in a moving story about a family living with cancer.

Famed for her quirky performances in romantic comedies, Cameron admits fans might be surprised to see her take a drastically different direction in her new movie.

But she told Vogue magazine she reveled in the challenge.

She said: 'People who put labels on themselves limit themselves. If you are a woman who's been labeled as a sex symbol, for instance – I mean, I am not saying that's the label people would apply to me.

'But if you see yourself that way, inevitably you get to a point when you are no longer a sex symbol. And if you can't move past that, you're putting a limit on yourself; you're arresting your development. And that's where I think a lot of women get in trouble.'
I read "My Sister's Keeper" and was horrified to hear that Diaz would be playing the mother of the two girls in the movie. I can't see her being convincing in this role at all. I don't think she's a horrible actress, per se, just not who I would picture playing the mother of two girls- one of whom is battling a terminal illness.
Back to the topic: Cameron certainly does have a thing for singers, doesn't she? I doubt this will become anything serious, but they do look good together.