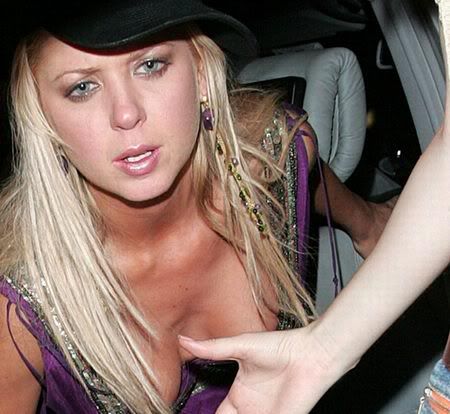 A wasted Tara Reid was leaving Dennis Rodman's Newport Beach House on Wednesday morning when she drove her car into another vehicle. She then made a wise move by giving the driver a wad of cash instead of involving the authorities:
According to our eyewitness, Ms. Reid's "pupils were clearly dialated, fow what reason I don't know." After exiting their respective vehicles, Tara told the owner of the other vehicle that she "didn't want to deal with insurance," and promptly handed the gentleman $700 dollars to "forget it ever happened."
[via]
Reid most recently made news by enlisting the help of her friends to clean out the goodie bags at the Diamond Aquifer pre-Oscar suite. Here she is on the day in question hauling her loot.