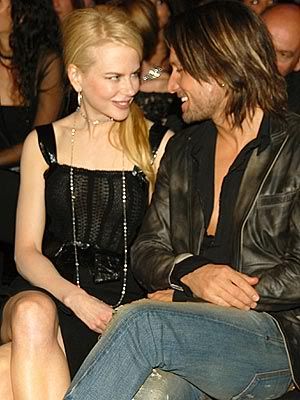 More news from the upcoming issue of In Touch. Nicole Kidman and Keith Urban are supposedly getting hitched in their native Australia:
It would appear that the Aussie Power Teamâ"¢ of Nicole Kidman & Keith Urban will be tying the knot and getting married down under after all. According to a new report set to hit the newsstands on Friday, In Touch Weekly states that Nicole Kidman is finalizing plans for a lavish wedding despite denials from Nicole Kidman's Australian publicist.
"Too many people are involved to keep the time and place a secret for much longer," says a friend of Nicole.
Kidman and Urban met at an LA dinner honoring Australians in January 2005 and seem to have started dating over the summer. They initially struggled to keep their romance a secret. In fact Kidman was criticized for an August, 2005 publicist's statement that she was "enjoying a nice friendship" with Urban. The couple went public with their relationship at February's Grammy awards.
This is not the first wedding rumor for the pair. In late December The Sun reported that they were to be married "that weekend". A month later the rumor mill heated up again with stories of a wedding in March. Nicole's publicist denied those reports, calling them "nonsense." In February Nicole was said to be tired of ex-addict Keith's partying, and may have called off the engagement.
This seems like the most substantial wedding rumor yet. Nicole has been wearing a gorgeous diamond engagement ring and it seems to be just a matter of time before she marries Urban. While Nicole did not wear her ring to the Academy Awards, she did sit with Keith and took him to the Vanity Fair party as her date. We hope she beats her ex, Tom, to the altar.