Most of us believe that Taylor Swift will be releasing a new album in the new year. I think the album will probably come out in February or March, although it could totally be later than that. This will be Taylor's first album since 1989, the Grammy-award winner from 2014. Taylor usually releases an album in the autumn every two years, so it's notable that she broke her pattern and didn't release an album this year. Whenever she does release the album, I feel certain that Tay-Tay will have a whole new re-brand to her image, and I can't wait to see what it is. The rebrand for 1989 was "girl squads" and "Bad Blood against Katy Perry" and "a low-key relationship with Calvin Harris." Star Magazine theorized that Taylor's rebrand will involve fewer squad members, maybe a "curated" squad of only intelligent, interesting people.
Taylor Swift has a catty New Year's resolution: get smarter friends!

"Taylor's tired of her old crew full of models. This year, she's planning to build a squad that seems sharper in the brains department," says a source, adding that she's going to shake off professional pretty faces like Gigi Hadid and Cara Delevingne. "She wants to hang out more with Aziz Ansari, Blake Lively and Todrick Hall. People she considers more substantial."

But Taylor's clique reconstruction has less to do with legit friends than it does rebranding.

"Taylor's reputation took a beating this year, and she needs to reinvent herself," explains the Swift source. "Certain people just aren't a good fit for her anymore."
[From Star Magazine, print edition]
A "Swift source" told Gossip Cop that this story is "false" and that "The singer is not ditching her girl squad, nor is she hoping to rebrand her image." Sure. We'll see. The thing is, while this is being framed as "Taylor is Machiavellian and she's all about her image," the truth is that people outgrow their friends all the time and it has nothing to do with branding. That's one of the points I kept making when Taylor continued to insist that the Girl Squad Is Forever and of course she would be friends with that huge group of people for the rest of her life. People outgrow friends all the time. Life takes people to different places, and you realize that some of your girlfriends or boyfriends are kind of vapid, or that you have nothing in common, or that you're just tired of your friend's dumb drama. It happens. That being said, of course she's going to rebrand herself for this new album.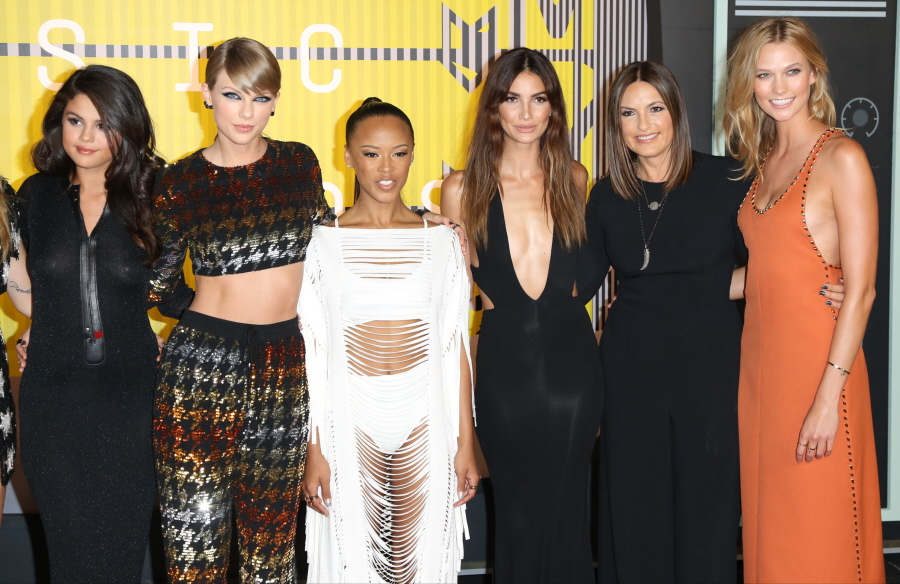 Photos courtesy of Fame/Flynet and WENN.