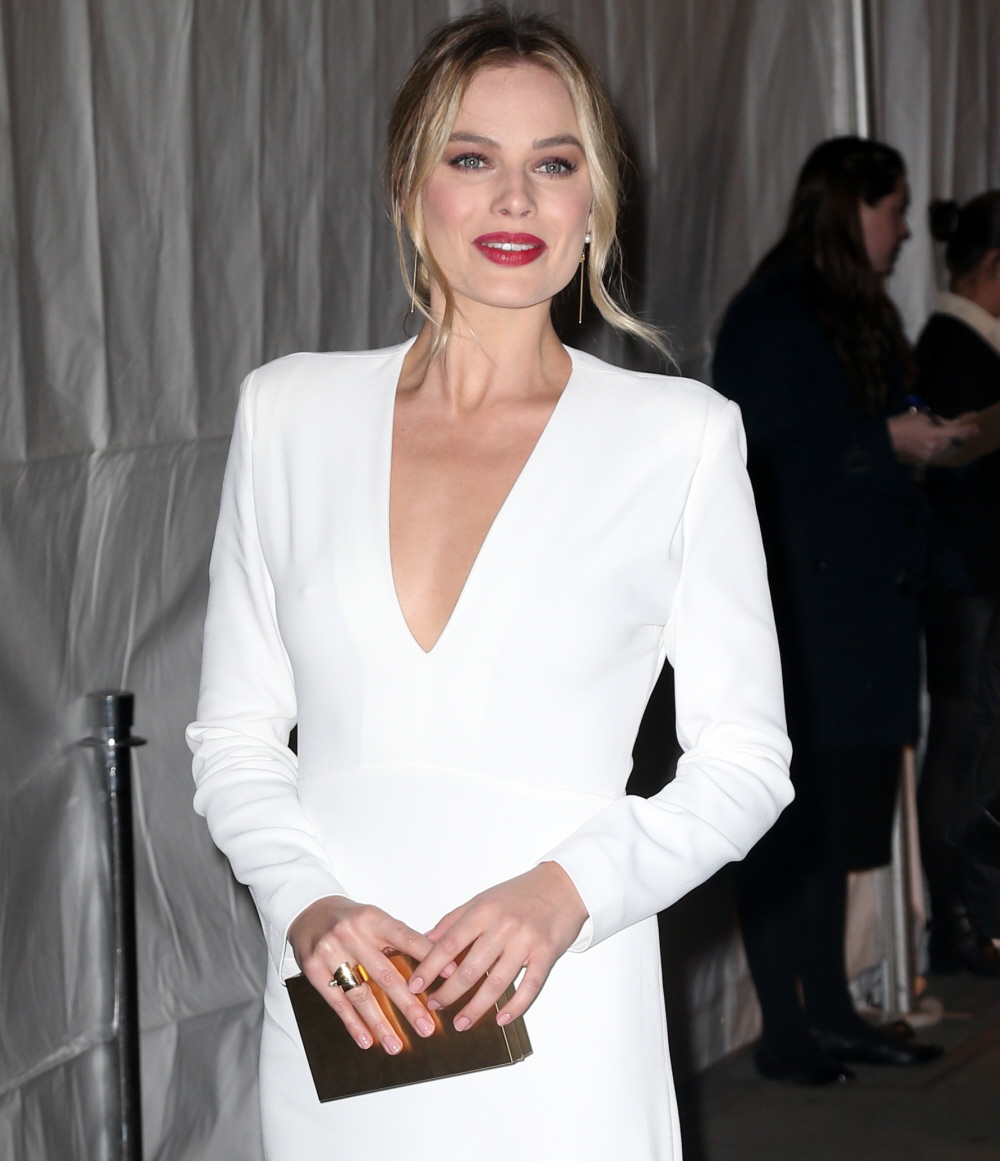 As we learned earlier this week, Margot Robbie slipped away to Australia (her home country) and quietly married her long-time boyfriend Tom Ackerley. In the first reports of the wedding, it sounded super-low-key, and I thought they had gotten away with just a simple beach wedding with only a handful of friends and family. As the reporting on the wedding grew, I realized that Tom and Margot actually did plan a real wedding, with bachelor parties and a van full of friends and a wedding dress and everything. Here's a shot of Margot in her wedding gown:
Margot Robbie stuns in white bohemian wedding gown at secret Australian weddinghttps://t.co/EZ5KuegHP3 pic.twitter.com/oeTyhkOQnI

— Daily Mail Australia (@DailyMailAU) December 21, 2016
Off-the-shoulder boho vibes, loose hair, simple. Just what I'd expect from her, honestly. Apparently, she had a 16-person-strong bridal party though… and they were all barefoot. Which brings me to my favorite details of any and every wedding story: the food. What kind of food did Margot Robbie have for her boho-chic wedding in Oz? Pizza and cereal.
Actress Margot Robbie married British director Tom Ackerley in a secret wedding Sunday. And in lieu of traditional wedding foods — tiny crackers and, uhhhhh, bad chicken — they opted for something a little more laid-back: pizza and cereal.

Per what a source told The Northern Star: "Pizza and BBQ was the theme of the low-key affair, with Robbie's favourite menu item, Coco Pops [Ed. Note: Coco Krispies], as the main wedding dessert. Coco Pops were placed nearby the dance floor with bowls, milk and cream also on offer for those who, like Robbie, love the traditional breakfast cereal."
Pizza? Okay. Barbeque? Sure. I'm down with that. But to only have Coco Rice Krispies as the dessert???? Nope. There's not even any mention of a cake!! What the hell, Margot??
Oh, and she posted this to her Instagram. I'm enjoying the simplicity of her ring.
Photos courtesy of Fame/Flynet, PCN, Instagram & WENN.