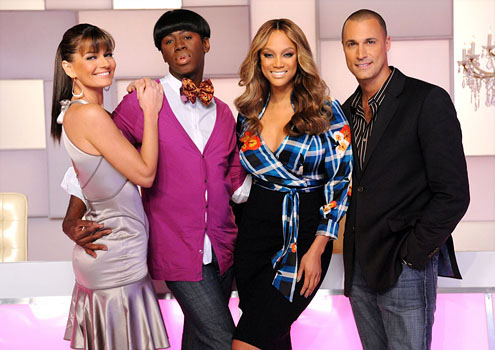 All the real drama is going on behind the scenes at America's Next Top Model. Of course it is… did anyone suspect anything else? After Paulina Porikova was fired – by phone - from being a judge on ANTM, there's been a catty war of words between Paulina and Tyra. First, Tyra's people were trying to make it clear that Paulina was not fired for anything to do with her personality or attitude. Tyra claimed that the economy is bad (it is) and ANTM is facing a limited budget these days (which might be true). Thus, some of the "fat" had to be trimmed from the shows production costs. Like, say, Paulina's fat contract.
Apparently Paulina doesn't have any confidentiality agreement, or she doesn't care if it's enforced, because both Star and the National Enquirer have some funny quotes from Paulina. Star reports that Paulina is saying she was fired because the producers told her she had an "ego problem". If that came from Tyra, that's the funniest thing in the world:
Did Paulina Porizkova get the ax because of the budget… or her big ego?

Last week the America's Next Top Model judge announced she was leaving the mannequin competition after one of the producers told her she has an "ego problem," but a rep for the show says it's all about the Benjamins.

Earlier today Top Model executive producers Tyra Banks and Ken Mok issued a statement saying Paulina wasn't fired because of her 'tude.

"The current state of the economy has forced shows to make major budget cuts industry wide," the statement reads. "America's Next Top Model is not immune to these financially challenging times. We've had to make significant cuts in every area of the production and, unfortunately, Paulina was a casualty of these cuts. Tyra, who pursued Paulina to join the show as a judge multiple times, was incredibly saddened by the decision the show was forced to make. We really enjoyed working with Paulina, and we wish her all the best in her future endeavors."

This story differs from the one Paulina is spinning.

"The reason I was told I was fired was because, it seemed that America's Next Top Model has gotten too fat and they needed to cut some fat and the fat was me," Paulina told The Late, Late Show's Craig Ferguson. "So I figured it was either that or my gigantic huge ego. Which I wasn't aware of until I was told by the producers that I have an ego problem."
[From Star Magazine]
The National Enquirer's version of events is just as funny. Paulina says that if ANTM's producers are really concerned about money, perhaps they should make sure Tyra shows up on time. Paulina claims that one of the biggest financial wastes of ANTM is the thousands of dollars the crew is paid to wait around for none other than Tyra Banks. Is it too old-school to say "Oh, snap!"?
Tyra deep sixes Paula from Top Model, cites economy. Paula charges "BS!"

Porizkova, the Czech born beauty was recently let go as a judge for the reality contest after a year on the skein. Paula alleged she was pink slipped for an "ego problem" with Tyra..

But Banks and show runner Ken Mok said "We've had to make significant cuts in every area of the production (because of the economy) and unfortunately Paulina was a casualty of these cuts."

But Paula doesn't buy that line – countering the producers could have saved moolah if Tyra wasn't tardy!

"I shouldn't say this because this sounds bitter, but if Tyra came in on time, they would save somebody's salary," Paula said. "If she actually showed up on time for the judgings and they didn't have to pay a lot of overtime, they would save a lot of money."

Ladies, we suggest you settle this by stepping into the ring for a pay-per-view catfight.
[From The National Enquirer]
Paulina came in after Janice Dickinson and Twiggy, and by far Paulina has been my favorite of the old-school model-judges. She's funny, and she's mean when she needs to be. ANTM contines to be a ratings success, and advertisers still support the show. So crying poverty doesn't really make much sense for the producers. Also, Tyra is one of the executive producers on ANTM, and I suspect Paulina's firing may have had more to do with a clash of personalities than with finances. Most likely, Tyra pulled rank on Paulina for several reasons, of which we've only gotten a glimpse of.