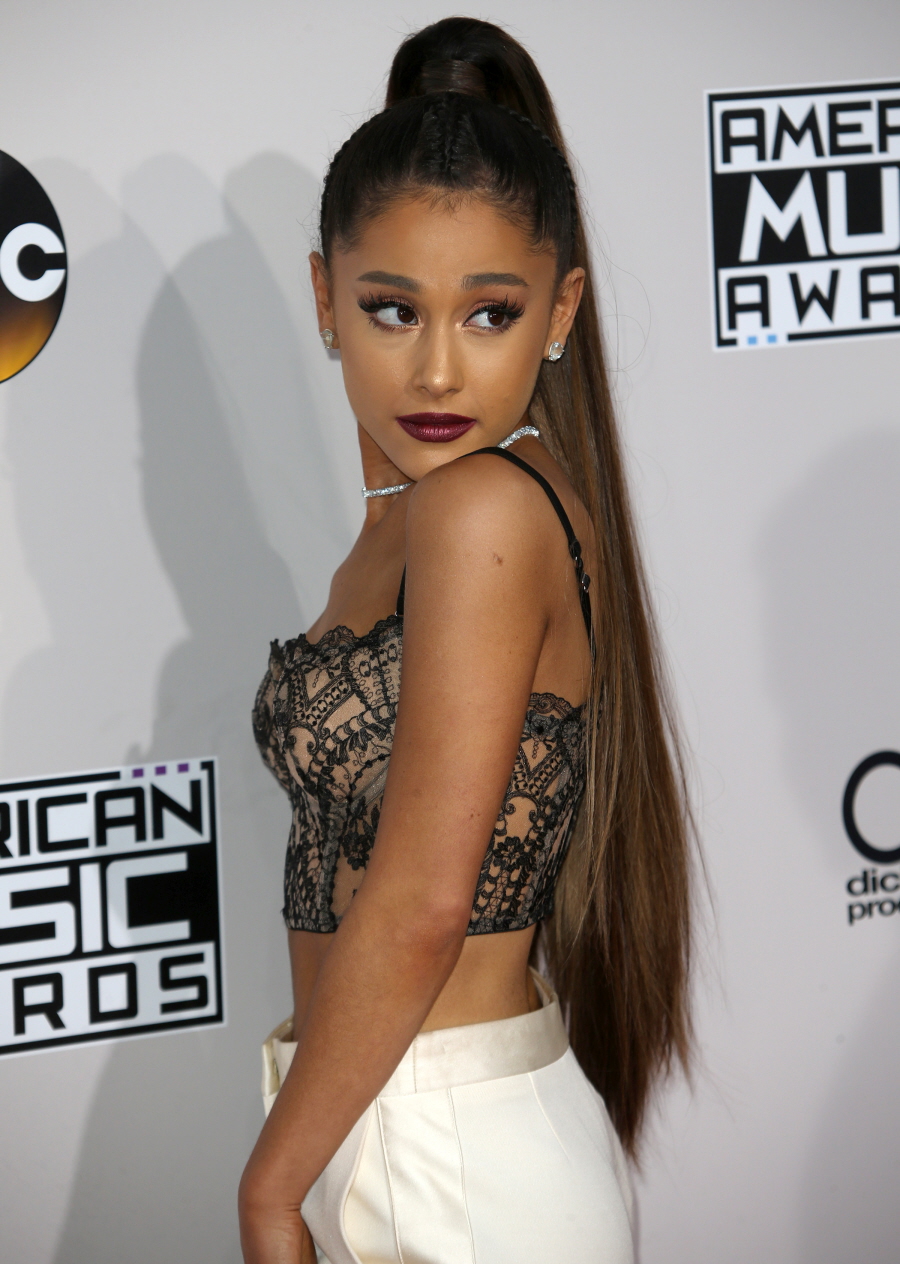 While I'm loath to take the side of a donut-licking America-hater, I have to give props to Ariana Grande this week. She did something interesting. First, she posted a disturbing story about a weird and sexist interaction with a fan, and then when people yelled at her on Twitter, she defended herself by making a really great feminist argument.
First, Ariana posted this on Twitter – go here to read her whole story (which includes some NSFW language). Basically, she was out with her boyfriend Mac Miller and a guy came up to them and told Mac that he was a big fan, then the guy said (in front of Ariana) "Ariana is sexy as hell man I see you, I see you hitting that." Ariana wrote that she felt "sick and objectified" and that's the kind of thing that contributes to women's "sense of fear and inadequacy." She writes that she is not a piece of meat and she's in a relationship with a man who treats her with love and respect, not some object. When Ariana's followers and random Twitter people were like, "Hey, but it was a compliment, you dress sexy so why are so bothered that someone thinks you're sexy," Ariana responded:
seeing a lot of "but look how you portray yourself in videos and in your music! you're so sexual!" …. please hold.. next tweet… i repeat

— Ariana Grande (@ArianaGrande) December 28, 2016
expressing sexuality in art is not an invitation for disrespect !!! just like wearing a short skirt is not asking for assault.

— Ariana Grande (@ArianaGrande) December 28, 2016
Women's choice. ♡ our bodies, our clothing, our music, our personalities….. sexy, flirty, fun.
it is not. an open. invitation.

— Ariana Grande (@ArianaGrande) December 28, 2016
You are literally saying that if we look a certain way, we are yours to take. But we are not !!! It's our right to express ourselves. ♡

— Ariana Grande (@ArianaGrande) December 28, 2016
Pretty much. While I think Ariana had every right to be offended by her boyfriend's fan objectifying her, I also think she knew she was going to get attention when she posted the original story on Twitter, and she was prepared to make the argument for making her own choices about being sexy or whatever, but that doesn't give anyone else the right to treat her like a piece of meat. Anyway… well done, Ariana.
Photos courtesy of Getty, WENN.