True story: did you know that Adele is pretty much living in California nowadays? She has a big house in England, but she also bought a home in LA and I think she's been in LA ever since the 2016 part of her tour wrapped a few months ago (she's touring Australia in the new year). So, Adele got pap'd in LA just after Christmas, and eagle-eyed Adele-watchers noticed that she seemed to be wearing a gold band on her wedding-ring-finger. And now people think that Adele and her partner/baby-daddy Simon Konecki got married in LA over Christmas.
Adele has set rumors flying that she has married her fiancé Simon Konecki in a secret ceremony after she was pictured wearing a gold ring on her wedding finger. The 28-year-old singer made no effort to conceal the band as she went shopping for health food in Beverly Hills on Wednesday, amid rumors that she was planning to marry Simon, 42, in a Christmas ceremony.

Fans soon started questioning whether their idol was hitched, with one asking:"Ok look at her hand… It's a f–king wedding band! You can argue with me but still," and another adding: "Adele might be married???"

Adele and Simon, who have a 4-year-old son, Angelo, have been together for five years and were engaged in October. Last month it was reported that the pair were planning a festive wedding. According to The Mirror, Simon has a 9-year-old daughter from his previous marriage and wanted her to a have a role in the ceremony. A pal said at the time: "The plan is to marry in LA. The wedding will be in one of the school holidays so Simon's daughter can attend. It's looking like it will be Christmas, but they want to keep details under wraps. Adele is not even wearing her engagement ring. They're a private couple and only want their nearest and dearest there."

The couple recently moved into an incredible mansion in the plush neighborhood of Beverly Hills and their neighbors include Beyoncé and Robbie Williams.

In November an insider explained: "They've decided it's the right time to think about making that step. They won't make a big song and dance about it, that's not the way either of them are, and you won't see Adele walking around with a huge diamond on her finger flaunting it. But they're ready to take the next step and both very excited about the prospect. Adele has had an amazing time on tour and is enjoying performing to fans — but she's looking forward to spending some quiet time at home with her family after 10 months on the road."
When Adele chatted with Vanity Fair several months ago, she talked a lot about how difficult it was to have a baby, how she struggled with post-partum depression, and how happy she is with Simon. Simon is her first "grown-up" relationship (her words) and after that interview, I was left with the impression that A) she didn't want to have another baby and B) she didn't care about getting married. Like, she was happy with everything she had and didn't need anything to change. So on that level, it would sort of surprise me if she did marry Simon, although if she did, I do think it would be this sort of low-key, no-one-really-knows thing. Oddly, I also think she might have another baby too. Hm.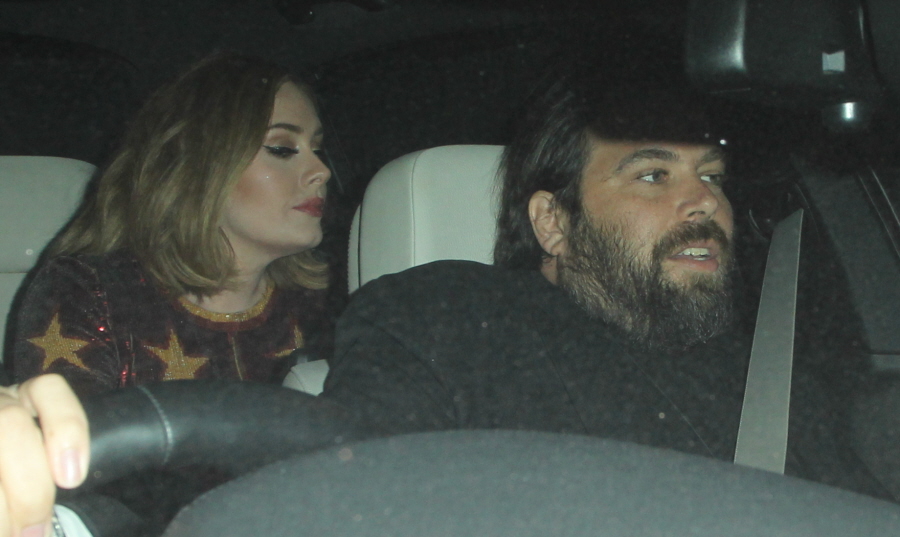 Photos courtesy of Getty, WENN, Instagram, Fame/Flynet.