Ben Affleck has a long interview with The Guardian in which he's promoting Live By Night, his latest passion project, a gangster film set in prohibition era Boston. Early signs point to the film not being a hit, but we'll see when it comes out on January 7. Affleck goes into detail in this interview about his issues with fame and the press, as he often does. He claims to have made his peace with the press, but given how much he complains about them that's doubtful. He also says that he's worried for his children, who put up with the paparazzi on a daily basis. Here's more of what he told The Guardian.
On his 2014 debate with Sam Harris on Real Time
I love a good debate and I get very energised by it. On Real Time, I think people could tell I had a genuine emotional response because I strongly believe that no one should be stereotyped on the basis of their race or religion. It's one of the most fundamental tenets of liberal thought.

He doesn't want to go into politics due to fundraising, schmoozing
But I really wouldn't want to. It's not because I think being a public servant wouldn't be satisfying, but it's become a pure money-raising exercise from beginning to end. It's small talk with people who you want to squeeze money out of. It's sleazy. You have to have a certain tolerance to that kind of schmooze that I don't have.

On Brexit and the US election
I spent five months in London [last year] and I have to say the Brexit vote smacked of the same kinds of things I heard here. People whose overarching political agenda is that immigrants are ruining things for us or immigrants are getting one over on us somehow, taking advantage. In London, it's Polish people and here it's Mexican Americans. I still believe in the basic goodness of people, but that doesn't mean we aren't going through a spell where we're in thrall to some ugly ideas and ugly notions.

On meeting Donald Trump
I met him once at a Fashion Week event in Milan. You knew you were at a cheesy party if Donald Trump was there. He would kind of trawl around them. He was famous for only granting permission for films to shoot on his real estate locations if they put him in as a cameo. The director Marty Brest told me he'd had to create a whole hand-shaking scene in Scent of a Woman where Trump comes out of the door and goes, 'Hey! Donald Trump, nice to meet you,' as he bumps into Al Pacino. The ego was there a long time ago.

On his career setbacks in the early 2000s
I'd always had a strong idea about my values and the direction I wanted to be headed in, then I ran into getting famous and it totally spun me around and I flailed around for a few years. When you're a young man in your 20s, part of that is making mistakes and learning from them. I just made those in front of everybody, rather than privately. There's stuff I look back on and kind of cringe at but I always tried to treat other people well. My parents imbued that in me and the mistakes I made were mostly just of the embarrassing kind.

On Live By Night's tagline "the American dream comes at a price"
Absolutely. I've been lucky. I've had my wildest dreams come true, but the price is the Faustian exchange you make where your identity is not your own. You become a public figure and it changes all the rules. The press can become invasive and dishonest, and you have to put up with inconvenient stuff like that. I'm at peace with paying my own price, what I'm not at peace with is when it invades on my kids' space and time. They didn't make any bargains. I try to shelter them as best I can. That's my only real gripe.
Later in the interview he credits Robin Williams for his success, after Robin agreed to do Good Will Hunting with him and Matt, stating "Most people can't point to the moment that changed their life in such a dramatic way, but I can. It was the moment that Robin decided to take a flyer on that movie. I'll always feel a huge debt to him although now I'll never get to repay it." It was sweet the way he talked about Robin. As for Ben's thoughts on his kids and trying to shelter them from the paparazzi, I really wonder if that decision is more on his wife than him. Really all they would need to do to avoid being photographed on a daily basis is to move to another area, which Garner has dismissed as potentially ineffective. I do understand that their children's schools and their work is in LA. As long as they live there it's probably out of their hands.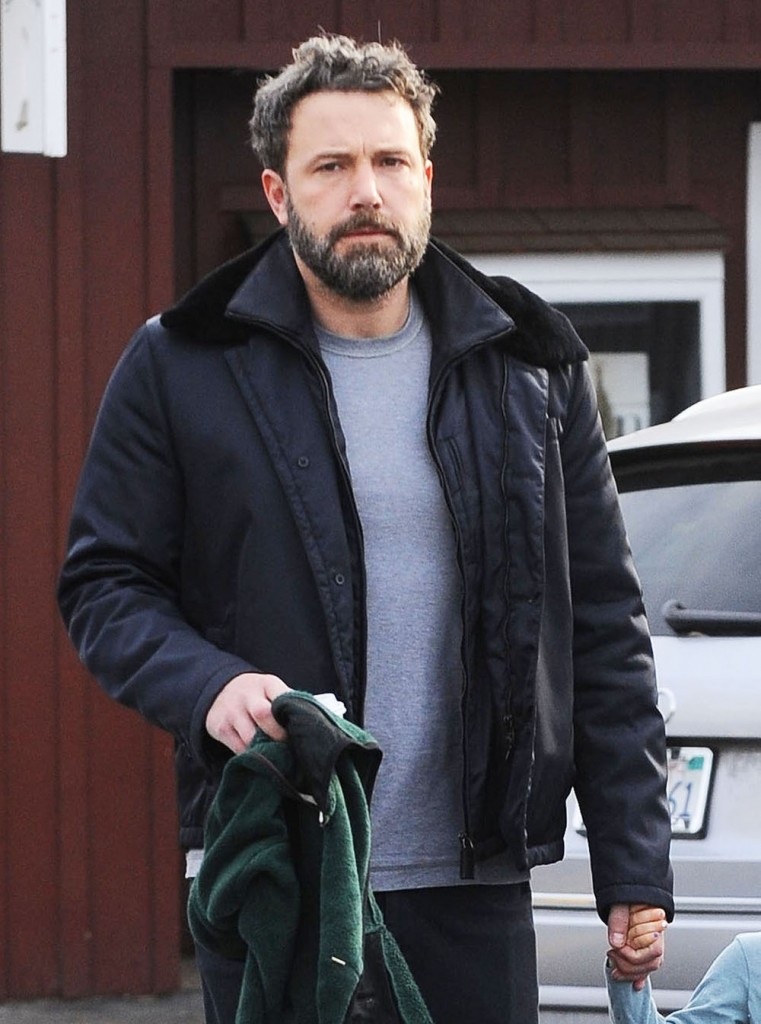 photos credit: FameFlynet and Getty