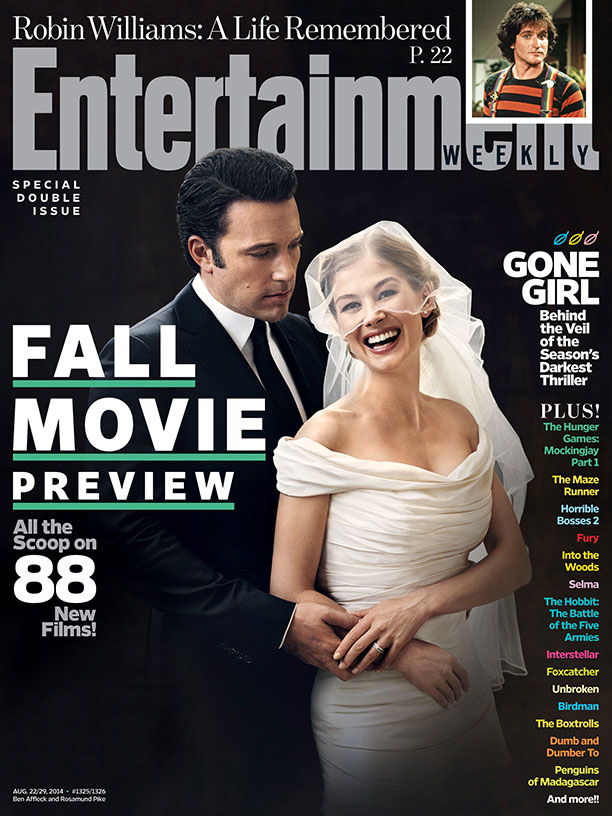 Wow, somebody at Entertainment Weekly sure loves Gone Girl. This is the second major cover EW has given the film, out this fall. EW did dual covers this week – one cover is a tribute to Robin Williams, the other is this one, a Fall Movie Preview with Gone Girl's wedding photo. It's a good photo, I guess, and evocative of how creepy this film will be. But I'm still worried about Ben Affleck as Nick. Sorry, y'all. I still think he was miscast. I'm judging that on the second weird trailer (which made the film look Law & Order-ish) and this cover, where it feels like the marital dynamics of Nick and Amy have been misjudged. Some highlights from the cover story:
Affleck on playing a character who becomes a tabloid bad guy: "It wasn't something I had to do a lot of research for. I knew what it was like to have the tabloid world paying attention to me and ascribing negative motivations to whatever I might be engaging in. I knew what it was to be cast in a soap opera I had no control over."

David Fincher on casting someone who knows "what it's like to be hunted": "We knew we needed somebody who was charming and could be seductive, who could be a ladies man, a guy's guy, a frat boy. But most important, [someone] who had the wits and experience of knowing that situation. The gift of having Ben Affleck is that this is a guy who knows. He knows what a lose-lose situation is and understands what's funny about it, however sad."
Fincher's description of Ben and what he was looking for the Nick character… damn, were we reading the same book? Nick is boyish, sweet, not really a man's man, not really the coolest guy in the room, but he's the kind of guy everybody likes. And Ben is not that guy. I'm sorry. He's not. An oversized frat boy? Sure. A guy's guy? Eh. Charming and seductive? Nope. As for Affleck's quote about his Bennifer 1.0 days… dude, nobody forced you to rub Jennifer Lopez's butt on a yacht in her music video. For real.
Affleck also talked a bit about becoming The Batfleck in the upcoming Batman Vs. Superman movie. There were recent photos of Affleck in costume (??) as a world-weary Bruce Wayne, which you can see here. This is what Affleck had to say about the backlash against his casting:
Before I took the role, Warner Bros. gave me a bunch of past reactions to casting and said, "Are you sure you want to get into this? This is part and parcel of these movies now. There's a lot of active fans with a lot of opinions." To me, having been through a certain amount of that, it doesn't really… Everyone's entitled to their opinion. I wouldn't have taken the part if I didn't trust my instincts in terms of the filmmaking. I think Chris Terrio wrote a terrific script. Zack's a great visual director. And there's an interesting take. I wouldn't have done it if I didn't think I could do it. I have the benefit of a lot of that understanding. But also, everyone is entitled to their opinion. That's a big part of this international sport. The Fifty Shades of Grey kid or whatever it is. That's sort of become a thing… You know what? It's great that people do care that much. They want to see the movie that much. And it is incumbent on you to honor the story. There are the Greek myths and these are the American myths. The American myths are these superheroes. People care about 'em a lot. And it's incumbent on you to do a good job and make it as excellent as you possibly can. At the end of the day, the movie's all that matters.
Or he could have just done it for the money/fame. God knows. No, I think Ben wanted to reset himself as an actor and try this whole superhero thing again. He would have loved it if Marvel had offered him something, but if somebody offered him Batman and a nice paycheck, sure!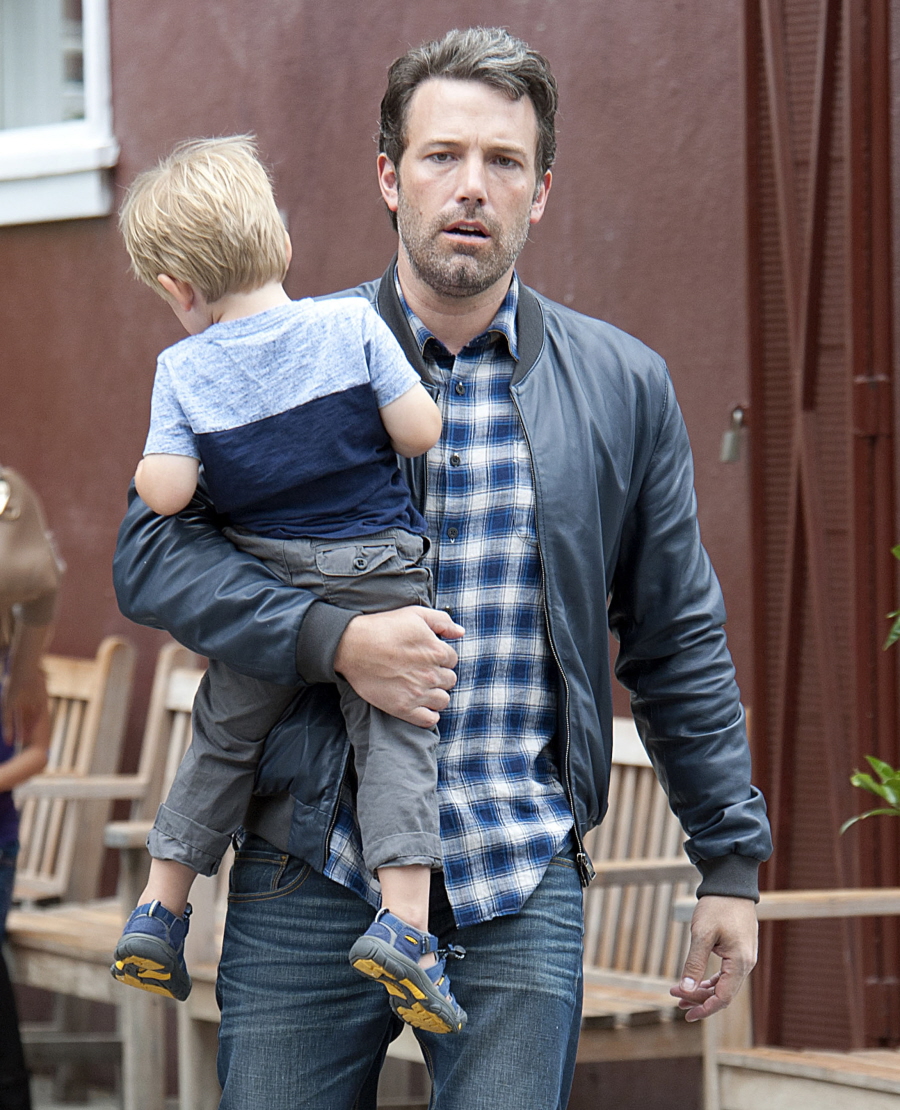 Photos courtesy of Fame/Flynet and Entertainment Weekly.