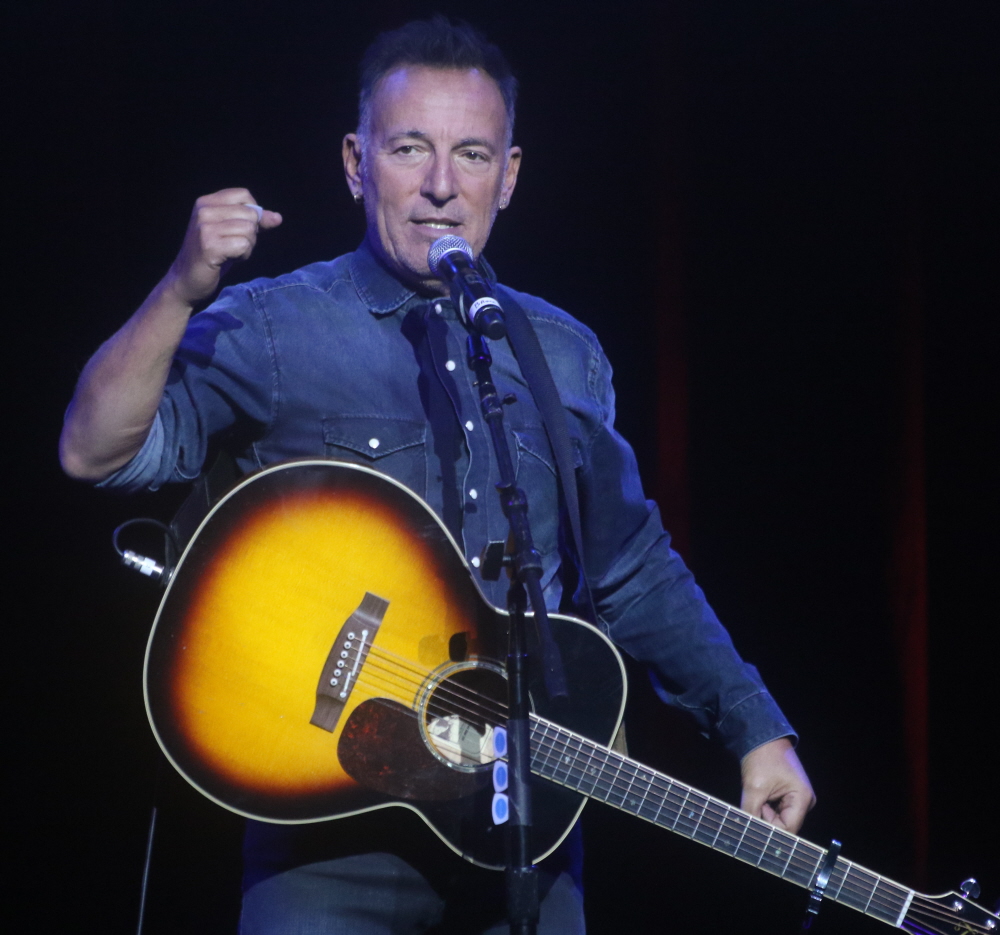 I don't have the time to regularly listen to Marc Maron's WTF podcast, but when I have listened to specific interviews – the John Oliver interview, the Barack Obama interview – I'm always impressed by the conversations. Maron is a good interviewer, and he creates a space for interesting and funny dialogues. Maron's latest interview is with Bruce Springsteen. Bruce is, as we know, a big-time liberal/progressive guy. He wasn't all over the place for Hillary Clinton last year, but he did endorse her and make one late-in-the-campaign appearance for her campaign. Bruce hasn't said much since Donald Trump was elected president… until this interview. You can hear the podcast here. Some highlights:
His reaction to Trump's electoral victory: "I've felt disgust before, but never the kind of fear that you feel now. It's as simple as the fear of, is someone simply competent enough to do this particular job? Do they simply have the pure competence to be put in the position of such responsibility?"

Why people voted for a 'toxic narcissist': "I understand how he got elected…" Many Americans were "effected deeply by deindustrialization and globalization and the technological advances and you have been left behind, and someone comes along and says 'I'm gonna bring the jobs back,'" as well Trump's promises to combat against terrorism with Islamophobia and illegal immigration by building a wall. "These are very powerful and simple ideas. They're lies, they can't occur. But if you've struggled for the past 30 or 40 years – and this has been the theme of much of my creative life for all those years – if someone comes along and offers you something else… it's a compelling choice… There's plenty of good, solid folks that voted for Donald Trump, as well as people who had other agendas."

The new wave of hatred: "When you let that genie out of the bottle — bigotry, racism, intolerance… they don't go back in the bottle that easily if they go back in at all. Whether it's a rise in hate crimes, people feeling they have license to speak and behave in ways that previously were considered un-American and are un-American. That's what he's appealing to. My fears are that those things find a place in ordinary, civil society."

He's not giving up: "America is still America. I'm still believe in its ideals, and I'm going to do my best to play my very, very small part in maintaining those things."
[From EW & Rolling Stone]
Yeah, pretty much. When Barack Obama was elected, I heard some people say that they didn't really recognize America, and I always felt like, "Well, this IS America – multicultural, tolerant, progressive and willing to embrace an intelligent, thoughtful man." Now I feel like all of those people mystified in 2008 – how did we get here? Is this really America? This isn't the America I know. And while I love Bruce and I think he's a thoughtful, intelligent, interesting man, I really need everyone to stop making excuses for Trump voters. It makes me sick to my stomach.
Today is @springsteen day on https://t.co/KBRiPQLutw! I returned to Jersey to talk to the Boss! Great guy. Great talk! Do it up! pic.twitter.com/gLTxPsJK06

— WTF with Marc Maron (@WTFpod) January 2, 2017
There is little variation in white supremacist hate group ideologies: https://t.co/4UF4Wkqmrp pic.twitter.com/Ox6ipPZKjX

— Vox (@voxdotcom) January 3, 2017
Photos courtesy of WENN.