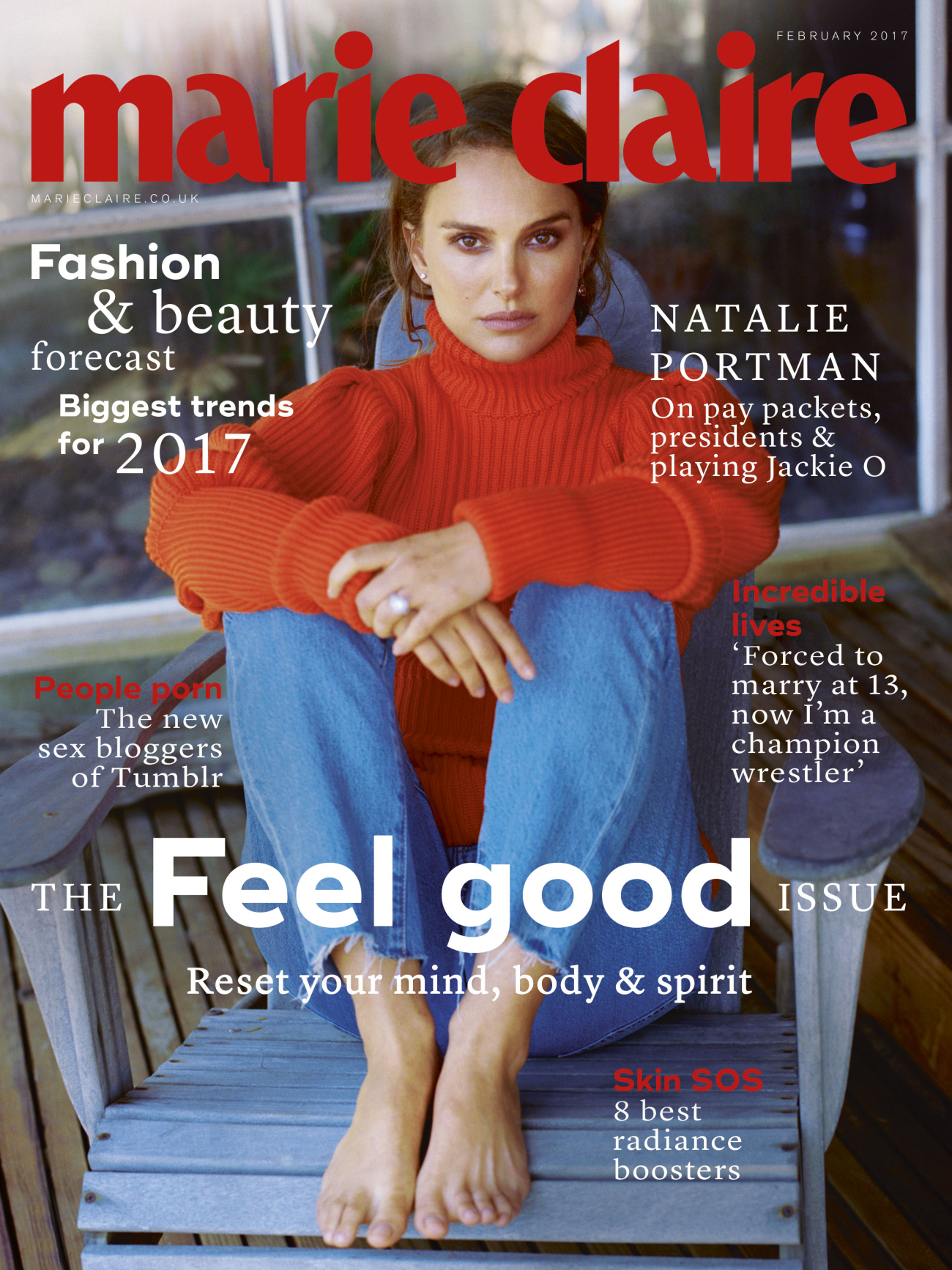 The bulk of Natalie Portman's Oscar campaign has happened after the election. I remember that she had to walk the red carpet for the LA premiere of Jackie just one day after Donald Trump was elected. I feel like that's influenced her RBF (resting bitchface) and I don't hate it. Portman has looked royally pissed off on red carpets and photoshoots for two solid months and it's like she's letting her face speak for all of us: we all feel grumpy, bitchy and pissed. Anyway, here's Natalie Portman on the February cover of Marie Claire UK, looking like she's about to shank somebody. Portman gets a bit political in the interview too – you can read the full piece here. Some highlights:
The interview took place two days after Trump was elected: 'Someone said to me that it felt like it had snowed in LA.'

How she interprets Jackie Kennedy: 'Jackie was really fun and really naughty – still elegant, but she was like a coquette smoking cigarettes in the bathroom at school, getting in trouble with her friends and going out with guys. That was so interesting to me. To have this public image… The dichotomy the public had – that Jackie is the one you marry, but Marilyn is the one you want to f–k or whatever. That difference between how you are and your awareness of how the public perceives you, that friction between those things was super interesting.'

She voted in favor of legalizing marijuana in California: 'If you see the examples of the states where it's become legal, people are actually smoking less. It means fewer jail sentences for those who are non-violent offenders. It doesn't really hurt anybody.'

She's frustrated by the lack of opportunities for women in Hollywood: 'I don't think women and men are more or less capable, we just have a clear issue with women not having opportunities. We need to be part of the solution, not perpetuating the problem.'

How she feels post-election: 'I feel energised to be an activist; that our art is more urgent than ever. It's more important to be as good a person as you can be in your community and to be really active in helping people who need more help now.'

Her paycheck for No Strings Attached: "Ashton Kutcher was paid three times as much as me on No Strings Attached. I knew and I went along with it because there's this thing with 'quotes' in Hollywood. His [quote] was three times higher than mine so they said he should get three times more. I wasn't as pissed as I should have been. I mean, we get paid a lot, so it's hard to complain, but the disparity is crazy. Compared to men, in most professions, women make 80 cents to the dollar. In Hollywood, we are making 30 cents to the dollar."
I find the Ashton story very interesting – that film wasn't made when Natalie was a nobody, you know? No Strings Attached came out in 2011. At that time, Portman was an Oscar nominee, a Harvard grad and a consistently working actress. And Ashton still made three times what she made. That's gross.
The rest interview is pretty basic and non-controversial. Are we supposed to clutch our pearls that Natalie is pro-pot-legalization? At this point, it feels like a majority opinion, especially since Colorado's experiment has worked so well (and been so beneficial to the economy). What she says about Trump isn't even controversial – we know she's liberal and she voted for Hillary Clinton, so what she says is so… measured. Especially coming just 48 hours after an orange fascist was elected. Just goes to show you… Natalie is really good at Oscar-campaigning.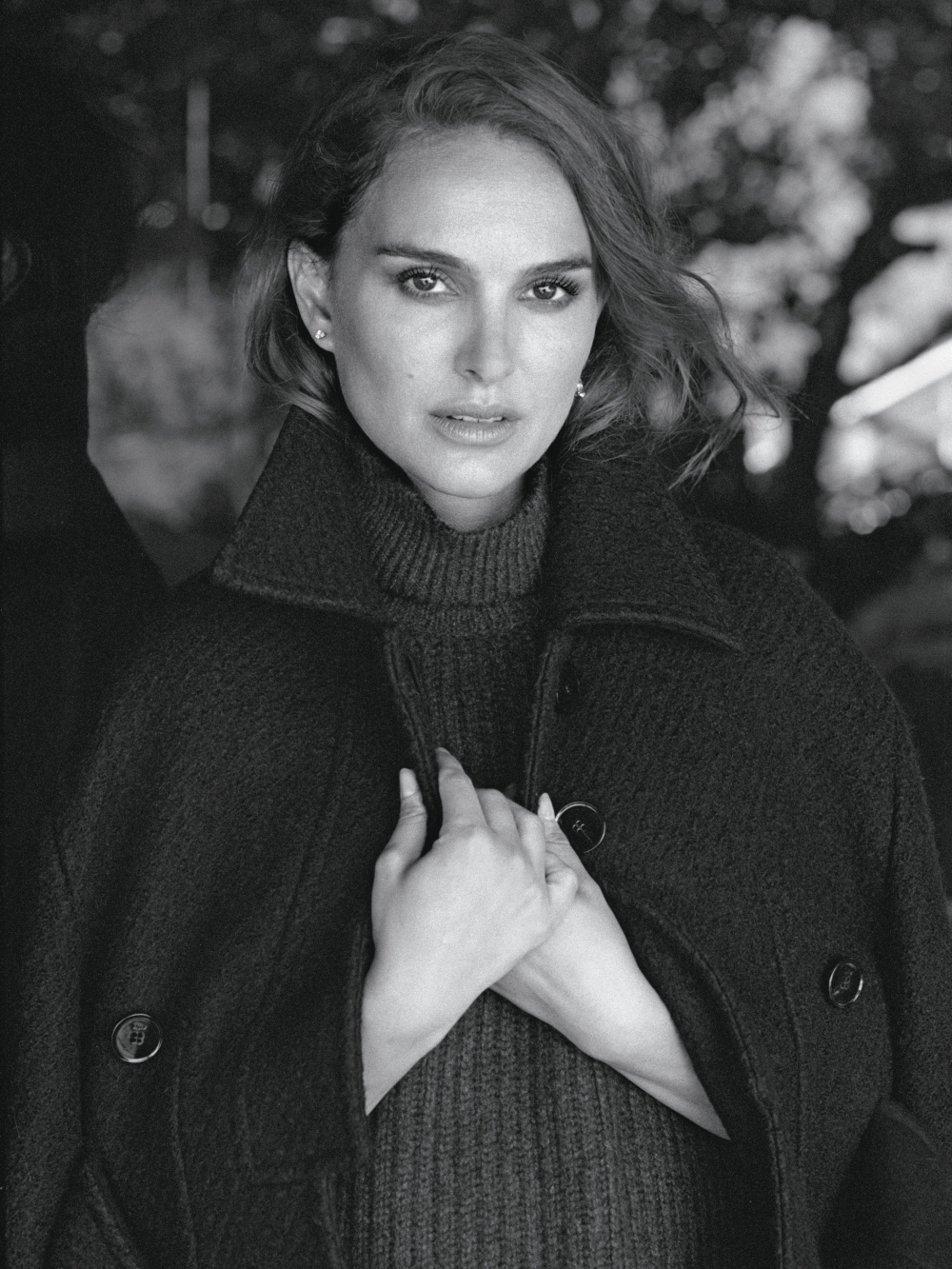 Photos courtesy of Marie Claire UK.